10 Budget-Friendly Bathroom Updates
Fresh ideas that don't have a hefty price tag.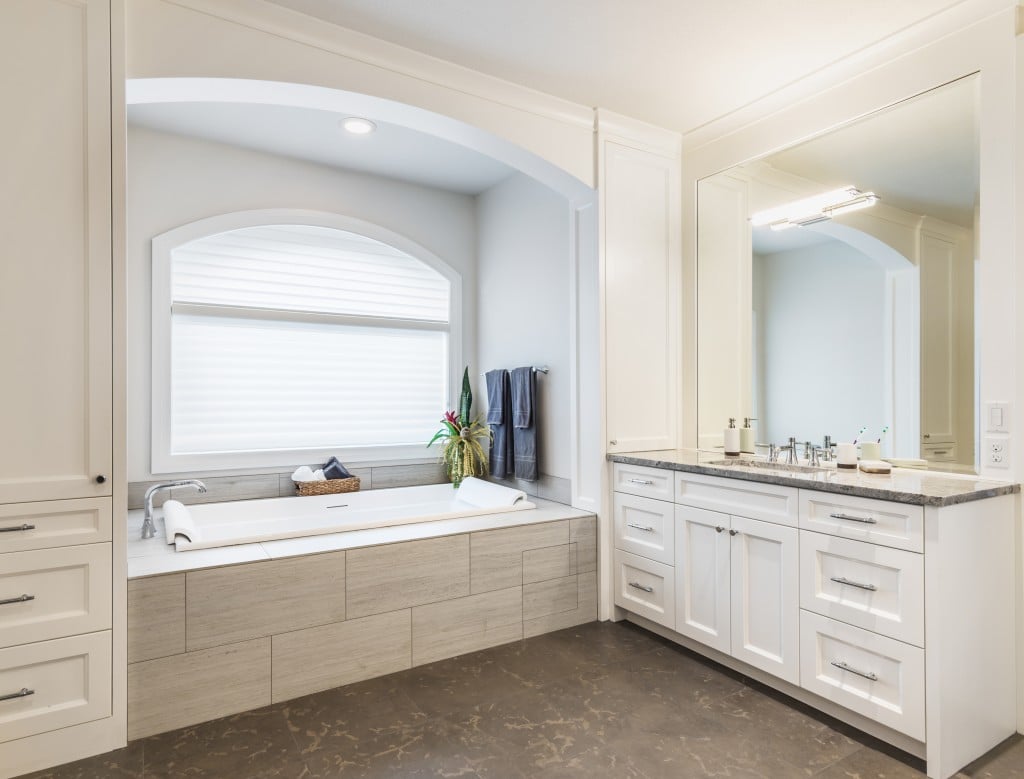 There are ways to revamp your bathroom without having to spend a lot of money. Think outside the box for more economical alternatives by considering these low-cost ideas to update the bath. 
1. Affordable Look-alike Materials
Although your best option would be to refurbish your existing materials, sometimes you need to install new materials. Some alternatives are more affordable and still look like the real thing. Luxury vinyl flooring, for instance, is durable and offered in wood-look options.  
2. Refinish Your Tub
Replacing your bathtub can be costly. Instead, reline or refinish it. If your tub doesn't need a total refinish, just spot-fix the tub by making touch-ups to nicks and peeling paint.  
3. Additional Shower Storage
Shower shelves make compact and handy storage nooks for soaps and shampoos. 
4. Refresh Cabinets with New Hardware
Rather than buying new bathroom cabinets, why not revive existing ones by replacing the hardware with something new, like glass knobs, ring drop pulls or square pulls. 
5. Make Room with a Curved Curtain Rod
A curved curtain rod in the shower gives you a little more elbow room. You can use your current shower curtain or buy a new one with rings in the same finish as the curtain rod to complete the look.  
6. Improved Organization
Adding organization to your bathroom drawers is a quick fix. All you need to do is add pullout shelves or drawer dividers.  
7. Put in a Towel Warmer
Give your space a hotel vibe by installing a towel warmer. This inexpensive, easy-to-install accessory will warm up your towels while you shower, giving you a fresh feeling every time you step out.  
8. Extra Pullout Mirror
Another cheap upgrade that makes a huge difference in your bathroom is installing a pullout mirror. This is great especially for households with several people sharing a small space. You can easily mount a pullout mirror to a stud in any wall in a matter of minutes.  
9. Flow with a New Sink Faucet
Updating your bathroom can be as simple as buying a new sink faucet. Ferguson Bath, Kitchen & Lighting Gallery offers a wide variety of stylish faucets to choose from.  
10. Install Your Own Bathroom Vanity or Give Your Existing Vanity a Makeover
Also found at Ferguson Bath, Kitchen & Lighting Gallery, vanities practically come assembled for you. It's possible to have a fully assembled bathroom vanity in place within a couple of hours. Or, if your current vanity has good bones, give it a facelift with some paint.