2021 Condo Remodeling Guide
Clear ways to renovate your home.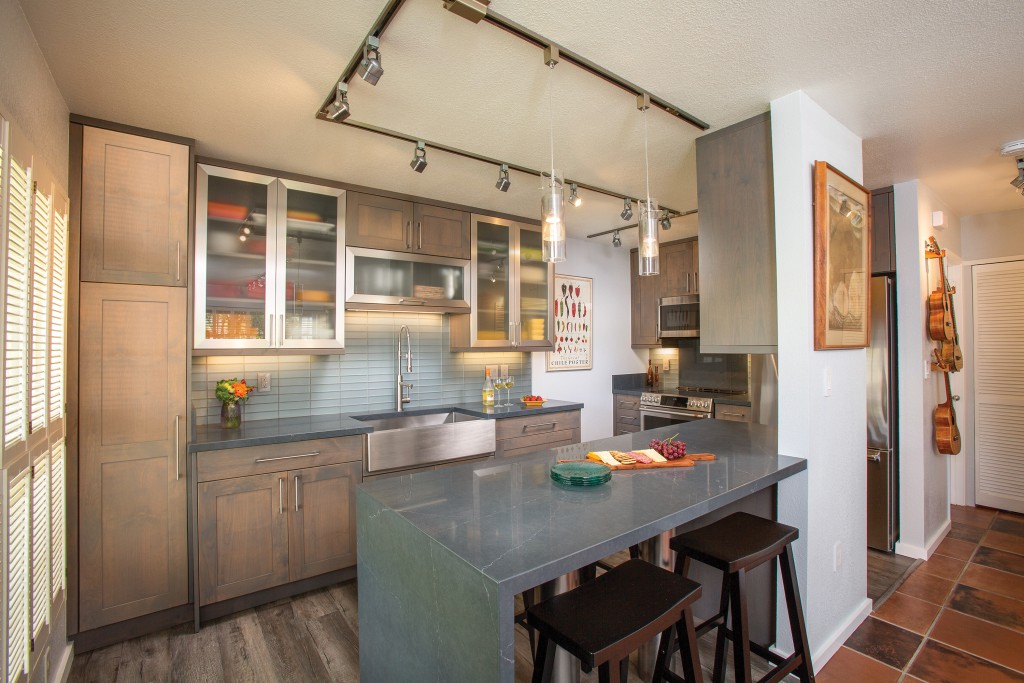 While renovating a single-family home or condo unit can yield similar results, the process can be very different. A condo renovation comes with its own set of rules, limitations, possibilities and design strategies — all of which you should think about before beginning any project. To avoid as many unpleasant surprises as possible, here are some things to consider before you begin.
GET STARTED
Many experts will advise homeowners to relax and take a deep breath before diving in. From there, you can begin to envision what you want and establish a budget that's within your means.
As you're pinning inspiration to your Pinterest boards or cutting out pages from a magazine, remember to not only expect the unexpected but to also be prepared. "It helps to start with a typed-out scope of work and a material and finishes wish list for each room," says Shelley Tanner of John Cook Kitchens, a full-service design and remodeling company.
FOLLOW THE RULES
According to J.R. Moorhead of Moorhead & Company Inc. — which specializes in custom condo renovations — the first step is to find out the rules. "See what kind of requirements you need to meet," says Moorhead. "There are a lot of rules when it comes to remodeling condos — rules about where the contractor can park, how to take things up and down the elevators, which elevator you're allowed to use and more. A lot of people have a say in your project."
Moorhead recommends understanding the relevant policies of your condo board or building manager. Your board or building manager may have policies that affect cosmetic decisions or material selections, as well as policies that dictate what days and times renovations can take place, which materials can be brought into the building and much more.
Not knowing these logistical details in advance can cause massive headaches and can cost you more money when trying to schedule deliveries or contractors. "There are a lot of surprises in condo renovations," says Moorhead. He also suggests homeowners be mindful that these policies are in place to keep everyone who lives in the building happy. However, following the rules can slow down a renovation process, so try to give yourself a long timeline. "The secret to success is working with a contractor who has experience working on condos," he adds.
FIND FINANCING OPTIONS
There are many options to financing your renovation. If you have the cash to cover your expenses, use a credit card for material purchases. Then pay back the entire statement balance on the card by the statement due date to realize points or get cash back. "That way, you don't pay a penny of interest and you get points or cash on top of it," explains Kelii Peltier, assistant vice president — loan administrator for HawaiiUSA FCU.
Another option is to apply for a home equity line of credit, or HELOC. The advantages of a HELOC include only paying interest on what you use or the balance you carry, being able to borrow as much as you need and having a monthly balance proportional to your overall balance — meaning if you lower the balance, you lower the payment, according to Peltier.
Peltier advises borrowers to know the rate, term and payment structure of any loan taken out with any financial institution. "Also, we are not going anywhere," he says. "For important transactions like this, know you can always walk into one of our branches and see a face and gain clarity on any issue you may have. We are a credit union — we look out for our members and not just the bottom line."
LOOK OUT FOR LIMITATIONS
Do your best to know about any limits on your condo renovations before you fall in love with an idea that you won't be able to implement.
Moorhead mentions that condo spaces sometimes include odd-angled walls or intrusive columns, and that these things cannot be moved. "Unlike in a house, where you can open up walls and put things wherever you want, in a condo you can't necessarily do that," he says.
The same goes for electricity and plumbing. "For example, there are certain limitations of where a shower drain can and can't be because you're sharing your plumbing with other people in your building," explains Moorhead.
TURN DREAMS INTO REALITY
While keeping all of this in mind, still allow yourself to dream and be inspired. "Do your research, know your limitations," advises Moorhead. "Look for ways to find storage — you're always looking for creative ways to find storage in condos."
There are many upgrades and updates to consider for your condo. Here are some of them.
Make it All Count
Create meaningful spaces and use easy-to-maintain materials, suggests Rose Kaneshiro of American Floor & Home — which now offers whole-home renovation services. "My kitchen designs will typically incorporate spaces for countertop appliances like air fryers, a Kitchen Aid mixer and juicer," she says. For bathrooms, she likes to replace tubs with new walk-in showers that have niches and seat ledges.
Add Color and Space in Kitchens
"Typically, in kitchens, you'll want smaller appliances," says Moorhead, like a "sleek built-in … dishwasher, a microwave and a cabinet-depth refrigerator."
Glass is another great way to add some flavor to your kitchen — plus the illusion of more space in smaller areas. "In kitchens, our painted glass backsplashes are a great, modern option because you can pick any custom color," says Guerric de Coligny of The Glass Guru of Honolulu. "And they're sleeker and easier to clean than traditional backsplashes."
Replace Your Cabinets and Countertops
"Condos are smaller living spaces and it's important to consider the exact function of each cabinet," says Kevin Nip of Selective Stone. "Space-saving cabinets with lazy Susans and pullout pantries are nice. Your counters should be engineered quartz in lighter shades, which will open up your areas and make your kitchen space look larger." For cabinet and countertop colors, Nip says that whites and grays are especially popular right now.
Upgrade the Bathroom
"Mirrors are always a smart, easy way to make small spaces appear larger, in bathrooms or anywhere in your home," says de Coligny, who recommends the company's frameless glass showers and mirrors, which are popular options.
"If you're doing multiple bathrooms or extensive renovations, don't do the work yourself, he advises. "At first, that might seem cheaper, but a reliable, well-established contractor is well worth the cost to ensure a renovation that comes together smoothly."
Install New Flooring
Some notable and recent projects done by Pacific American Lumber include upgrading condo floors to wood, along with different types of resilient flooring such as new 100% waterproof laminate.
Additionally, luxury vinyl flooring, or LVT, is a trendy, cost-effective and low-maintenance option. Selective Stone "carries a complete line of residential to commercial grade waterproof, soundproof and stain-resistant LVT in an assortment of colors that mimic the look and texture of wood," says Nip.