4 Types of Stylish Faucets Fit for Your Kitchen
Here's the flow down.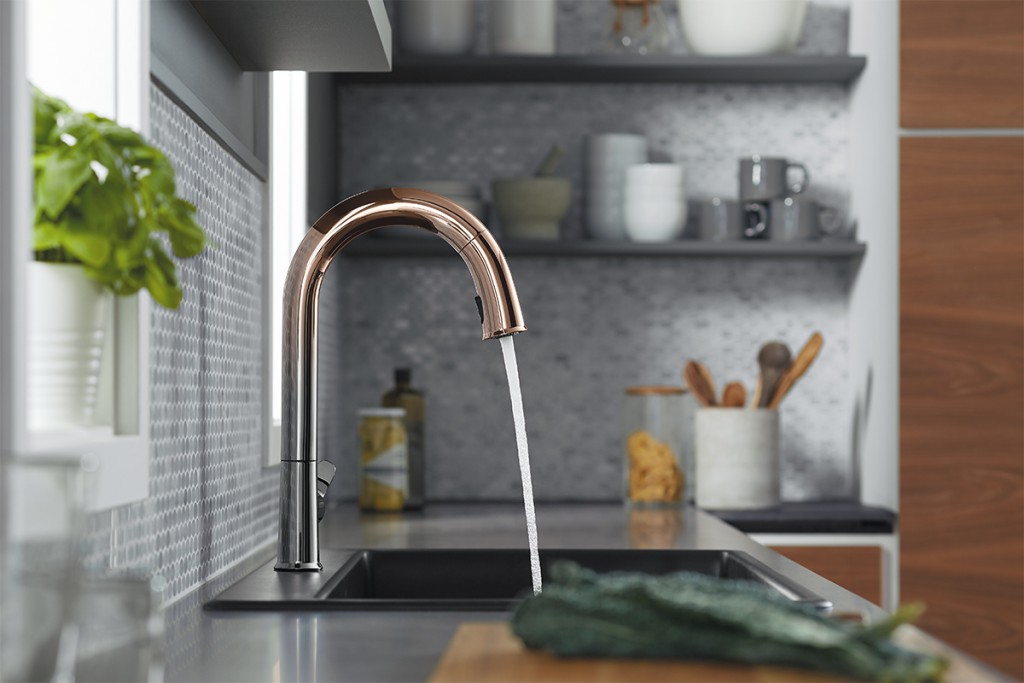 It may seem simple, but faucets are an essential element to your kitchen. While there are numerous options out there, you should select something that's both functional and fashionable. Keep reading to see the most popular types of kitchen faucets out there.
PULL-OUT FAUCETS
These types of faucets have a shorter spout and are pointed upward rather than downward. Pull-out faucets are ideal for smaller sinks. The Delta Linden Pull-Out Kitchen Faucet with Temporary Flow Increase and Optional Base Plate is an affordable and reliable option that has multiple flow possibilities.
PULL-DOWN FAUCETS
Pull-down faucets are attached to a short spray hose and can be pulled down, allowing the faucet head to be angled in different directions and work as a sprayer. The Kohler Graze 1.5 GPM Single Hole Pull Down Kitchen Faucet is a great choice when it comes to pull-down faucets and is available in four finishes.
BAR FAUCETS
For a sleek look, bar faucets provide a condensed body size and narrow valve layout. Typically, these faucets have a high gooseneck that's intended for filling or rinsing items, such as glasses and vases. The Moen Arbor Single Handle Pulldown Spray Bar Faucet with Reflex Technology provides reflex technology for a smooth operation and secure docking. It comes in four finishes.
TOUCHLESS FAUCETS
Once considered a luxury item, touchless faucets have become increasingly popular and common. Touchless faucets require no handles or knobs, utilizing a motion-activated sensor. By eliminating additional touch surfaces, these faucets provide homeowners a greater sense of safety and cleanliness. U by Moen is a trending collection offered at Ferguson Bath, Kitchen & Lighting Gallery. The Kohler Sensate Touchless Kitchen Faucet with 15 1/2-inch Pull-Down Spout, DockNetik Magnetic Docking System and a Two-Function Sprayhead Featuring Sweep Spray is another stylish product that features a downspout.
There are a variety of styles offered at Ferguson Bath, Kitchen & Lighting Gallery. Visit the local showroom to see some options.