5 Water Features to Enhance Your Pool
These additions will make it all the more refreshing.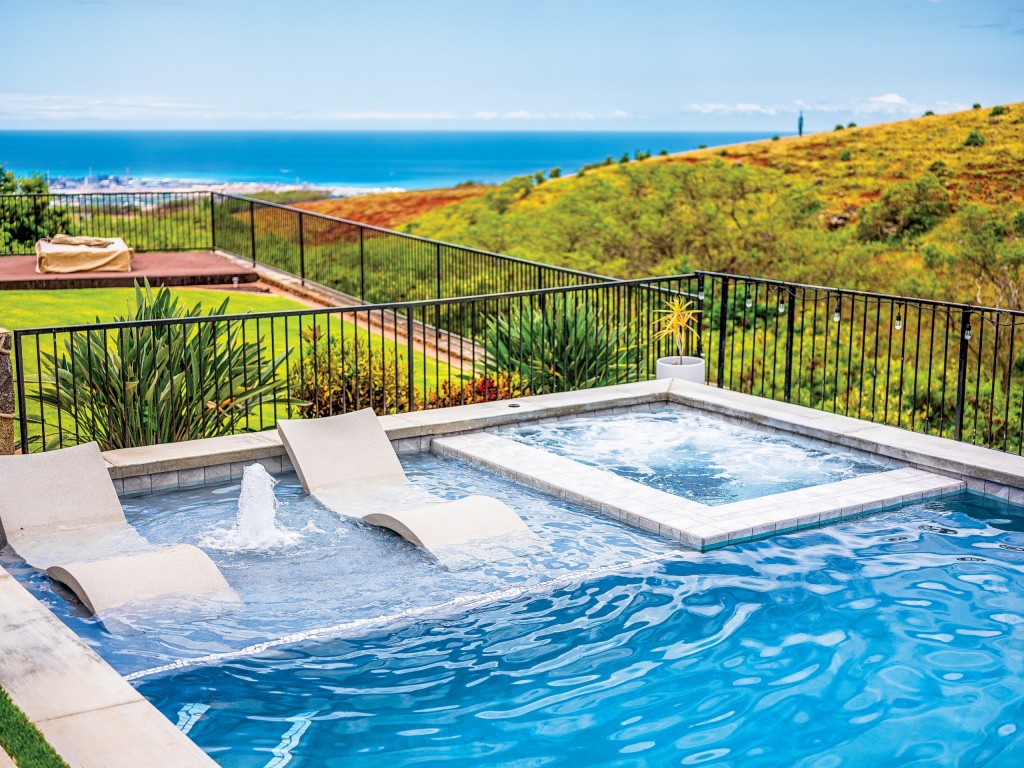 Having a pool in your outdoor space is like putting together a great outfit — you need the right accessories. And while swimming pools are among the best ways to cool off during the summer, did you know that they are actually only used 5% of the time? According to Clifton Crawford of Pacific Pool & Spa, although family gatherings and pool-time fun may fill these hot months, for the rest of the year, many pools just sit there untouched.
He recommends adding some new features to make the jump in the pool even more enticing, such as water in transit that'll "soothe the soul." Creating these sights and sounds of water will have you ready to dive in.
Here are some water features you should consider adding to your pool.
Bali Ledge
Especially loved by kids, pets and those who don't like to get their hair wet — a Bali ledge is a great addition. It offers a shallow entry into the pool and is a nice spot to place lounger chairs to relax in.
Sheer Descent
Sheer Descents gently pour water into the pool from either the pool or spa walls. "It resembles a 'sheet of glass' and comes in configurations such as rainlike droplets," explains Crawford. "They range in size from a few inches wide to several feet for a plethora of elegant looking applications, all providing the soothing sound of falling water."
Waterfall
A waterfall is a classic feature that not only beautifies a space but serves as a popular attraction for the children. Every waterfall designed by Pacific Pool & Spa is custom made with endless options, from natural rock waterfalls to flagstone waterfalls and spa spillovers.
Raised Spa
A raised spa is easy to get into and adds a luxurious element to a backyard. It also serves as a warm water feature because it spills over into the swimming pool, shares Crawford.
Bubblers
Typically placed on a tanning or Bali ledge of a pool, bubblers are playful gurgling fountains that splash up from under the water. "They create a more unpredictable, free-form fountain that invites splashing good fun," says Crawford. Bubblers can be left on at night, too.
See these past projects by Pacific Pool & Spa: a family's playground known as "Lagoon 5", this backyard that's the ultimate gathering place and a home's new pool and spa with panoramic views. Visit pacpoolandspa.com.