9 Ways to Keep a Productive Home Office
Tackle the day in your new and improved workspace.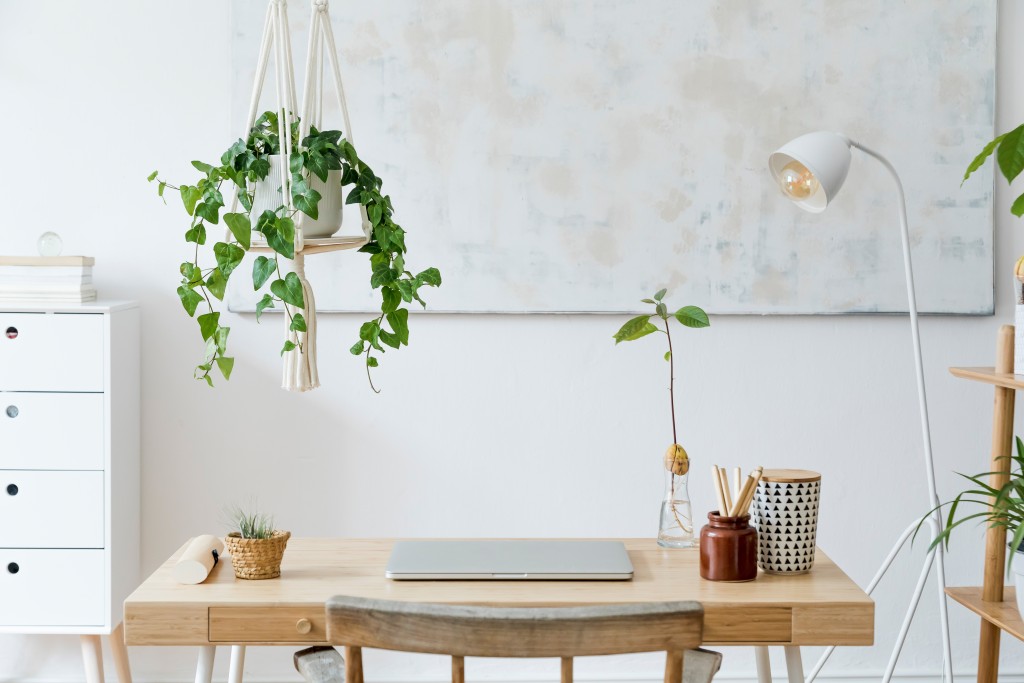 A messy desk is the main ingredient for an unproductive workday. When you've had a long week, with too many things piled up, an untidy room will only make it easier for you to lose focus. These nine habits will help you to stay organized and keep your workspace — and mind — uncluttered and sharp. 
1. Set Yourself Up for Success
Do your best to make sure your home office is separated from your other spaces. This means you're not working from your kitchen island or living room couch, where your attention can be easily diverted. If you don't have a designated room, try to find a quiet corner to hunker down and get work done. Additionally, create a peaceful place with soothing tones through paint, accessories and plants.  
2. Make it Bright and Light
Along with placing your desk near a window, add warm overhead lights and a desk lamp to be more at ease while at work. Say goodbye to fluorescent lighting, which can cause strain on your eyes. A light and airy space will make working at a computer more manageable.  
3.
Choose Better Distractions
You will need breaks throughout the day. Instead of mindlessly scrolling through social media, consider reading a book or playing a brain training game on your phone. These improved distractions can serve as a reward when you complete a task.  
4. Create Order in the Cords
Your cords don't always have to be a tangled mess. Dedicate a drawer to corralling your extra cords, adapters and chargers. If you're low on space, use cord wraps to keep your wires bundled up when they're not in use.  
5. Get Organized with a Desk Calendar
A large desk calendar can serve not only as a method to keep track of deadlines and events but also as a desk or mouse pad. And, because it's paper, you'll be able to jot down notes when you're in a pinch during a meeting or on a call.   
6. Do Some Light Exercises
Give your body a little refresh with a short break for jumping jacks or a quick stretch in between tasks. These light exercises can help you to destress and refocus before moving onto the next item on your to-do list. Some helpful exercise equipment you should have handy include a yoga mat, resistance bands and light weights. Remember, exercise is good for your mind, body and posture.  
7. Arrive Ready to Work
Give everything you do purpose. Yes, that means work, too. Start each morning by organizing the tasks that need to be tackled. Put down at least three things that need to be completed that day and accomplish them. As your list grows, prioritize your assignments. 
8. Declutter Often
Consider adding "declutter desk" to your daily or weekly to-do list. Developing the habit of purging your area of stacked-up papers, post-it notes, coffee cups and other clutter can help clear your space — and mind. 
9. Dress the Part
One of the hardest parts of shifting to a work-from-home environment is having more time to sleep in, make coffee or eat breakfast instead of spending it getting ready and commuting to the office. Little did we know, it's a bad habit to work in our pajamas. Force yourself to get dressed for a regular workday; it'll help you feel more productive.