A Kitchen is Transformed to Let in Light and Create Continuous Flow
Let there be light.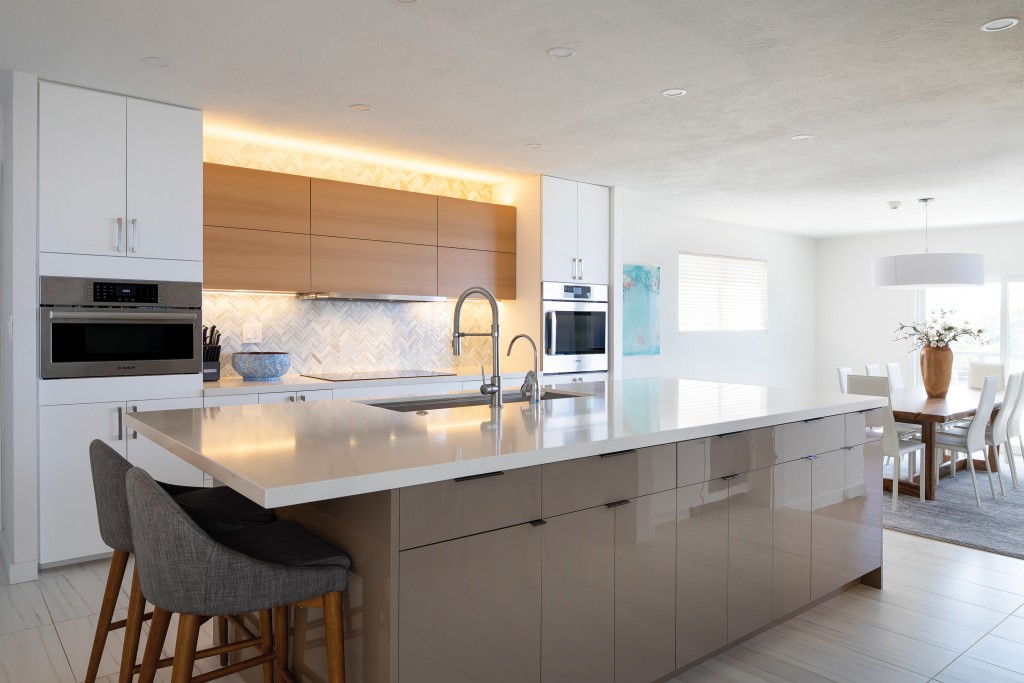 It's hard to imagine how the owner of this Waialae Iki home ever got by in her old kitchen. What was once a dark place used only to cook and eat meals, is now a naturally lit focal point of the home where family and friends gather.
Brenton Liu of DTC Hawaii worked with his team to give the homeowner exactly what she wanted: an open kitchen that connects to the dining area and better flow and organized solutions throughout the entire home. "We wanted to focus the design on functionality and aesthetics," says Liu.
Structurally, the entire kitchen needed some TLC. Liu and his team had to demolish an entire wall toward the back of the kitchen — no easy feat due to some glass china cabinets that were in the way — to connect the kitchen, dining and living spaces.
Additionally, a small room with a sliding door was enclosed to create a laundry room, with a new door and extended wall. "By changing that sliding glass door to a regular door and bumping out that wall another 4 feet, I was able to capture a lot," Liu explains. "It looks like a completely different house."
The kitchen's freshly designed island is the central hub of the overall room. Prior to the renovation, there were large cabinets above the island. Now, there are only lower cabinets and a large sink. "She really loved her big sink," says Liu of the homeowner. "That was one of the things she wanted so we really tried to capture that feature in the island."
All the new cabinetry in the kitchen is from DeWils Fine Cabinetry's Horizons Collection — basalto gloss at the island, natural white oak above the cooktop and bianco-kos matte for the remainder — offering a crisp, clean simple look. The countertops throughout are Silestone in Calacatta gold and the stylish backsplash is Lunada Bay Tile's Agate Glass in lucca pearl.
New furniture in the dining area allows for effortless entertaining — and it's one of the homeowner's favorite spots to be in. "We got a new table and chairs; she really loved that original area," shares Liu. "I [also] wanted to increase the lighting because it just felt like she was in her little dungeon. She loved her eat-in kitchen, so we didn't want to compromise that."
The home's new furnishings were selected by Kris Grimsley of Kris Grimsley Decor and Redesign.
Flooring from Bedrosians Tile & Stone's Zebrino Collection in Michelangelo was installed and provides a nice contrast to the rest of the colors all around; however, a change in elevation from the kitchen to the dining room presented a challenge for Liu and his team. "Sometimes you will have issues with elevation but as long as you're mindful of placement and how the flow is overall in the kitchen, a change in elevation isn't a complete barricade," he says. Two different colors are used in each area to lessen the risk of trips.
"There's lighting all over, too," he adds. "We got LEDs not only below (the under-cabinet lighting), but I got a lot of up-lighting — that just creates indirect lighting, ambiance and a lot of light layers."
All these layers of light — general, decorative and task lighting — that DTC Hawaii incorporated into the kitchen are not only stylish, but will also come in handy as the homeowner ages.
Where To Get It
Appliances: Thermador 30-inch Built-in Fresh Food Column, Thermador 30-inch Built-in Freezer Column with Internal Ice Maker, Bosch 800 Series 36-inch Radiant Electric Cooktop in black, Bosch 30-inch Single Wall Oven in stainless steel, Bosch Benchmark Series 30-inch Speed Oven in stainless steel and Sub-Zero 24-inch Beverage Center, from Ferguson Bath, Kitchen & Lighting Gallery
Backsplash: Lunada Bay Tile Agate Glass in lucca pearl
Cabinetry: DeWils Fine Cabinetry Horizons Collection in basalto gloss, bianco-kos and natural white oak
Countertop: Silestone in Calacatta gold
Faucet: Delta Trinsic Single Handle Pull Down Kitchen Faucet with Two-Function Spray and Magnetic Docking in arctic stainless, from Ferguson Bath, Kitchen & Lighting Gallery
Flooring: Bedrosians Tile & Stone Zebrino Collection in Michelangelo
Lighting: Kichler
Range Hood: Zephyr Core Collection Power Hurricane Series 36-inch Under Cabinet Range Hood in stainless steel, from Ferguson Bath, Kitchen & Lighting Gallery
Sink: Kohler Stages 45-inch Single Basin Under-mount 16-gauge Kitchen Sink with SilentShield in stainless steel, from Ferguson Bath, Kitchen & Lighting Gallery