A Showcase of Surfaces for a Flawless Kitchen and Bath
The perfect touch to your space.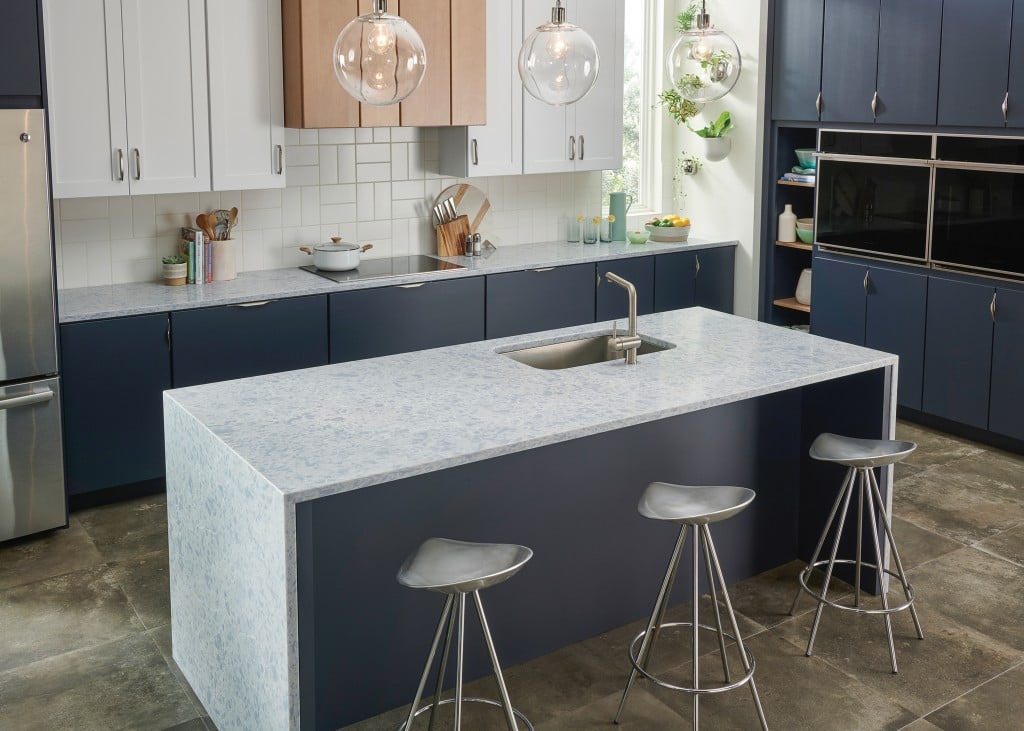 Selecting surfaces for your countertops, cabinetry and flooring are among the many difficult decisions you'll have to make when remodeling the kitchen or bath. Take a look at these enduring trends and latest additions to help get you started.
MADE TO LAST
For a material that's not only timeless but durable, go for quartz. "Quartz is probably the most popular right now because it is very low maintenance," shares Meagan Jensen of Bella Pietra Design, a local business with an extensive tile collection, offering everything from quartz — including brands such as Cambria, Corian Quartz, Silestone by Cosentino and Viatera by LX Hausys — to natural stone, like marble, granite and semiprecious gemstones. Quartz countertops are "a man-made product that uses powders of natural stones to make the colors and patterns, but it is held together with a resin base to make it very durable."
The best part of quartz is that it doesn't have to be sealed and is easy to clean. "The only application that we don't recommend it for is the exterior because of the resin base that could yellow over time in the direct UV rays," mentions Jensen. "Just basic sunlight through kitchen windows is not a problem."
Selective Stone also offers quartz countertops. "Engineered quartz stone is still trendy with shades of whites and gray for countertop applications," says Kevin Nip of Selective Stone. "New colors for engineered quartz products are consistently being introduced to the market. Our eco-friendly products are stain- and heat-resistant, and low maintenance."
Through the years, natural stone has remained another great product for countertop selection. "This is what people have been using for countertops for centuries," shares Jensen.
"Some people over the years have started shying away from natural stone because of maintenance. However, maintenance for most natural stones really isn't very difficult at all."
Jensen explains that except for semiprecious gemstones, natural stone countertops need to be sealed, something typically done by the installer upon installation. "It's not something that you have to do often. We recommend every two to five years, but it really depends on the stone," she says.
NEW ON THE SCENE
Dekton by Cosentino is an ultra-compact surface that requires minimal cleaning since it doesn't have to be sealed and doesn't discolor. It's also a man-made product, "but the way it is made is different and it does not contain any resin, so it is a really great option for exterior," explains Jensen.
Bella Pietra Design has just started offering a new line called Lapitec, another man-made material that requires little to no maintenance. "It has no resin in it, so it is great for exterior," says Jensen. "Another cool thing is the pattern goes all the way through so you can do any edge detail you would like with it."
Out of all the surfaces offered at Bella Pietra Design, Jensen says the most durable options are Dekton and Lapitec "because they are so dense." While they are a little harder to fabricate, once installed, these products are stain-resistant.
COMING SOON
Another countertop option is from Silestone HybriQ+ technology, which will be available soon at Selective Stone. "This is a sustainable mix of premium minerals and recycled materials with a lower silica content," says Nip. "Produced of renewable energy, this new product raises the bar above the rest." Silestone's Ethereal Collection is the latest to offer this technology, which focuses on sustainability and design, and includes classic colors that will add sleek style to any room. This collection is expected to transform the quartz surfaces and engineered stone industry.
OPEN CABINET DOOR POSSIBILITIES
Rose Keaweamahi-Hoovler, a senior kitchen and bath designer for HPM Building Supply, shares that the company's most popular cabinetry styles are from the Medallion Cabinetry's Gold line, which comprises a series of framed cabinets with a broad array of door styles, and Bellmont Cabinets' European-style built-to-order frameless cabinetry.
"Medallion's Gold series line features framed cabinets with a lot of door styles and finishes for our clients to choose from," says Keaweamahi-Hoovler. "Bellmont features a frameless cabinet, which offers very clean, simple, modern lines in a European style."
Both companies also partner with Sherwin-Williams for custom painted finishes. "This is a great feature for those customers who want something unique and personalized," Keaweamahi-Hoovler adds.
She has a tip for keeping aesthetic cabinetry in tiptop shape: "You'll need to treat your cabinetry like fine furniture. It is recommended to use a microfiber cloth so that you do not scratch your doors and drawer fronts."
Shaker doors are also popular "because they give rooms a traditional look with understated elegance but with just enough detail to offer a bit of flair," says Keaweamahi-Hoovler. Shaker doors are constructed in a five-piece format with a recessed center panel. You can also personalize your doors with numerous drawer-front options, paint choices and stain finishes, like an alder or maple wood.
ADDITIONAL DESIGN HELP
If picking and choosing your countertops, cabinetry and flooring is too challenging a task, put it all together with a design team at HPM Building Supply. "We have a team of kitchen and bath designers who are here to help you plan, build and manage your project, whether it's for a new home build or your long-awaited renovation," says Keaweamahi-Hoovler.
FINISH WITH FLOORING
Complete your home's new look with fresh flooring. Look to the experts at Pacific American Lumber, who offer prefinished hardwood flooring, stone plastic or polymer composite, and much more.
Prefinished hardwood flooring, which is real wood, is warmer and feels softer underfoot than stone or tile, shares Natascha Roblee of Pacific American Lumber. It has an organic variation, so there's never a repeat pattern. For maintenance, all it takes is a quick dust, mop or sweep.
An up-and-coming option is a stone plastic or polymer composite, or SPC for short, that's a "textured finish over stone composite and is a lower price point than wood," says Roblee.
NEED-TO-KNOW SURFACE: NEOLITH
Neolith is a versatile product that can be used virtually anywhere — from counters to floors and the great outdoors. Roblee says this popular and durable sintered stone is impervious to liquids, heat, even knives, and is essentially indestructible.