Getting Your Home Organized, Room by Room
A guide to keeping your place spick and span.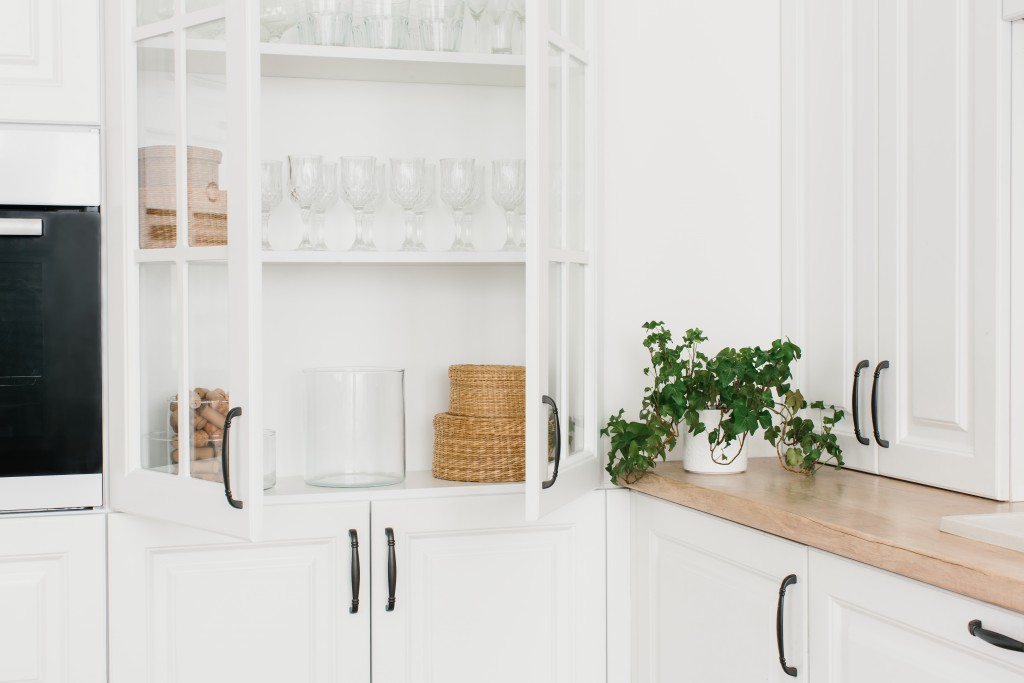 Getting organized has the equal benefit of making you feel good and impressing your guests. Whether you're about to host a small gathering or have the urge to get organized, going room by room to clean and declutter is the best way to start the process.
Carolyn Pace, the owner of Pace Space LLC, a professional decluttering and organization company, and Carolyn Pace Design, a firm that specializes in kitchen and bath design services, shares her advice to get organized at home.
1. Start by Purging
The first step is to purge, purge, purge, says Pace. "Donate or give away items that have been taking up space in your home that have no personal value." She recommends setting up tables in your home, removing all items from each room and categorizing things one by one. "This process will help you to see what you actually have," she says. "Get rid of rubbish first and above all, get rid of broken items."
Next, decide what to keep and what to donate. "Donated items get put into a box right away and taped off and put aside," says Pace, advising homeowners to donate immediately or at least get the boxes into your car and out of your house. This leaves you with items you are keeping on your table. Pace says you should thoughtfully put things back in your room starting with the most important and valuable items.
2. Tidy Up the Kitchen
It begins with swapping the old for the new. "When you purchase a new small kitchen appliance or kitchen accessory, remove the old ones," says Pace. This includes cups, dishes, cookware and small kitchen tools.
Then, organize cabinets by categories, for instance, "glasses go in one cabinet, coffee/tea cups in another and everyday dish sets in another," says Pace. "If you have formal dish sets or decorative dish sets that are only taken out during special occasions that should go into a separate cabinet or on the higher and less accessible shelves in wall cabinets."
Place baking pans, mixing bowls and measuring cups near the oven. "If you are fortunate to have a large walk-in or step-in pantry, larger serving platters and cooking pots are a great place to store these items, usually on the higher and lower shelves," explains Pace.
Organizers can help to keep your kitchen orderly. "A neat kitchen is a relaxing, clean and functional kitchen," says Pace. "The best thing about having an organized kitchen is you will feel like a master chef with all your cooking tools in place and ready to create at any time."
Last but not least, Pace advises that counters should remain clear of items. She suggests using a towel bar by the sink for dish clothes, adding a paper towel rack or even installing a wall-mounted knife rack to replace a heavy knife block.
3. Get Things Fashionably Neat
"The same rules apply to organizing your bedrooms and closets," says Pace. Replace/remove items, categorize, be efficient and incorporate individual organizers.
Pace's top-rated item in the closet is velvet non-slip hangers, which prevent clothes from falling off and avoid stretching out the fabrics. "I also like to use the same style and color of hanger throughout the closet," she says. "The way I categorize my hanging items are by long dresses, short dresses, blouses and jackets. I even color categorize them and organize them by no sleeve, short sleeve and long sleeve. All of this makes getting dressed really fast and easy."
When it comes to folding clothes, Pace uses the Marie Kondo method of folding into threes. "Any garment that will not wrinkle will fit nicely in a drawer or shelf if you run out of hanging closet space," she says.
Shoes and bags should be stored separately from clothes and in the same fashion. "The best way to maintain the integrity and quality of expensive designer footwear and purses and bags are individual containers," says Pace. "Be sure to label them so you're not wasting time trying to find the item you need or make sure they are see-through."
For accessories like ties, belts and jewelry, keep them visible and in individual organizers.
4. Create a Pristine Bath
"Besides the bedroom, the bathroom should be the most relaxing room in the house," explains Pace. "It is also the smallest room in the house so it's most important to have storage for every item. A linen closet is great for towel storage, personal cleaning and hair products, extra toilet paper and often hair tools and accessories."
Smaller items like shaving tools, dental products, and hair and make-up items can be easily stored away in drawers. "Having an electrical outlet built into the drawers is handy so when not in use, it still can remain plugged in and tucked away from view," she adds.
Take your bathroom organization to another level with built-in shelves in the shower to hold cleaners within reach. "If you do not have a niche, then a shower caddy or shelves that are attached to the corners of the shower walls will do," says Pace. "The main thing is to get your products off the tub ledge or shower floor."
5. Ready a Clean Arrival
Too often do our cars get parked on the driveway instead of inside of the garage. This is not only bad for your cars, but also the state of your garage's organization. "To maintain a well-organized garage you must have storage," says Pace. "I think open shelves are the best and pegged boards so you can see everything at a glance. Bike racks and sports equipment should be hung on walls and ceilings; utilize all four walls and ceiling if needed. The main thing is do not start to pile up boxes and tell yourself 'I'll get to it on a rainy day.'"
Store your tools together and remember to keep the ones you use often in a place that's easy to access. If you enter your home through the garage, Pace recommends having a shoebox to avoid having shoes sprawled all over the floor.