How Stone Can Be the Focal Point of Your Home
Feature walls, backsplashes and flooring that are works of art.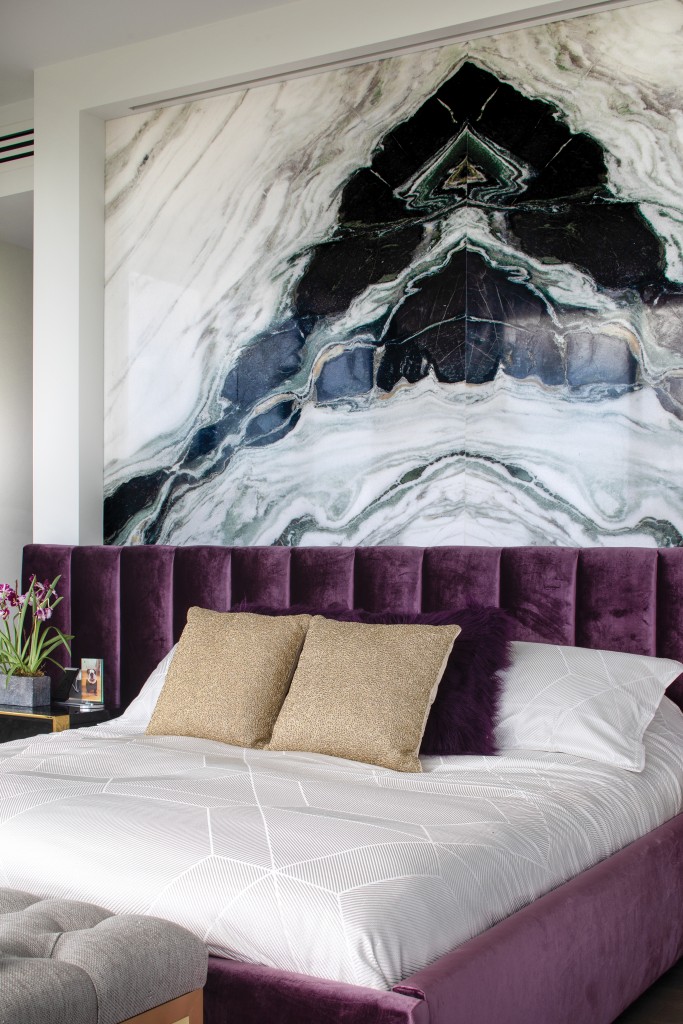 Stonework in the home is like beautiful artwork in a gallery. An entryway accent wall made of stone, for instance, captures the attention of everyone who enters your abode.
Meagan Jensen of Bella Pietra Design, a local premier stone company, suggests adding a feature wall in the master bathroom or creating an interesting backsplash for a pop of art.
"Backsplashes are smaller areas so … you don't have to break the budget," shares Jensen. But too much stone can be overwhelming. That's why it's important to have a focal point that will immediately draw eyes as soon as you walk into the room, she says.
Moreover, newer trends are emerging: For instance, more homeowners are using stone flooring as the focal point of a room instead of walls. The thinking behind that trend "is that since people spend so much time looking down on their phones, they see the floor more than they see the walls," says Jensen.
Bella Pietra Design carries a unique selection of stone for indoor and outdoor uses. "A lot of our stuff are statement pieces," says Jensen. One brand that Bella Pietra Design carries is Artistic Tile, which has crafted award-winning designs in the tile industry. "Artistic Tile is a great line because they're known for being the jewelry of the home," says Jensen. "So you don't need a ton of it, just little pieces that really give it an artistic look."
Artistic Tile's Inverso Bianco Carrara marble is a concave carved stone tile ideal for entire walls. It forms a wide flute and is designed with a matching finishing piece that works as a crown or base molding. "It is a larger tile that curves inside, which adds a three-dimensional effect to it," says Jensen.
Another new product from Artistic Tile is the Pinnacle collection, which highlights a zigzag design. "Both products are offered in marble and porcelain to give a lower price point," says Jensen. "The marble ones are definitely more of an art piece, but they're both really cool new products."
Some of the products are pricier, and for those Jensen recommends purchasing just a little piece of a larger slab and framing it out with other tile and putting a liner around it. "It is literally permanent artwork in your home," she says.
Visit bellapietradesign.com for more information.
Check out this modern residence from our September 2021 issue that features three stunning accent walls made of stone.