How You Can Make the Switch to Solar in Your Home
Experts weigh in on the benefits of solar energy in your home and offer tips for getting started.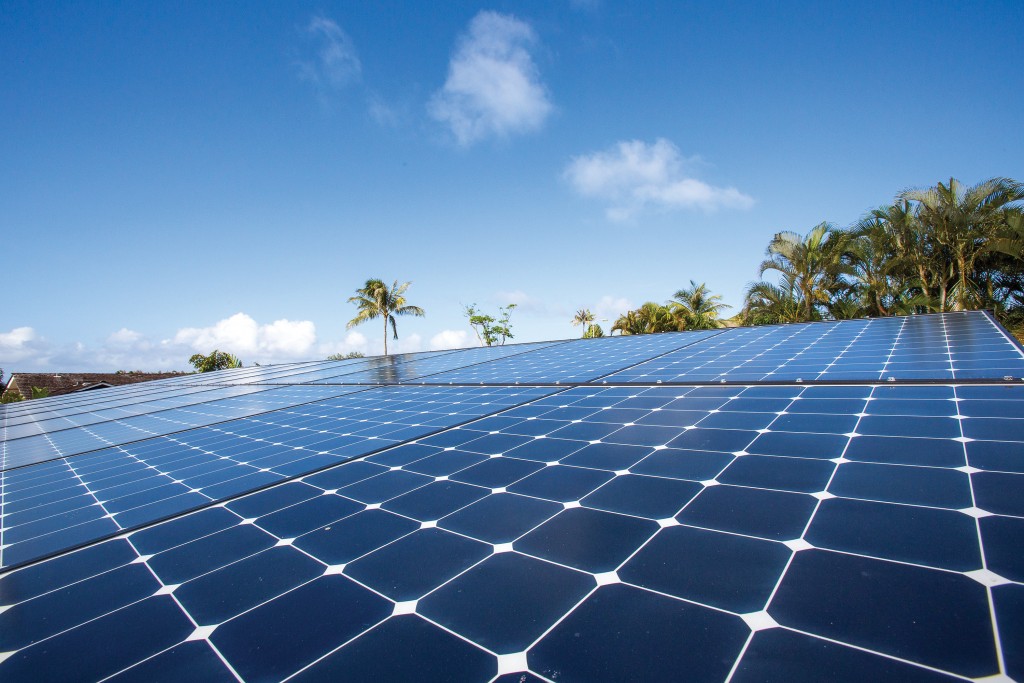 The idea of sustainable living sounds great until you realize how much work needs to be done before getting started. While there's a lot that goes into a solar-powered home, the transition doesn't have to be hard. To embark on your solar energy journey, we've gathered insight from industry experts.
Stay Up to Date
Be sure to get the latest updates on the solar industry, as incentives have changed. "As it relates to energy efficiency measures, federal tax credits for solar water heating system purchases have been extended and will remain at 26% for 2021," explains Claire Krebs, residential program manager at Hawaii Energy.
"On Oahu, the adoption of Bill 58 as Ordinance 20-44 has made permitting more streamlined for solar water heating and photovoltaic system installations," she adds. "This means shorter wait times and getting installations faster."
Take the First Step
Where to start? Krebs recommends first finding out whether solar water heating is right for your home by asking a solar contractor for help. "The contractor will help you figure out how big of a system you need, if your home gets enough sunlight, and if there's any work needed to prepare for the system," she says.
Find the Right Fit
Do your research on solar companies by checking online and talking to your neighbors, co-workers and friends. "Now more than ever, homeowners want to know that the company they are partnering with for their solar investment will be around to answer their calls if a problem should ever arise," says Eric Carlson, co-founder and chief innovation officer at RevoluSun.
Know the Advantages
The biggest advantage to installing solar in your home is a lower electric bill. In addition to that, Carlson says solar increases the value of your home and provides peace of mind for owners who know their power will stay on, even during extended grid outages.
Top of Mind
Can your roof handle solar? This varies with every circumstance and should be decided after a thorough roof inspection. "The existing roof condition and estimated service life is one of the biggest factors," says Brennan Leong, president of Kapili Roofing & Painting. "Getting an idea of how much it costs to remove and reinstall a system should be factored into this decision, and the type of system you are going to be getting should also play a role." Leong says these roofing styles are best for solar installation:
Asphalt Shingles
"Asphalt shingles with a traditional racking system is typically more cost effective," he explains. "It allows for effective and efficient flashing of roof penetrations versus other types of systems that are more likely to cause roof leaks."
Standing Seam Roofs
"These are resilient and an energy-efficient option that allows for panel racks to be mounted to the ribs of the standing seam anchor," says Leong. "This minimizes the number of roof penetrations and overall chance of leaks."
Asphalt Shingle Roof Integrated Solar System
According to Leong, GAF DecoTech integrates a high-efficiency solar PV system array into your roofing system. "This has multiple benefits over other options," he says, including a reduced chance of leaks — similar to that of the standing seam style — cost efficiency and the potential to work around an existing PV system when time eventually comes to re-roof the home. That last part, Leong says, can save homeowners money that would otherwise go toward overall solar system removal and reinstallation costs.
Check the Costs
Once you've made the decision to switch to solar, the next step is finding a way to afford it. According to Krebs, the average solar water heating system alone can cost between $6,300 and $7,200.
To finance your solar venture, First Hawaiian Bank recommends using a home equity line of credit, or HELOC, or a personal loan. With a HELOC, you'll receive a low interest rate, lower monthly payments and the ability to lock in a fixed rate. For more information, visit fhb.com.
Be Cool
Many homeowners who are switching to solar already have air conditioning in their homes. However, if you're in the market to upgrade your air conditioning, consider Cosco Air Conditioning, a wholesale distributor of air conditioning, refrigeration systems and supplies. The company offers ducted and mini-split systems, like Daikin and Lennox, and products such as air filters and coil cleaners.
"I would suggest all AC owners get their systems checked annually," says Noella Cosco, executive vice president of Cosco Air Conditioning. "This normally includes a full clean down of the indoor and outdoor unit, removing dirt, dust, debris and mold from the coil. Doing so improves the efficiency of the AC system and allows it to run optimally, requiring less power to run and reach the set temperature."
During these checkups, a contractor is able to look for leaks in the coil; any release of refrigerant only adds to ozone depletion, shares Cosco. "It's very important to have refrigerant properly contained."
Maintaining your AC will improve the quality of the air in your home and lower the amount of energy consumed.
Routine Maintenance
You surely want to keep your solar system running in top shape. "Panels can get dirty, or tank parts can rust or erode, therefore reducing the efficiency of your system," says Krebs. She recommends a tune up for your solar water heater once every three to five years by a licensed solar technician.
"Most systems offered today have a monitoring feature that you can access via your computer or smartphone, which helps ensure your system is performing as designed," adds Carlson. "Likewise, a visual inspection to ensure there isn't any debris on your panels, such as bird droppings, leaves, branches or the neighbor's Frisbee, is essential for the general upkeep of your system as all of these can affect production. If you'd rather leave it to the professionals, most installers offer annual maintenance programs to inspect your entire system and clean your panels."