Illuminate the Bath with Any of These Stylish Fixtures
On a brighter note.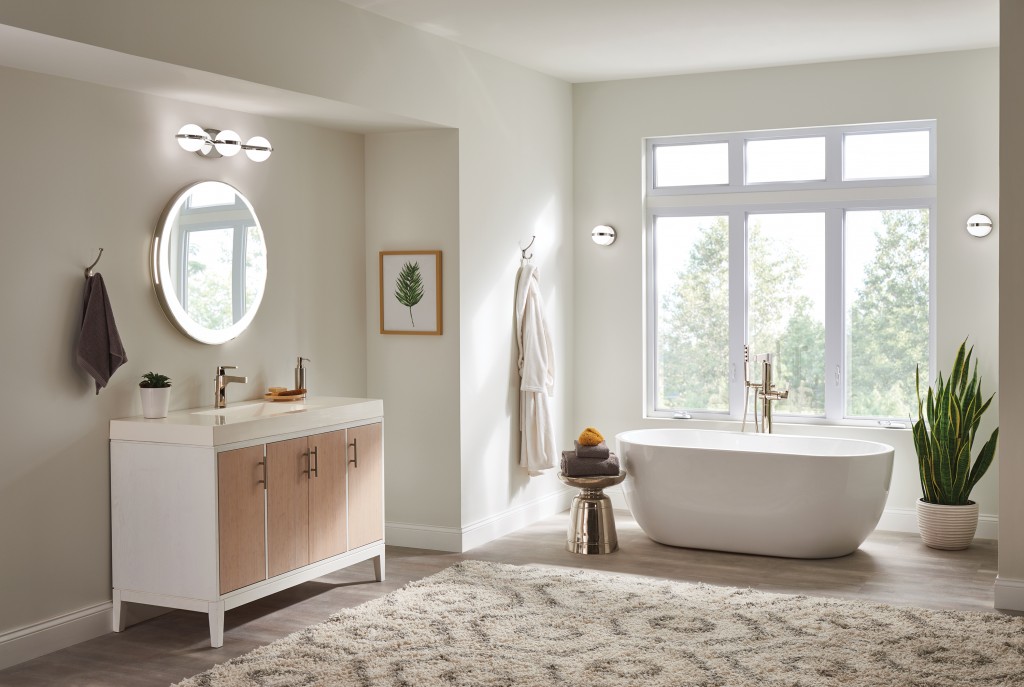 Lighting plays a big role in the bathroom, impacting not only the look of the room but also the ambience. Remaking your bathroom into a soothing oasis starts with updating that lighting.
"People want things clean and contemporary," says Kyle Kamakura of Dial Electric Supply Co. Inc., the island's largest lighting distributor and supplier. "There are a lot of options because of LEDs, which are so much smaller. You're not dealing with a lightbulb; they're really thin and streamlined and easily illuminated."
Simple changes can make a big difference in illuminating the entire room.
Mirror, Mirror
Homeowners are yearning for a spa-like feel in their bathrooms, which is one reason why illuminated mirrors are really popular right now. "It provides great ambient lighting and no shadows are created on your face," says Kamakura. "The designs are typically clean, sleek and minimalistic."
Kichler offers products like the Menillo 38.5-inch LED Vanity Mirror with Etched Glass, which brightens the whole space, surrounding you with light.
Less is More
Sconces are sleek options that require less hardware and less cleaning. "I'd recommend putting wall sconces on either side of the mirror," says Kamakura. "That way if you're looking in the mirror, the illumination is coming at you at eye level."
Kichler's Brettin and Voclain collections are current favorites to choose from, according to Kamakura. Consider the Voclain 24-inch Three Light Vanity Light with Mesh Shade Black or Brettin LED 3000K 24-inch Vanity Light in polished nickel.
Make it Yours
Create a bathroom that's personal and makes the best use of what's around. "In any space use lighting that not only looks great but make sure it enhances the other architectural features," shares Kamakura. "If great tile and plumbing fixtures are used in a tub or shower enclosure show it off by lighting it up! Don't hide it in a dark cave. Have a plan or meet with a lighting consultant to help you."
For those with limited square footage, illuminated mirrors, sconces, hanging pendants, floating orbs and recessed lighting are ideal because they take up less room. "The LED lights being produced by manufacturers are producing great amounts of light from tiny packages," says Kamakura. "Utilizing the correct colors and lighting can help smaller spaces feel larger than they are."
The Moonlit 7.75-inch One Light LED Pendant — available in many finishes like chrome or matte black — is an attractive addition to the room without taking up a lot of space.