Put a Little Love in Your Home with These Projects
Show that you care, one step at a time.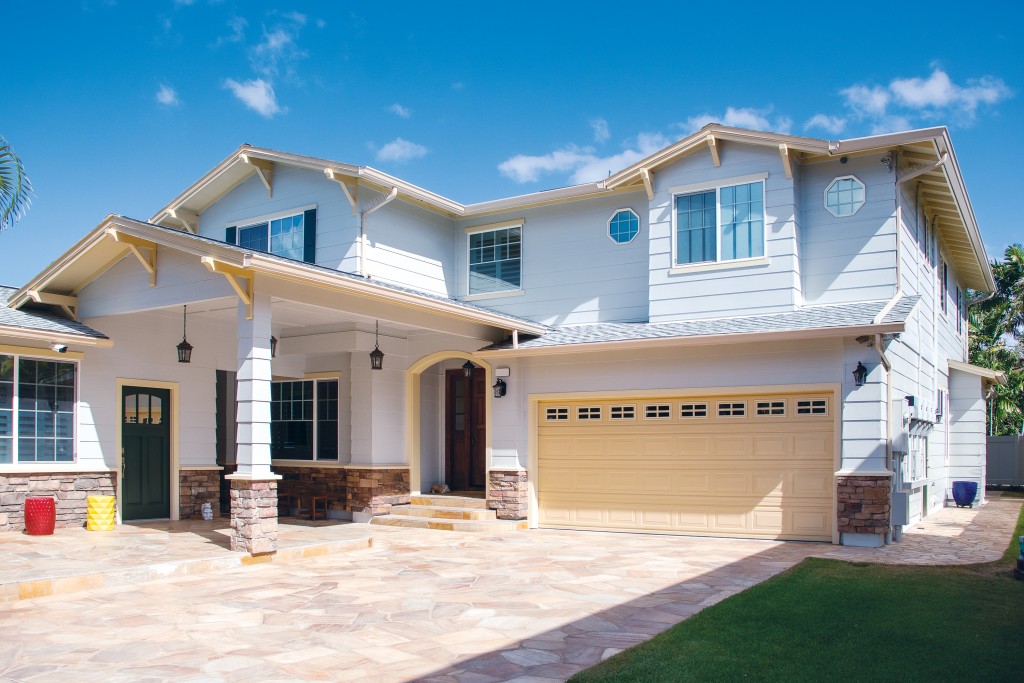 The new year brings a fresh start, making it the perfect time for smaller, thoughtful projects instead of large, overwhelming ones. Start today by looking at your entire house and taking note of what needs the most attention. Then, work from the outside in.
NEW PAINT JOB
While you're able to DIY exterior painting, safety should always be your number one consideration, says Brennan Leong of Kapili Solar Roofing. "It is also important to consider the existing conditions of the home, and the proper scope of work that is prescribed for your home's particular situation."
Leong suggests sticking to areas you can safely access from ground level — first-story walls and fences, for instance — and leave any whole-home painting to the professionals. Areas that receive the most sunlight will require the most amount of painting, he says.
GREENER HERE AND THERE
Show your outdoor space some love by adding greenery. In one weekend, you can pot a few plants for your front porch, plant hedges in your backyard or install window boxes around your house. If your backyard needs a little more TLC, think about fixing the fence or adding a stone pathway and water features, which can be found at Kiso Store.
TIDIED GARAGE
Organize your garage. Consider vertical bike racks and built-in cabinets, plastic bins and wire shelving to give all that stuff a proper place to live. To tie it all together, a new garage door can give your home some sweet curb appeal.
"In addition to greatly enhancing your home's appearance, most new doors come fully insulated for strength and quiet operation," says Peter Eldridge of Raynor Hawaii Overhead Doors. "The Raynor line includes the hurricane ready and hurricane post systems that can help the crucial structure of your home hold up when big winds blow."
A GRAND ENTRANCE
Your entryway is likely the first thing people see when they come to your house. It's also the first thing you see when you come home, so create a space that will make you smile. Refresh your entryway with a storage solution to organize your shoes, dog leashes, keys and more.
FOR THE WALLS
Improve your living area with floating shelves and place family photos and heirlooms on them to add some personality. Retouch and repaint marked up areas and places where old pictures used to hang.
LOVELY LIGHTING
If you've never changed your light fixtures, it may be time to update and personalize. Start with your entryway lights, then move to the kitchen and bedrooms. Additionally, it doesn't take very long to add LED lightbulbs. The switch to LED and a commitment to turning off the lights when you leave will help you become more energy-efficient. You can find stylish lighting options locally at Dial Electric Supply Co. and Ferguson Bath, Kitchen & Lighting Gallery.
COLOR IN THE KITCHEN
Using tile as a backsplash is a great way to refresh your kitchen. Artistic Tile and Lunada Bay Tile products — which are offered at businesses like Bella Pietra Design — come in a variety of styles, shapes, sizes and colors. Once you find the backsplash you like, installing it can be a fun way to add life to your kitchen. If your kitchen doesn't need a new backsplash, you can bring in some color by painting your cabinets. City Mill offers Benjamin Moore paints and a color matching program to get you the hue you want.
FRESH FLOORING
If you're tired of looking at all the wear and tear on your floors and you've tried every restaining and refinishing product out there, it may be time to install new flooring. Pacific American Lumber has you covered with options like prefinished hardwood flooring, polymer and the company's Neolith collection, which is highly durable and great for indoor or outdoor application.