12 of Our Favorite Spaces this Year
Some of our most-loved homes in 2020.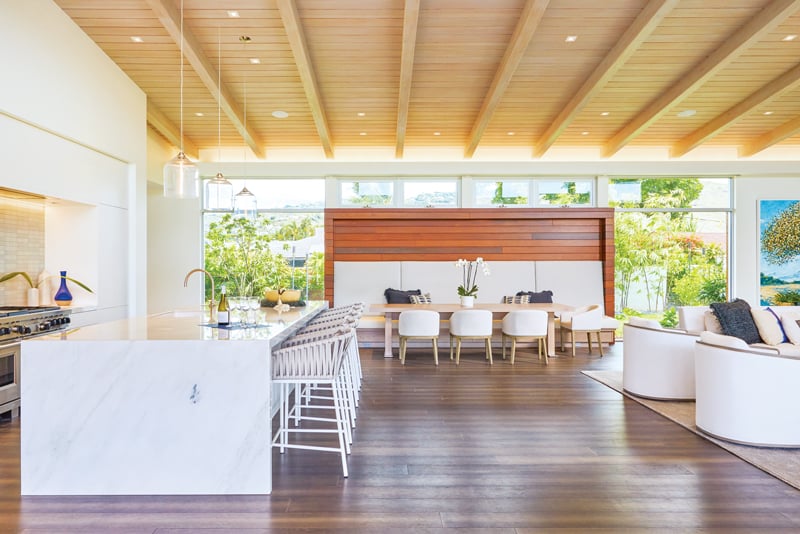 From newly built properties to phenomenal renovations, here are some of our favorite spaces in 2020.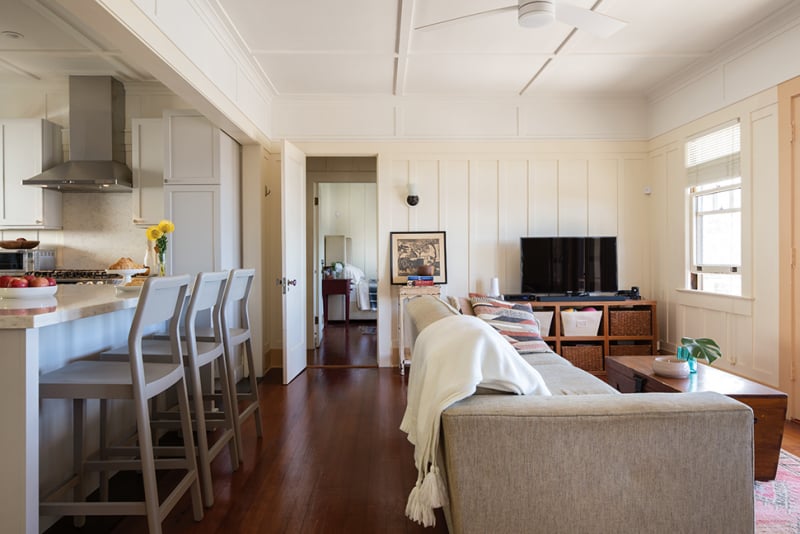 A nearly century-old bungalow was able to preserve its original glamour while receiving modern updates, including an addition and renovated kitchen by Homeworks Construction. The new kitchen is connected to the living and dining areas, creating a feeling of togetherness for the family and making it more accessible.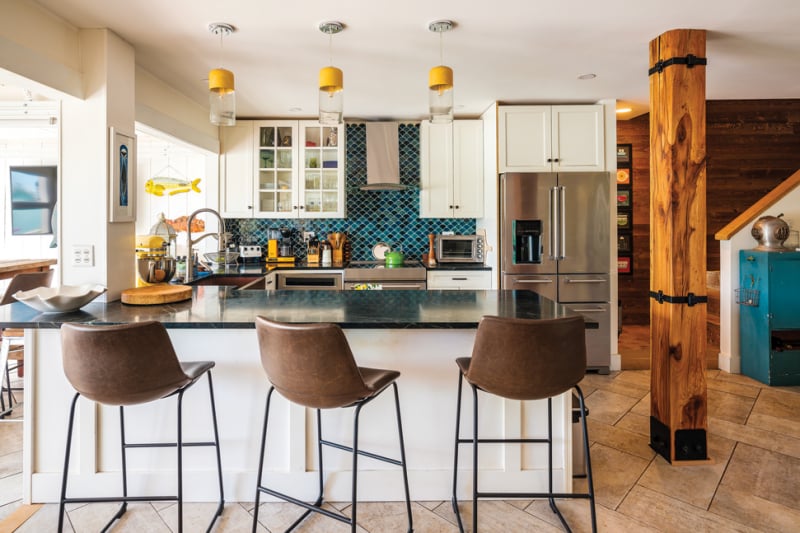 Looking for a way to seamlessly connect the outdoor lanai to the kitchen and living area, the owners of this marina-facing home thought of the inventive solution of using custom garage doors from Raynor Hawaii Overhead Doors. Now, their home is made for complete indoor-outdoor living, perfect for entertaining guests out on the lanai or inside at their colorful ocean-inspired kitchen that can accommodate up to eight people.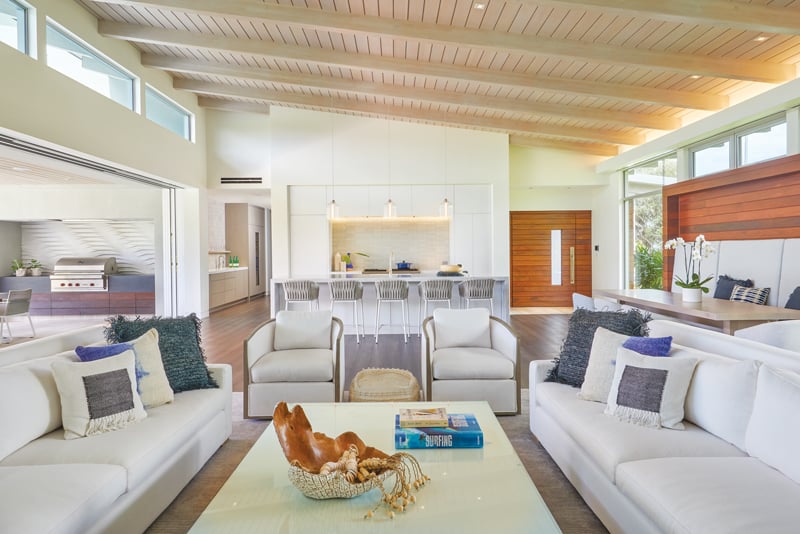 This award-winning new home is designed in detail from inside and out. Step through the doors and you're in the open-concept great room, which provides the family with several different areas to enjoy — from the kitchen, banquette and sofas to a connected covered lanai and yard.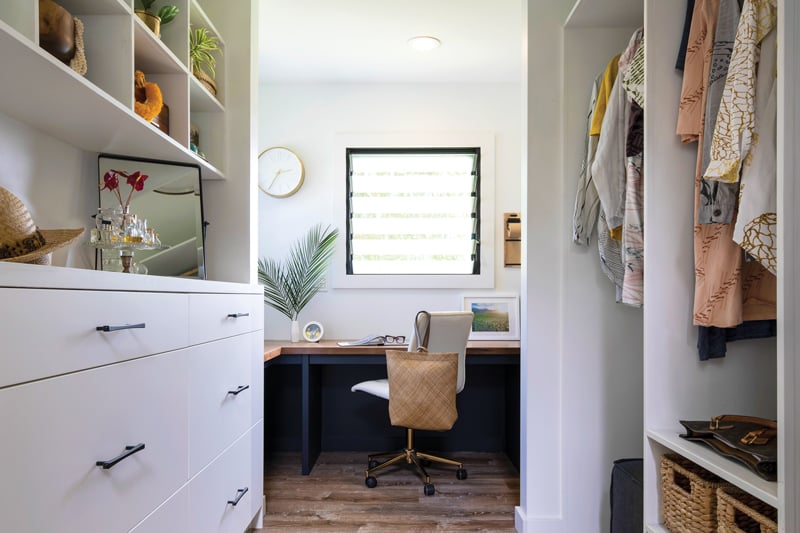 This cleverly designed tiny home's layout includes a bedroom, bathroom, living room, kitchen, extended patio and a den with a walk-in closet. The den has ample storage, with custom closets from Plus Interiors, as well as a desk for the owner to work from home or do crafts like sewing.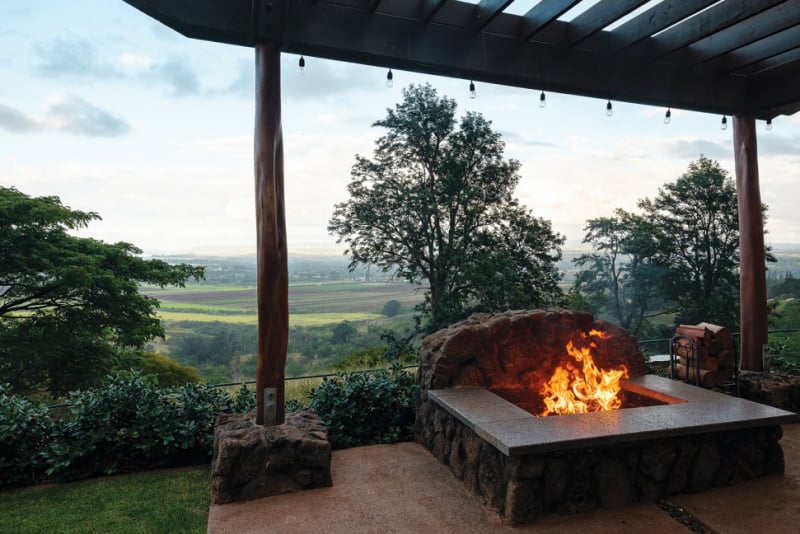 Looking over unobstructed views of the North Shore on Oahu, this sprawling property features a simple farmhouse-style fire pit built by Steve's Gardening Service. It has a concrete foundation and was inspired by rustic cabins. It's the perfect place for the family to gather around outside during cool evenings to sit under the stars and enjoy the fire.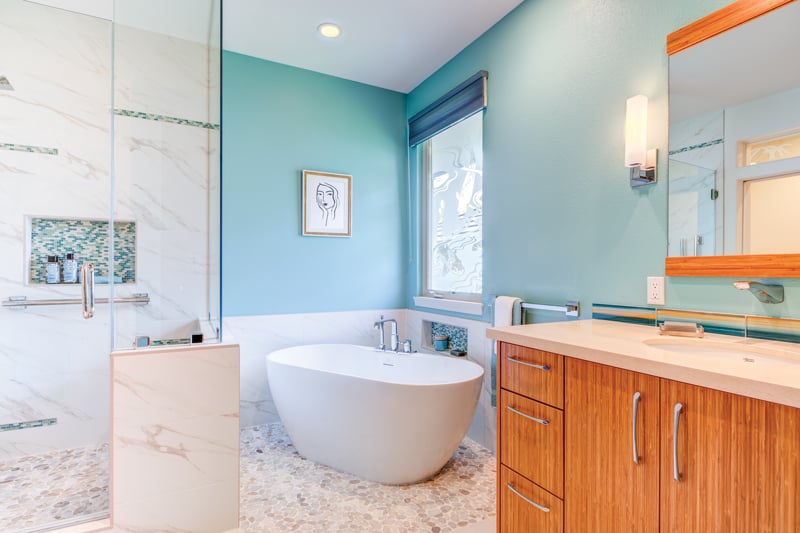 An outdated bath gets a total renovation by Moorhead & Company Inc. and Universal Interiors to give it a bright and clean look. The remodeled space has a smaller vanity and diagonal soaking tub to make the space feel roomier, as well as intricate details throughout, such as a hand-arranged backsplash at the vanity and tile accents in the shower.
Once a dark cavelike room, this kitchen emerges as a light and airy space after a renovation by PMI Builders and Pacific Source. The light kitchen features two-tone Bellmont Cabinet Co. cabinetry in Roanoke and bianco white matte that are dressed in flat black pulls. Together, these materials bring both light and warmth into the space.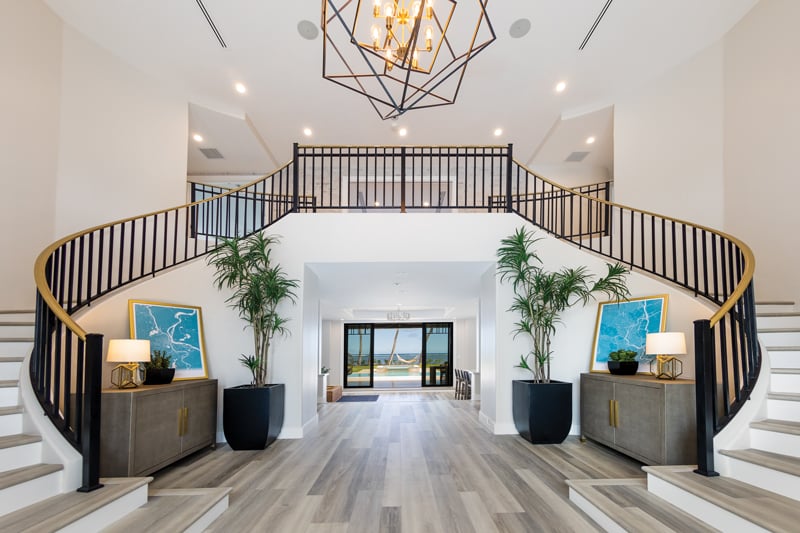 Renovating this oceanfront property opened the doors to ultimate luxury for the family of five. While the home has an abundance of new luxurious indoor and outdoor spaces, it still retains some original features, including the stunning double floating staircase that was redone to preserve its curved nature, allowing for a grand entrance into the home. The team behind this project was All Things New and Blueprint808 Architecture.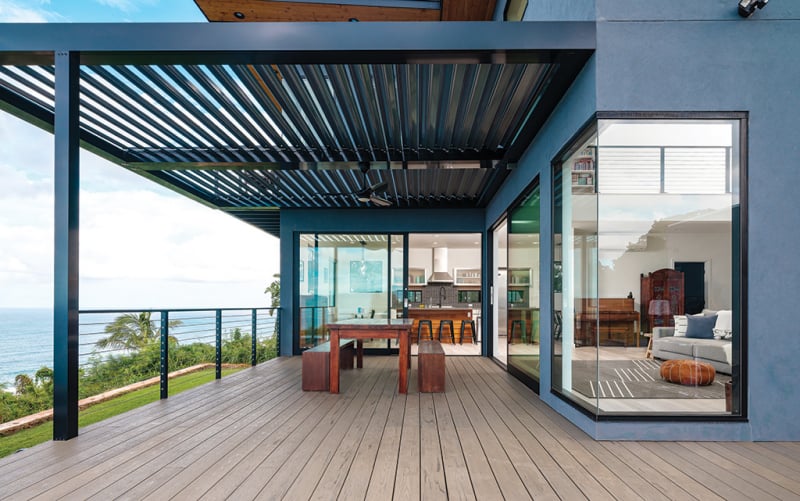 This Australian-inspired North Shore home is designed to handle its coastal environment with durable materials from Pacific Source. The owners outfitted their home with Fleetwood Windows & Doors' black aluminum products, which can handle sun, salt and rain.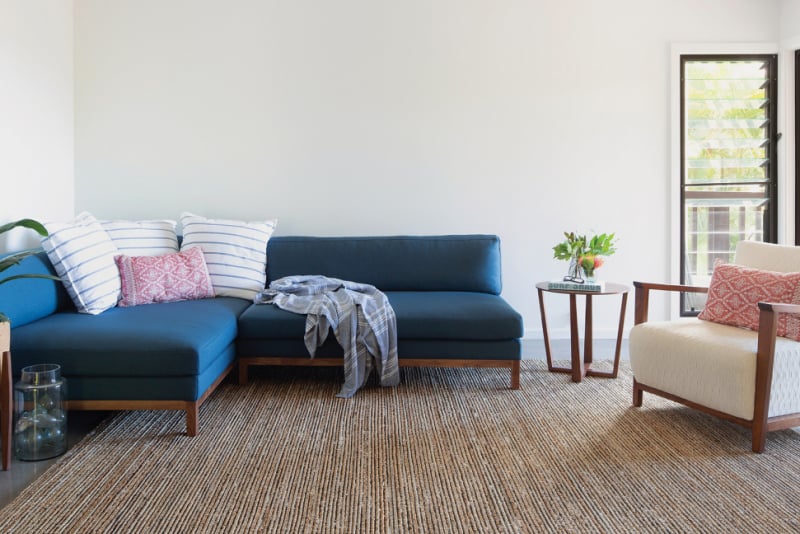 This charming condo receives a fresh new look from Koolau Builders. The newly remodeled space now features durable materials, including concrete floors and quartz countertops. The kitchen has custom teak cabinets from Plus Interiors to warm up the space.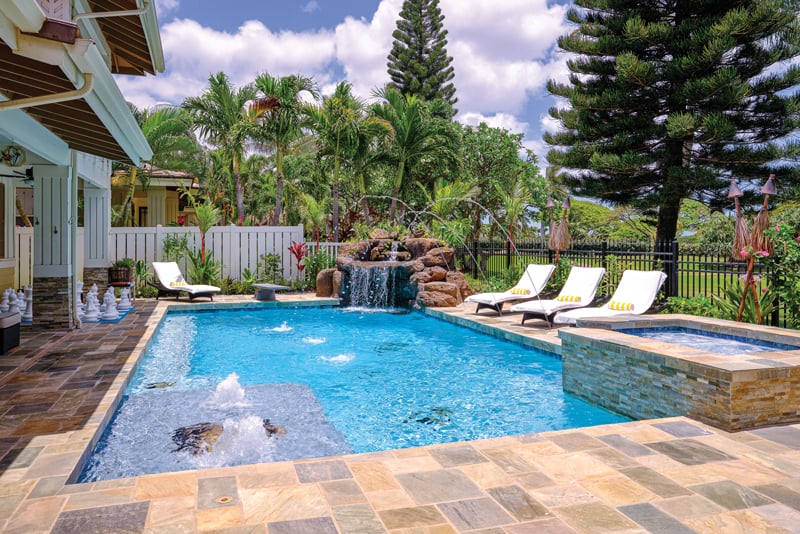 This fun-filled backyard has water and fire features, an outdoor kitchen, recreational areas and so much more for the family to enjoy. They call their outdoor playground — designed by Pacific Pool & Spa — that provides them with endless entertainment, "Lagoon 5."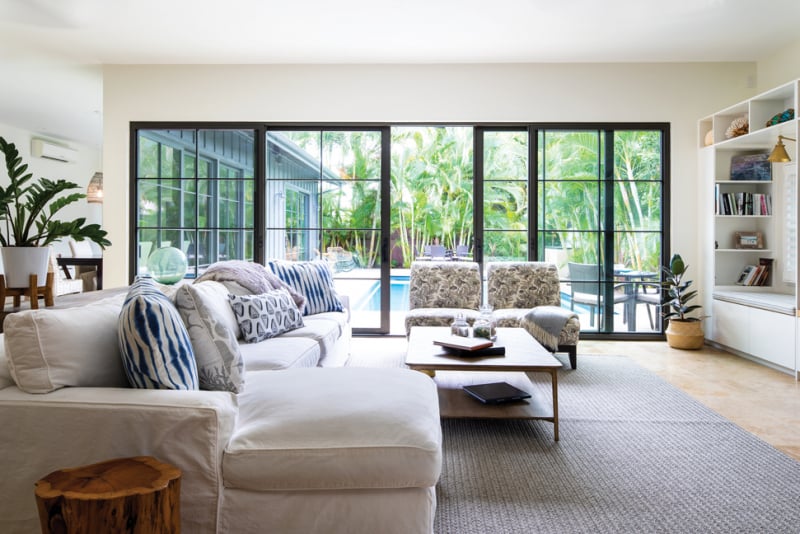 The owners of this home were puzzled over piecing together a better home for their family. They turned to renowned interior designer Jamie Jackson to take the lead. Together with Kela Construction and Pacific Source, Jackson was able to complete their dream forever home.