2019 Summer Home Guide
The days are longer and the fun is just getting started. Here's how to get your Hawaii home into tiptop shape.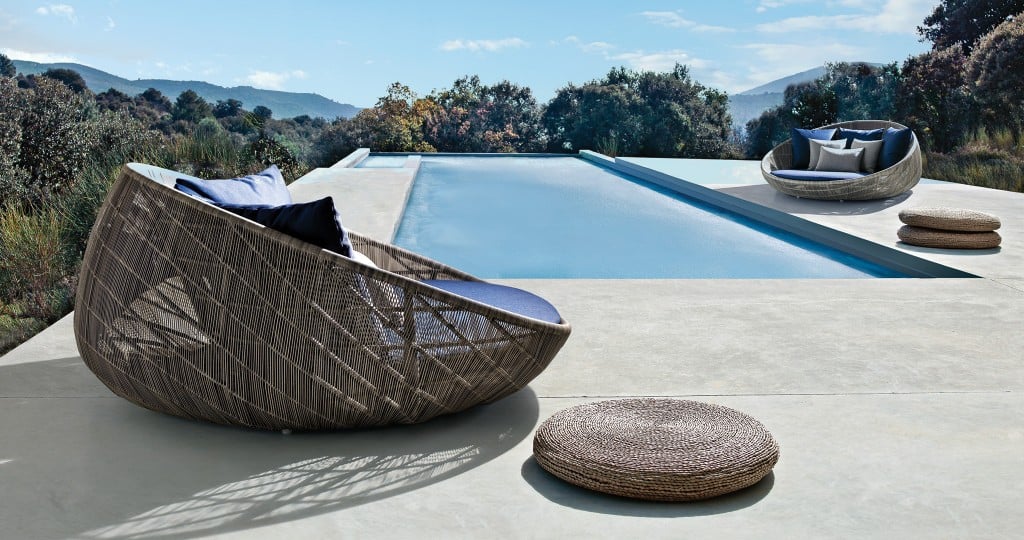 Summer is here! The days are longer and the fun is just getting started — which means it's time to get your home into tiptop shape. Is your home cool enough? Are you prepared for outdoor gatherings? Here, we help you answer these questions and offer up some expert advice on how to get your home ready for the season.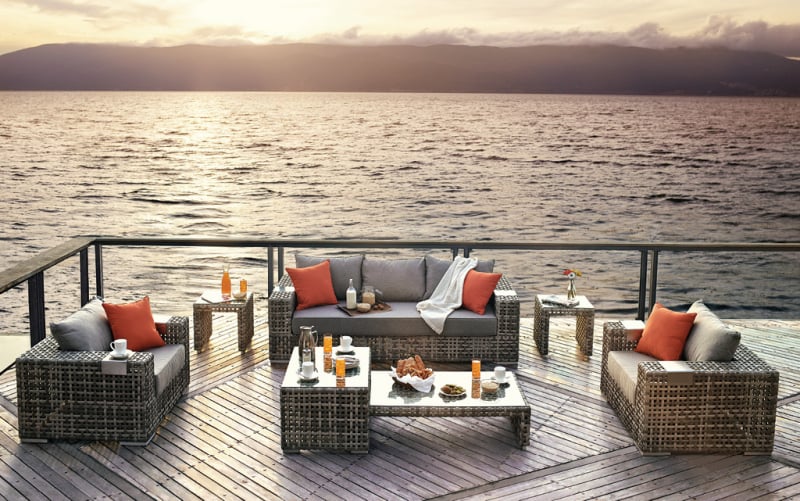 Fun in the Sun
It's time to head outside and enjoy the warm weather with friends and family in the backyard. Create a gorgeous outdoor living area for everyone to enjoy by focusing on these key areas: decking, outdoor elements and railing.
Decking
Your deck is the foundation to your outdoor space, so it's important to make sure it's in the right condition. If it's not, consider replacing it with strong decking material — like TimberTech AZEK™, known for its capped polymer decking.
The company launched its Vintage collection this year, offering the ultimate customization for your deck with boards of various widths. Mix the sizes — narrow (3 ½-inch), standard (5 ½-inch) and wide (7 ¼-inch) — to add dimension. The multi-width decking comes in a variety of colors and styles, including Coastline and Weathered Teak. There's also the Harvest collection, featuring Kona and Island Oak. Find AZEK Building Products locally at Rinell Wood Systems.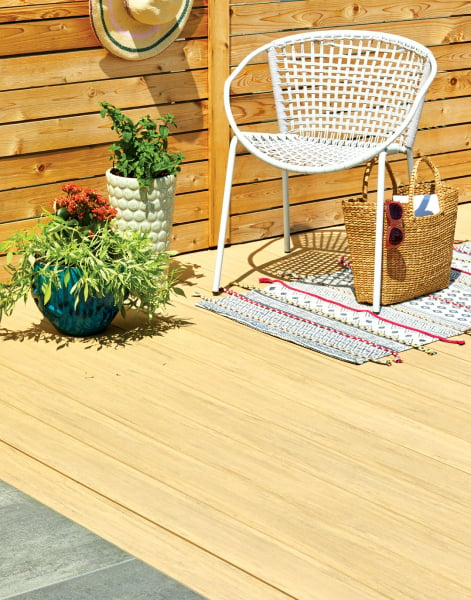 Outdoor Elements
While your deck is the foundation for your outdoor space, it's the variety of elements you add that'll personalize it for entertaining. "The growing focus on outdoor living means there are lots of options to create a great outdoor space," shares Andrew Toimil, chief product officer of Feeney Inc. "Adding elements such as fire pits, outdoor kitchens and pergolas can really transform a deck or patio."
Craft an outdoor living scene with the components of your choice, then add furnishings and décor that'll bring it all together.
Railing
The final piece to your backyard is surrounding it with railings that'll add definition and a unique aesthetic. "Railings are the finishing touch for an outdoor space and can help to define it and make it unique," says Toimil. "A variety of railing infill options are available, including horizontal and vertical cable infill, glass infill, pickets, and panels – one of the newest infill types."

Cool for the Summer
Ensure that you'll be having a refreshing summer by checking on your home's A/C system. "Now is the right time to make sure your home's cooling system is in proper order and up-to-speed," says John Arizumi of Carrier Hawaii.
With older models, make sure to compare its SEER, seasonal energy efficiency rating, to newer models. "This measures what it costs in terms of energy usage to operate the air conditioner," says Arizumi. "SEER scores for popular split-system air conditioners are now as high as 42 [and] if you use your air conditioner frequently, it could be financially advantageous to upgrade if your current model has a lower rating."
If you're in the market to purchase a new A/C, Arizumi recommends a ductless split-system with the compressor outside of your home and a fan coil inside. "[They] are very popular in Hawaii for their ease of professional installation and quiet operation. These units have now also become dramatically more energy-efficient," he says.
As a bonus tip, Arizumi shares that when you're in a rush to cool down a hot room, do not lower the A/C temperature. Instead, set the fan on high to remove the heat, as "lowering the temperature does not speed cooling."
Staying on Top
Don't let your roof be an afterthought this summer. Optimize your roofing to handle the summer heat with Kloeckner Metals' ENERGY STAR®-rated premium metal roofing.
"Our metal roofing is a great option for homeowners looking for a roof system that offers superior cooling and heat reflectance technology during the summer months," says Benjamin Cuen of Kloeckner Metals.
With Kloeckner Metals' metal roofing, the cool colors help to reflect the sun's rays and keep your home cooler. Its ultra-cool heat reflecting Kynar 500 coating also provides energy savings, incorporating reflective pigments into the dye that reflects even more of the sun's rays.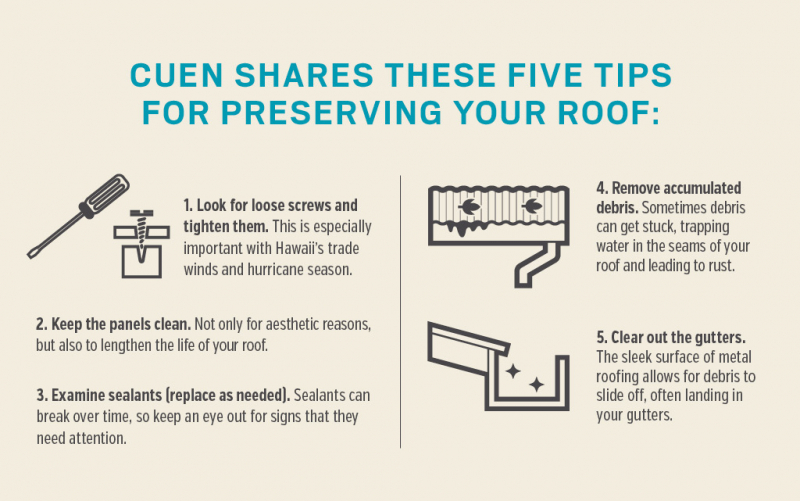 Storm Spotlight
With hurricane season from June 1 to Nov. 30, how prepared is your home to handle a hurricane?
Make sure you gather all the vital information you need, including contacts and evacuation zones, create emergency plans and a supplies kit, and have your home secured with hurricane clips and storm shutters. Visit your local City Mill to pick up all your hurricane preparedness essentials and check out hawaiihomemag.com for articles on all you need to be ready.