3 Major Home Surface Areas to Stay On Top Of
From countertops to cabinetry, read these tips before investing in your home improvement project.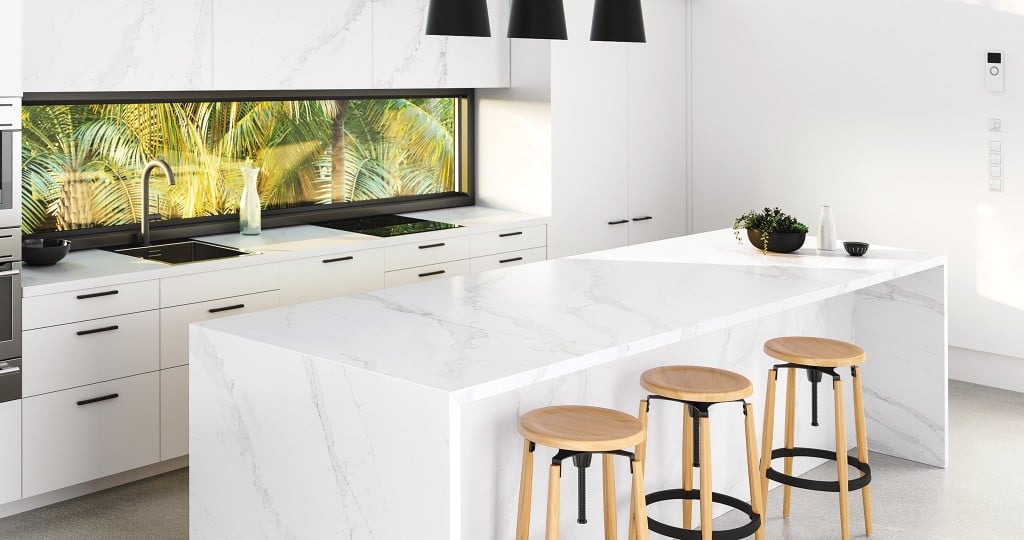 From countertops and backsplashes to cabinetry and everything in between, here's a look at three major surface areas you need to stay on top of before investing in your home improvement project.
Countertops
When it comes to what's on top of your kitchen or bathroom counters, it's best to consider how you use these surfaces, what's important to you and what you can manage in terms of maintenance and care. Randall Omoto of Homeowners Design Center shares that the options for countertop materials are endless, but there's a difference between what's more suitable to use in the bathroom versus the kitchen.
For instance, "limestone or a marble type of product will react negatively to things we use in the kitchen," says Omoto. "Lemon juice or white wine vinegar will etch the countertop in no time."
These are just some of the things to take into consideration before determining the right material for your kitchen or bathroom, he explains. From there, you can make the decision on what's best and what's right for your space.
Quartz
Quartz continues to rise in popularity for countertops; it comes in an array of colors and designs, it's scratch-resistant and it's low-maintenance. No wonder it's the No. 1 selling countertop surface, says Omoto. Quartz is also very durable, but high heat remains an issue. Trending colors include whites and grays, shares Kevin Nip of Selective Stone. Color veining in the stones also adds to its appeal and variety.
Natural Stone
With a natural stone product like granite or marble, you are getting a one-of-a-kind design. Natural stones are made by nature, polished by man and offer a higher reflection rate than other surfaces. "There's a quiet elegance to granite," says Omoto. "It looks like a sheet of water is sitting on it because of the reflection." Maintenance on natural stone is not as time-consuming as it used to be either. Modern technology has made it easier to seal your stone, with some sealers good for 15 years. Because of potential etching, marble is better in the bathroom than the kitchen, and offers an "elegant and not so uniform look," says Nip.
Dekton
This ultracompact surface has been on the rise for the last four to five years due to its numerous perks, including a high resistance to heat, cold, abrasions and stains. It's also nonporous and available in more than 50 colors. Plus, there are numerous applications for Dekton, from outdoor kitchens and cladding on buildings to countertops and flooring, shares Omoto.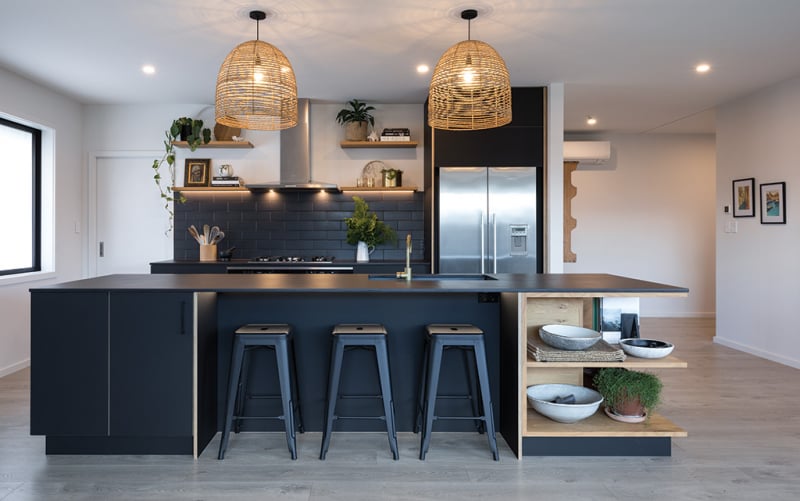 Counter Contemplation
While quartz, natural stone and ultracompact surfaces are popular options, here are four other countertop materials to consider.
Acrylic. This high-maintenance product can be easily scratched, so repolishing will be needed. Acrylics are often used as an integrated sink with your countertop for a consistent look.
Concrete. Lending a rustic feel, concrete can be a durable countertop choice for your kitchen, but keep in mind that cracks and scratches do tend to happen.
Laminate. If you're looking for a very affordable option, laminate is the one for you. Often seen in rentals, it's scratch-resistant and handles heat, but it's susceptible to water and contains a particleboard substrate.
Tile. Another cost-effective material, tile can be used as your countertop surface. You can easily do a floor-to-ceiling look, with large tile panels on your shower surrounds and countertop. Tile is also very high-maintenance, with grout lines and joints that need to be cleaned often.
Backsplashes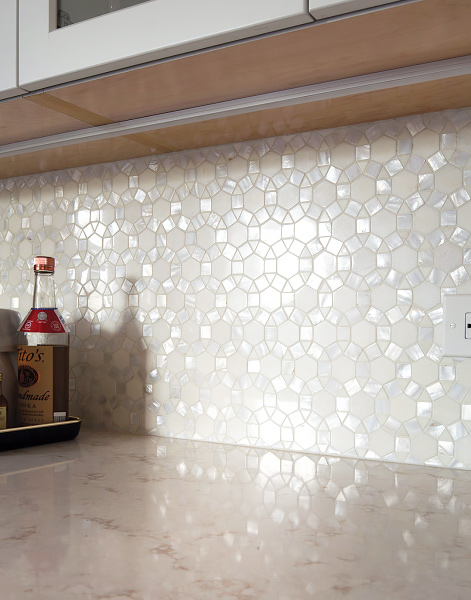 While the primary purpose of backsplashes is to protect your walls from stains and splatters, that doesn't mean it can't be a standout piece or complementary design to the look of your kitchen or bathroom. Brenton Liu of Design Trends Construction shares that he has been seeing an influx of different backsplash designs emerging in the industry, with a shift to shapes and textures.
"We are getting a lot of reinvention of retro designs," he says, adding that while there are a lot of colors for mosaic backsplashes, he is also seeing softer colors and a lot of shapes, and floral and abstract designs such as beveled hexagon tiles and irregular chevrons.
With ceramic tiles, different sheens, glazes and iridescent applications are being used with white as a backdrop instead of bright colors. "It's a really sought-out approach to these finishes," shares Liu. Adding these design elements and playing with patterns creates interest with your backsplash.
Cabinetry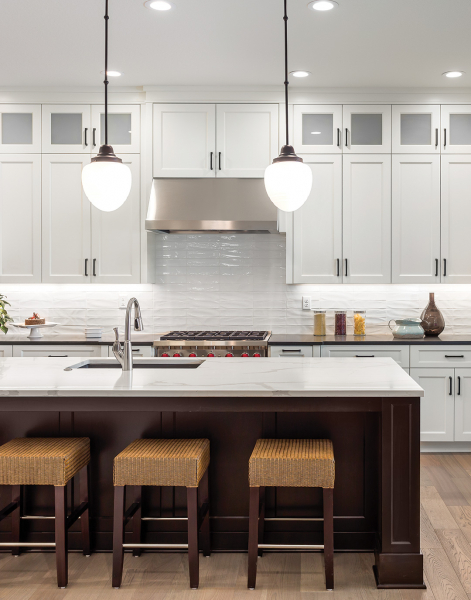 When it comes to kitchen and bathroom cabinet production, a lot happens behind the scenes. To help you understand cabinetry lingo, Omoto shares this:
Cabinetry options start with a choice between framed and frameless. Framed means that the cabinet doors are secured to a built-in frame. Because of this stability, framed cabinets are much stronger. Frameless cabinets, on the other hand, offer more room and access without this additional support. Plus, it gives off a more sleek appearance.
From there, you enter the realm of different substrates — medium-density fiberboard, or MDF, particleboard and plywood — and materials that sit on top of the substrate, such as thermofoil, laminates, melamine, acrylics, wood veneer and solid wood. Five-piece doors that are made of wood or a hybrid, for instance, can be painted and finished in numerous ways — high-gloss, semigloss, matte, stained, etc. — which appeals to many consumers.
Omoto recommends to always look out for any certifications with the manufacturer and available warranties before choosing your cabinetry.