4 Thanksgiving Table Settings That Will Impress
Plating to show off your culinary creations.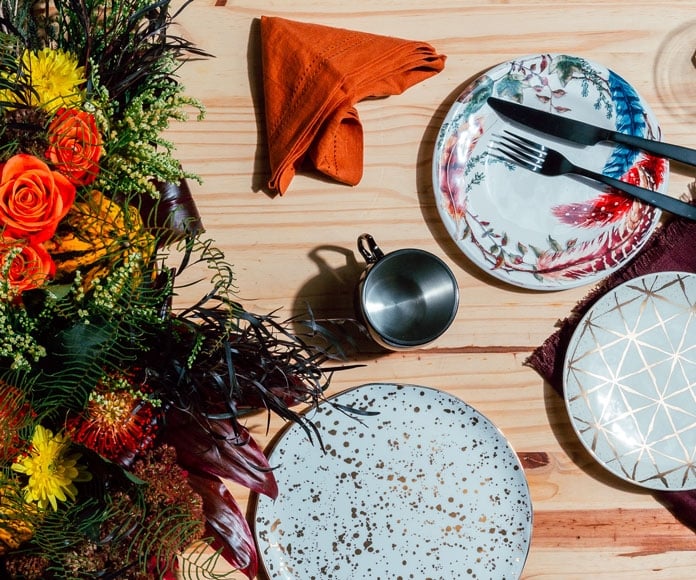 After spending what is sure to be a hectic morning—and possibly eve before—preparing and cooking a Thanksgiving feast for your loved ones, be sure to show off your culinary creations by plating them up beautifully.
Simply Stunning
Sometimes, less is more. A bright orange accent makes the setting burst with color, add a copper pineapple tumbler for some playful charm.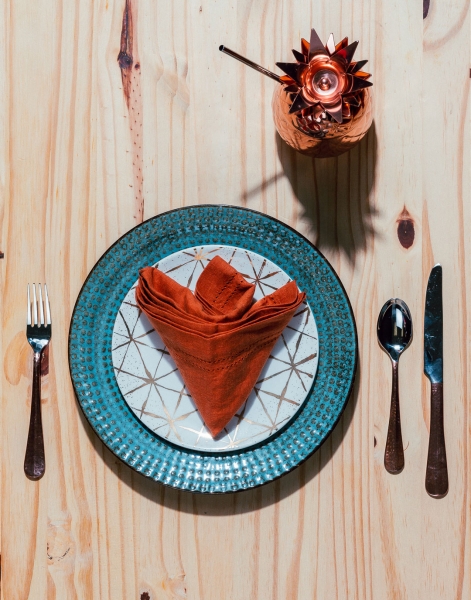 Orange napkin, $8, Williams Sonoma
White and gold plate, $16, Anthropologie
Blue dinner plate, $6, Pier 1
Copper pineapple tumbler, $30, Pier 1
Lavish Delights
Deep purple hues paired with gunmetal flatware create a dramatic setting fit for royalty. The pièce de résistance? A gorgeous arrangement from Watanabe Floral adds the perfect touch to any table setting.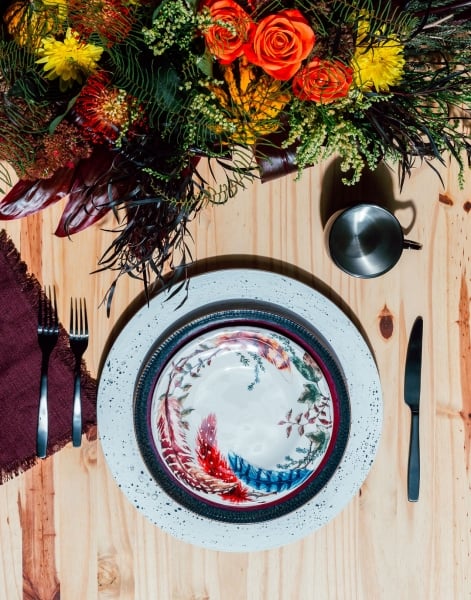 Floral arrangement, Watanabe Floral
Feathers and branches plate, $7, Pier 1
Crimson and blue plate, $7, Pier 1
Blue and white speckled charger, $16, Pier 1
Burgundy napkin, $6, Williams Sonoma
Gunmetal flatware, $20, Target
Black Moscow Mule mug, $22, Macy's
Beachy-keen
Don't just bring food to the table, bring the beach. Driftwood accented with glassy, oceanic colors create a subtle and serene setting.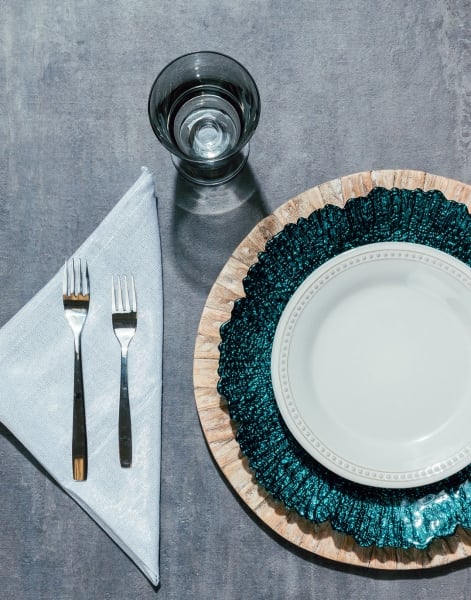 White plate, $4, Pier 1
Turquoise plate, $12, Pier 1
Driftwood charger, $16, Pier 1
Shimmery napkin, $4, Pier 1
Smokey goblet, $14, Williams Sonoma
Golden Platter
Glitz, glamour, gold. Combine all three to get a Thanksgiving table setting that's sure to sparkle.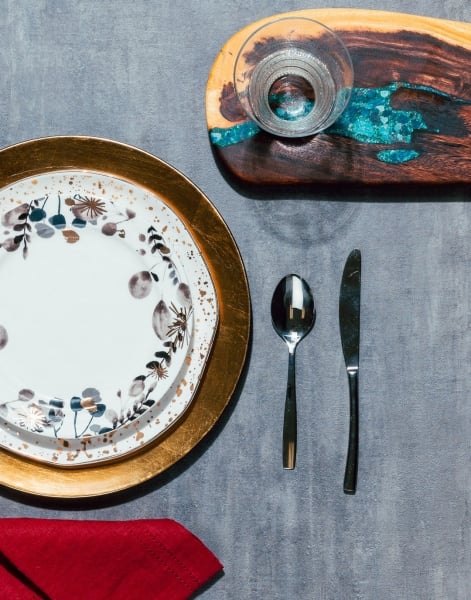 Feather plate, $16, Anthropologie
White and gold speckled plate, $24, Anthropologie
Gold charger, $3, Target
Red napkin, $8, Williams Sonoma
Jewel tumbler, $11, Pier 1
Monkey pod board with malachite and lapis inlay, $76, Foundwood