5 Beautiful Bathrooms to Inspire Your Remodel
A refreshing collection of unique bathroom designs.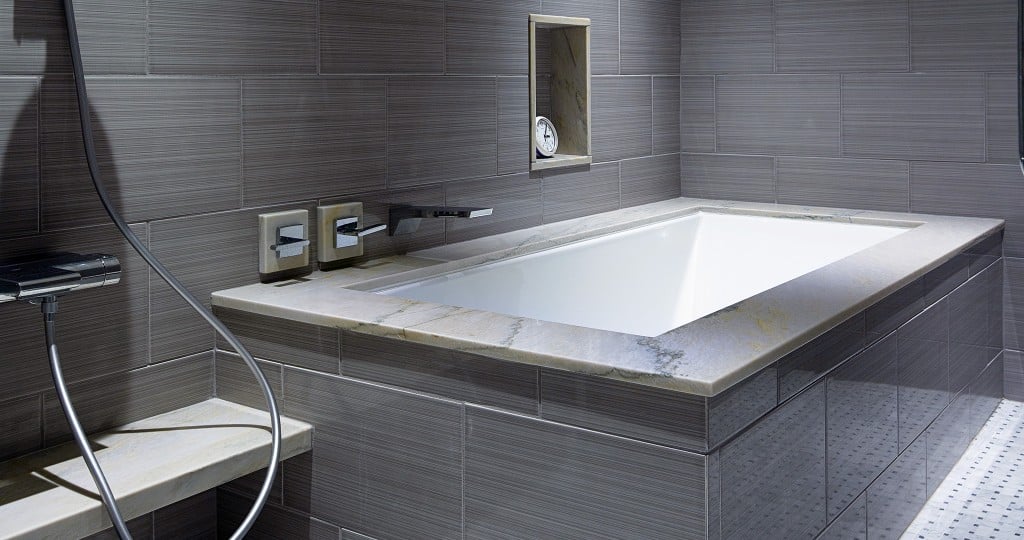 A look at five Hawaii bathrooms to inspire a new look for your renovation plans.
Tranquil Beauty (featured above)
This tranquil guest bathroom was part of a complete condo renovation done by AGT Construction. It features an accessible shower and bench located next to a spacious bathtub perfect for relaxing in. The matching tilework on the walls and bathtub are from Liquorish Stone & Tile.
Espresso Refresh
Designed by: KN Design by Design Management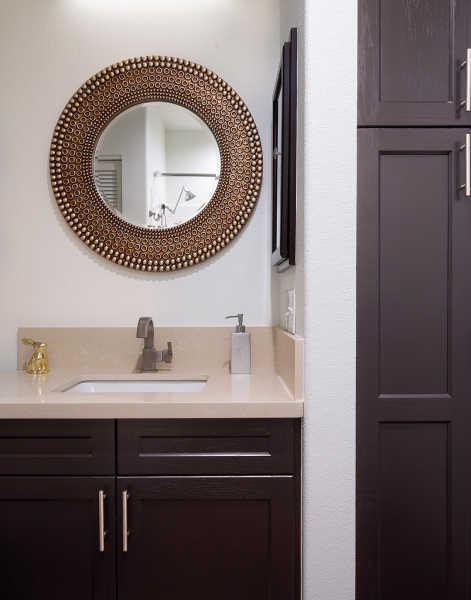 This bathroom update is part of a townhome renovation designed by Kathy Norton of KN Design by Design Management. The custom cabinetry from Bekin Cabinets was primed and sprayed with a dark espresso paint to let the rich oak wood grain show through. The cabinetry's dark tones are balanced by the lighter magnum quartz stone countertop from Selective Stone; a round, gold mirror from INspiration Interiors serves as a focal point for the small full bath.
Delicate Palette
Designed by: Design Trends Construction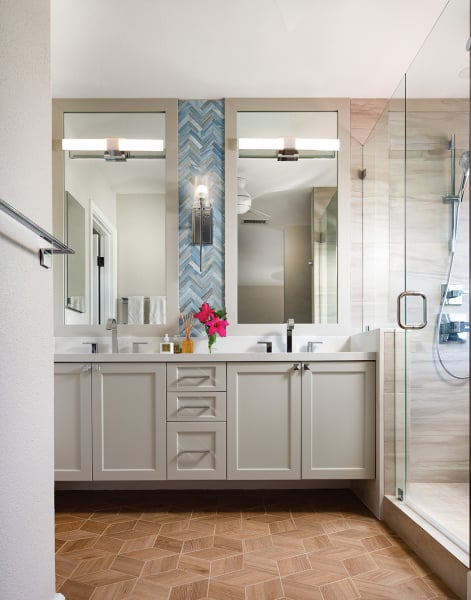 This elegant feminine master bathroom perfectly captures life at home along the water. "I think Design Trends Construction put everything together so nicely and it really complements the marina right out here," the homeowner says. A large shower stall replaces a smaller shower and bath. The floors are made of a custom 3D pattern in wood print. LED lights illuminate the entire space, including motion sensors in the bath. "It's a good look. It's very functional with a lot of storage space," the homeowner adds. For a pop of color that echoes the blues of the ocean, a zigzag chevron styled accent tile is used as a backsplash.
Surf and Sand
Designed by: Geoffrey Lewis Architect Inc.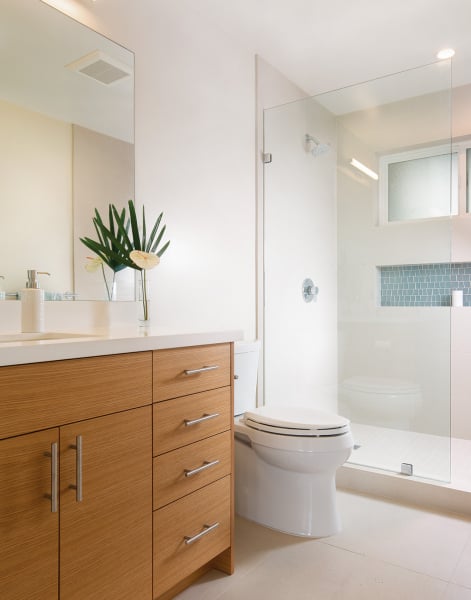 This Maili Point beach house bathroom designed by Geoffrey Lewis Architect Inc. is inspired by life on the shore. The architect selected cabinetry in rift-cut white oak with horizontal grain match from Plus Interiors. Corrine Tadaki-Davis of Plus Interiors explains that the tight grains from the rift cut provide a modern look. "This material, coupled with the lighter porcelain tiles that pick up on the limestone rock outcrops on the beach, the glass accent tiles that pick up on the ever-present beach glass and the light countertops all provide a bright and 'beachy' sensibility," says Geoffrey Lewis. See more of this house at hawaiihomemag.com/mailipoint.
Retro Reality
Designed by: Design Trends Construction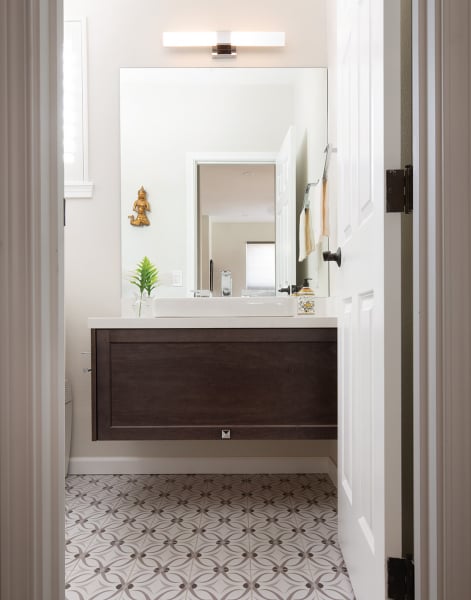 At first, the design of this powder room felt like a bold step for the homeowners, but in time it's become one of their favorite renovated spaces. The newly remodeled powder room carries a clean and crisp aesthetic with its white walls, retro-style tile flooring and contrasting dark floating vanity paired with a white countertop. The room was styled to complement the contemporary design of the whole home, says Brenton Liu of Design Trends Construction. Visit hawaiihomemag.com/coastalcontemporary to see more of this home.