5 Facts About Neolith, a Revolutionary New Countertop
This versatile countertop material has durable performance and visual elegance.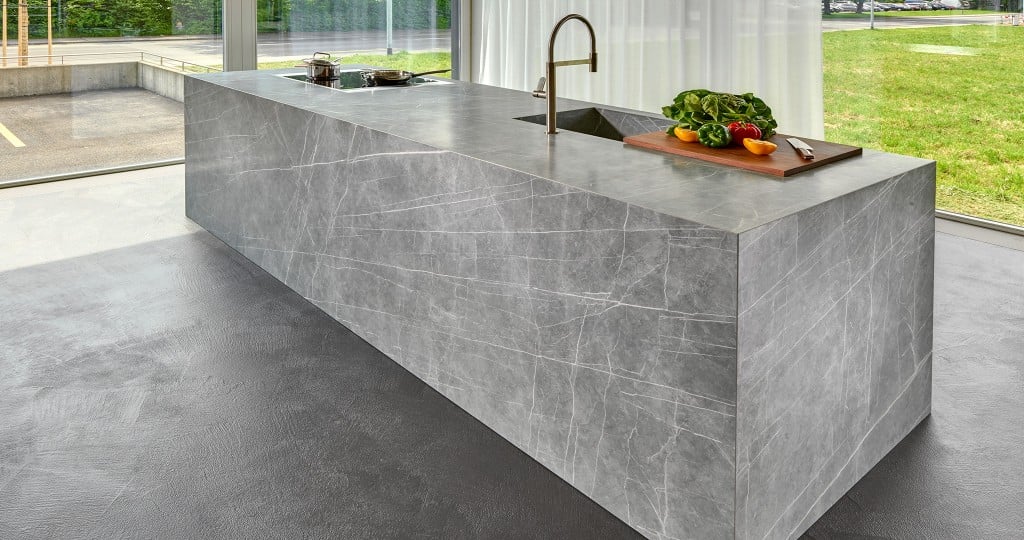 Have you heard about Neolith? There's a lot to cover below the surface of this versatile material.
"Neolith is part of a new and revolutionary product category that came about in the last decade to meet more demanding architectural and design needs," says Shelby Frank of Pacific American Lumber.
Neolith breaks from traditional "ceramic" or "stoneware," evolving into a new type of surface. Also known as sintered stone, Neolith is 100 percent natural and based on only three elements: minerals from granite to provide hardness and strength; minerals from glass and silica to provide chemical stability; and natural oxides to provide chromatic properties.
Here are five fast facts you need to know to determine if this surface is right for you.
It's highly scratch- and impact-resistant.
Produced at high temperatures and pressures, Neolith is made to last. It can withstand the heat from hot pots and pans placed directly on the surface and knives used to cut directly on the countertop surface.
Maintenance is a breeze, and it's UV stable and hygienic.
Neolith won't release any harmful substances or take any in, since it's waterproof and does not need to be sealed.
It's durable and an all-in-one.
"Neolith combines high-performance specs, trendy colors, large formats and variable thickness," Frank says.
Apply it anywhere.
Because of its durability, Neolith is fit for every possible application, both indoor and outdoor, including countertops, walls, tiling and furniture. "The only limit is your imagination," says Frank.
It makes a good impression.
Neolith also leaves a lasting impression. Frank shares that in order to bring the colors to life, Neolith utilizes its proprietary digital printing technology and an embossing process to give it a 3D appearance, all while remaining as close to nature as possible, both in appearance and texture.