5 Must-Haves for Your Kitchen Island
Key design factors to make your island the center of attention.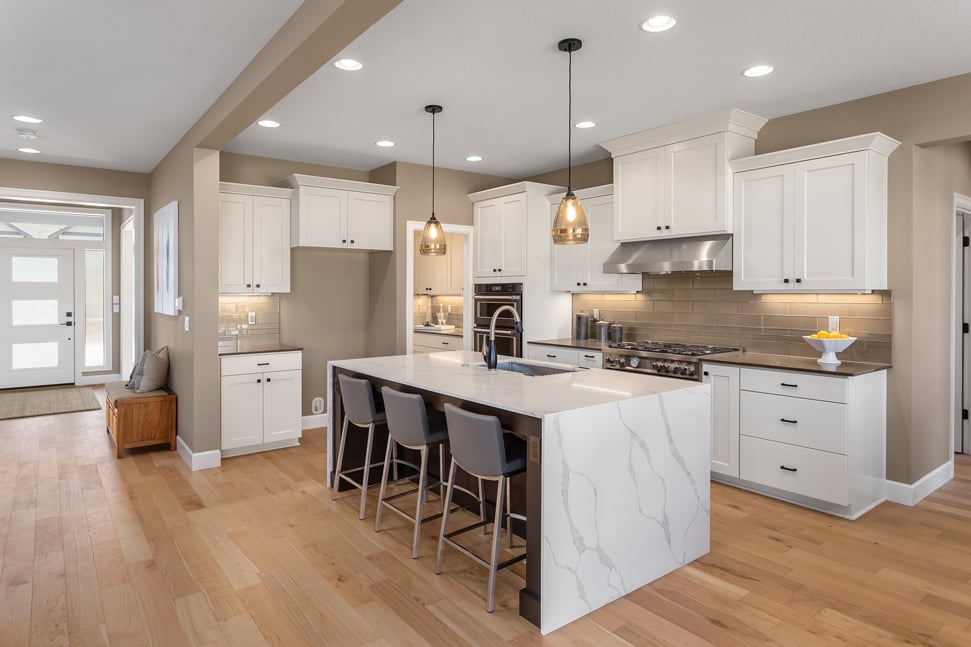 If the kitchen is one of the central gathering places of the home, then the island is its centerpiece. If space allows for it, a kitchen island can provide much-needed surface area and storage, all while complementing the overall style of the room. When it comes to designing your ideal island, there are five factors to consider.
Form. The first step in designing your kitchen island is to daydream about your newest addition. Figure out what your perfect island will look like, from the cabinetry selection and countertop choice to color, size and design style. Your island can either blend in to the design of your kitchen or be the star of the show. It's all up to you and what your space will allow.
Function. Form and function go hand in hand, especially when thinking about how your island will fit in with the rest of your layout. Do you like to sit in the kitchen or are you looking for additional prep space? Are you in need of more storage or perhaps plan to move appliances to your island instead? How you'll use it, whether for entertaining or cooking, will be the foundation for your decisions.
Storage. Extra storage is one of the main reasons homeowners opt for adding an island to their kitchen. And with today's cabinetry lines, there are plenty of rewarding features — from appliance garages and deeper drawers that are great for pots and pans to pullouts made for drawers, trays and trash.
Counter space. Sometimes, the original layout of your kitchen doesn't allow for much counter space. By adding a kitchen island, this problem is taken care of, giving you more space to work with. Most people choose a countertop that matches the rest of their kitchen, but you can opt for something different: There's butcher block, stainless steel, quartz and more to peruse.
Seating. Open-concept design and dining in the kitchen are on the rise, making seating around the kitchen island a necessity for many. Entertaining guests, having casual family meals together or eating afternoon snacks, especially for the kids while they do their homework — can all happen right at the kitchen island.