5 Things to Know about Living in Manoa
Close-knit community and college town energy come together in this Oahu neighborhood.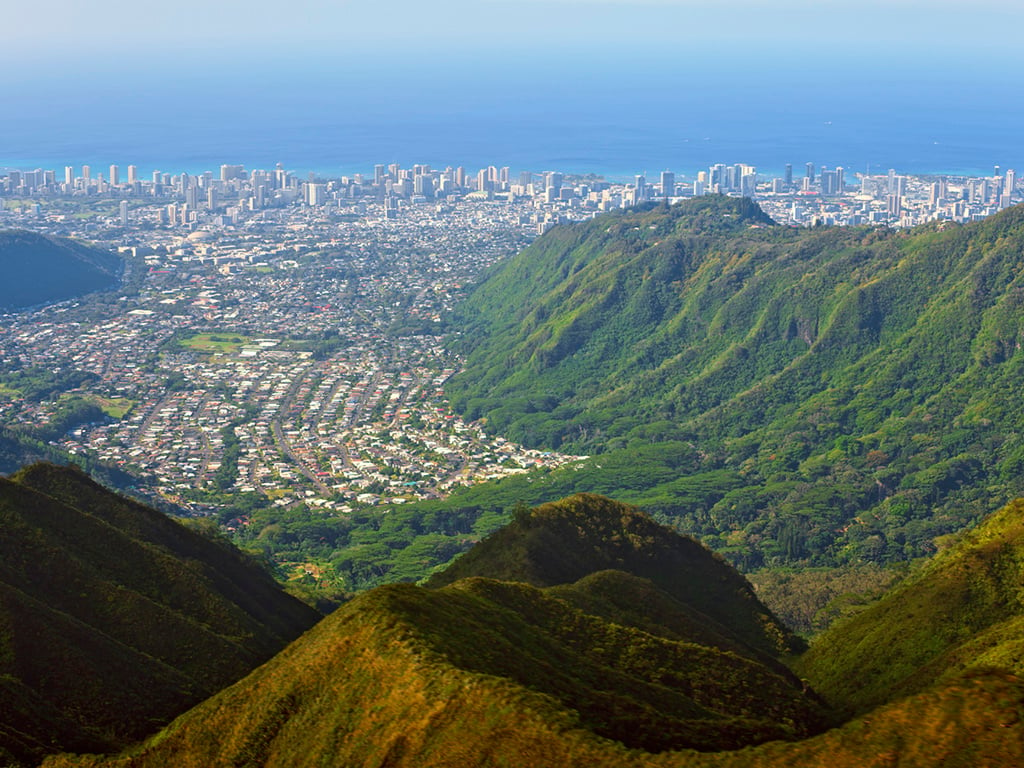 For many, living in Manoa is a dream come true. A verdant valley community minutes away from Honolulu, the charm of Manoa lies in its properties and people. Full of multigenerational households, old homes and plenty of undeveloped space, this coveted neighborhood is highly sought after by both locals and newcomers wanting to set down roots.
If you're looking to settle down in Manoa, here are a few things to keep in mind before making the big move.
Community Charm
Manoa is a special community. Because the properties found here are so highly prized by their owners, many homes have been passed down for generations, and residents have stayed in the valley for decades. Because of this, everyone tends to know everyone on their street, and the community actually feels like a community. "You'll see the auntie and the uncle down the street and it's just such a nice neighborhood feel," says List Sotheby's real estate agent Dee Asuncion, who has been providing professional real estate services for over 10 years in both residential and commercial sales, with an emphasis on asset building and a passion for sustainability. "It's what you'd expect to see when you think of a neighborhood in Hawaii. You can just walk out down the street and you'll know your neighbors, you'll know their names and they'll know you."
Old Homes
Don't expect to find many new homes in Manoa. "On average, the homes in Manoa were built in the 1960s, however, there are even historical homes and vintage homes that can be dated as early as 1910," says Leanne Kwock, a List Sotheby's real estate agent with over 20 years of experience. Kwock is highly regarded at List Sotheby's for her ability to understand client needs and for her strong negotiation skills. Of course, buying an old home isn't a bad thing — not at all. Many of the homes in Manoa exude charm and have vintage appeal; however, be prepared to invest in repairs post-purchase.
Competitive Market
Since Manoa is such a highly sought-after place to live, the market is best entered with a trusted agent — such as one from List Sotheby's International Realty — at your side. "There's not a lot of action in terms of listings," says Asuncion, "so when they do come on the market, they get gobbled up really fast." On average, a home will stay on the market for 30 days before it's sold, and the average price for a single-family home in Manoa is $1.4 million — roughly 23% higher than single-family homes elsewhere in Honolulu. If the market is looking too competitive for your current situation, Kwock recommends districts similar to Manoa, such as Makiki, Hawaii Kai and Kailua. In these areas, listings stay on the market longer, which leaves more time for negotiations.
Perfect for All Types
Whether you're a young family with keiki in tow, an elderly couple looking for a quiet place to retire or a business-minded single, Manoa is a great place to settle down. Despite being a world away from the hustle and bustle of city life, Manoa is only 10 minutes away from central Honolulu and its business districts, shopping malls, emergency care and grocery stores. Manoa residents have numerous schools to choose from, and those with college-aged kids will love the short commute to the University of Hawaii at Manoa.
Yard Factor
There aren't too many places in or near Honolulu where you can purchase a home with a lawn. But Manoa has plenty of properties with ample real estate. Not only is this fantastic news for residents with dogs and other outdoor pets, but those looking to live sustainably will have ample room to grow their own produce. "I'm always attracted to sustainability," says Asuncion, "and the larger parcels of land found in Manoa allow you to really grow fresh produce and those ever-sought-after fruit trees!"
Leanne Kwock, Realtor-Associate ® HI LICENSE RS-64548, (808) 542-0511. Find her agent profile page here.
Dee K. Asuncion, Realtor-Associate ® HI LICENSE RS-74712, (808) 840-7232. Find her agent profile page here.