5 Tips for Mainland Buyers Who Want to Own a Piece of Paradise
Sotheby's real estate agent Drew Read shares his advice for potential Hawaii residents.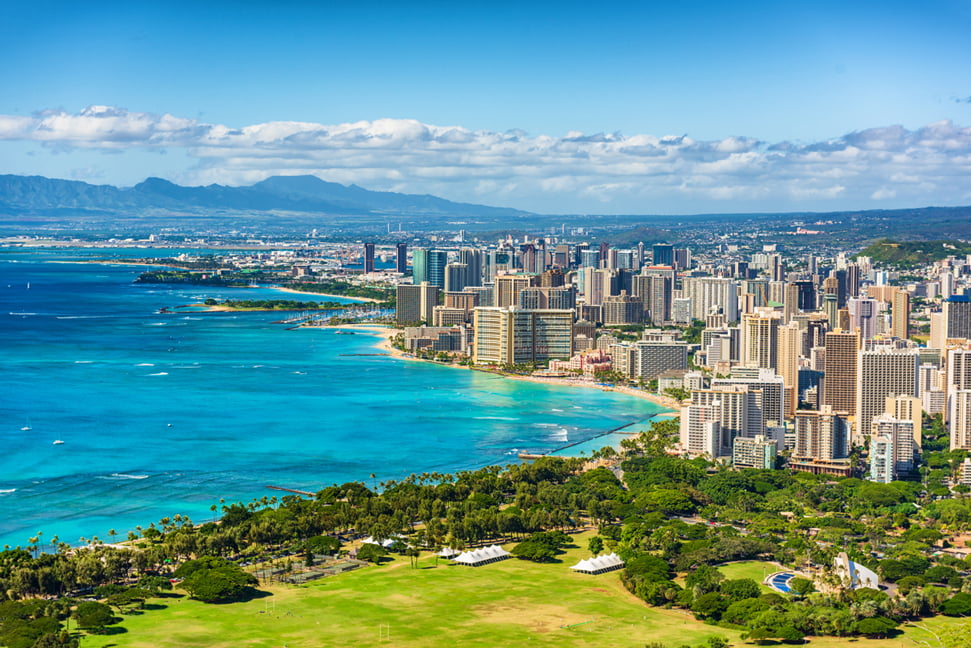 Who doesn't want to own a little piece of paradise in Hawaii? Maybe it's a quaint two-bedroom by the beach or a luxurious home in the heart of Oahu's bustling capital city, Honolulu. But buying a home is not as easy as showing up to an open house with a briefcase full of cash. Fortunately, List Sotheby's International Realty agent Drew Read is here to help make your dream of owning a home in Hawaii a reality. Having sold dozens of properties in the Islands, ranging from modest family homes in Kapahulu to high-end apartments in Kakaako and Chinatown, Read has five helpful tips for interested buyers from the Mainland.
1. "Contact a qualified, knowledgeable real estate agent."
First thing's first, find yourself a Realtor — and in a market where knowledge is power, you need to know that they are knowledgeable about Hawaii's real estate market. If you want to make it easy for yourself, the agents at List Sotheby's are the cream of the real estate crop, with qualified, accredited agents like Read who are ready to help. "You want an agent who will answer any of your questions," says Read, "and give their own suggestions to help you make educated decisions."
2. "Do your own research to determine where on the island fits your needs best."
If you haven't lived in the Islands, you may not know the ins and outs of the state's many towns and microclimates. So you need to do your own research — hello, Google — to get a general idea of where you want to call home. The town of Mililani on Oahu, for example, is centrally located and equally close to the glamorous beaches of the North Shore as it is to the bustling streets of Honolulu. On the other hand, Maui's isolated burgh of Hana offers a tropical and remote paradisiacal living environment, where beaches are empty and cell reception is slim to none. Fortunately, there are no bad choices here, and every street and neighborhood in the Islands will offer a certain kind of dreamy Hawaii lifestyle.
3.  "Educate yourself on the market to understand its different price points."
The cost of living in Hawaii is among the highest in the nation — and that includes real estate. "Sticker shock often happens with buyers from the Mainland," says Read. And while all those extra zeroes might hurt, just know that it's the extra price you have to pay to live on a tropical island in the middle of the Pacific, with world-class beaches nearby and gorgeous weather year-round.
4. "Get preapproved with a lender."
When it comes to buying your own slice of paradise, preparation is key. Read suggests finding a lender and getting preapproved as soon as possible, so you know what you can afford. "And when the right property shows up, you will want to be ready to make an offer," he says. "The well-valued properties do not last long on the market."
5. "Have a strategy in place with your Realtor."
In any good relationship — and that includes the one between your Realtor and you — communication is vital. "You want to be talking to your agent about everything you're looking for, so everyone is on the same page," says Read. This includes the obvious points like location and the number of bedrooms and bathrooms, as well as more personal preferences such as the architecture and layout of the home, proximity to a particular school district and how much you're willing to spend. "If you're clear and concise with your agent, then you will be able to submit the strongest offer possible," Read says, "which will help your offer stand out from the others."
If you're looking to purchase a piece of paradise, visit the List Sotheby's International Realty website for a list of real estate agents and properties.
Drew Read, Realtor, HI License RS-67769, 782-3636, dread@listsir.com. See his agent profile here.