5 Tips to Consider for Kitchen Renovations
The questions to ensure a well-designed kitchen.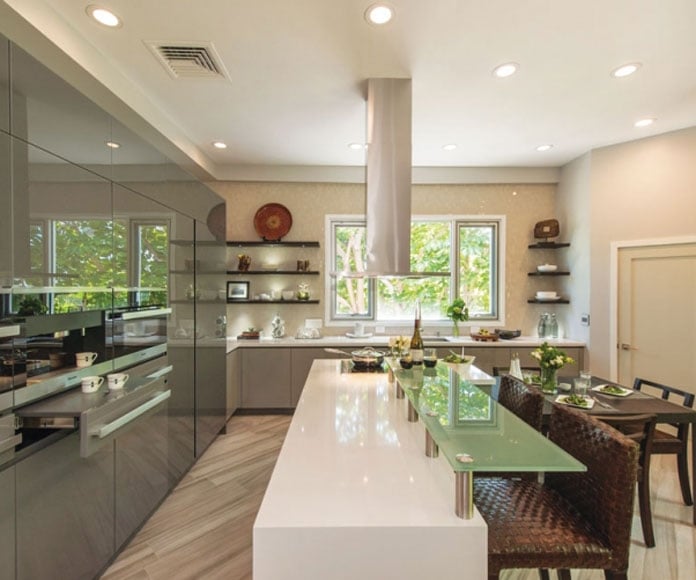 Your kitchen should be designed to work for you and how you use it. California-based kitchen designer Moorea Hoffman shared helpful advice for kitchen designing with cooking in mind at the Aloha Home Expo at INspiration Interiors.
Here are our five takeaways from her presentation for you to consider ahead of your kitchen renovation.
1. Start thinking about your lifestyle.
Ask yourself some questions. Do you cook or bake more? Do you entertain frequently or occasionally? How many people do you entertain at one time? Do your appliances and space accommodate all those needs? Is the kitchen area just for cooking and baking, or do you find yourself also sitting in that area to do paperwork?
All these questions boil down to: what is your lifestyle surrounding your kitchen? Consider these questions to help determine what kinds of changes will make sense for you and your family, whether that means upgrading appliances, creating more counter space or incorporating outlets to charge laptops and other electronics.
2. Look at the layout.
Think about the way you move in the kitchen, and ask yourself if it's making your job harder or easier. Is the sink area too close to where you prep food? Are the cabinets for drinking glasses far from the refrigerator? Are cooking and baking essentials located near each other? These questions can help you start thinking about the storage and organization layout for your remodel to streamline your functionality in the kitchen.
3. Do you entertain a lot?
If you love to cook for friends and family, consider adding a prep station, which means adding another, but smaller, sink with ample counter space. Sometimes it comes in the form of adding an island with these features built in. By adding a prep station, your main sink can be reserved for dirty dishes and you'll have a clean area reserved for preparing the next course or dessert.
4. Get creative with windows.
Do you want more light in your kitchen? If your kitchen overlooks your yard, perhaps you'd like to see more of it. Consider getting larger windows installed or even just moving around the placement of windows to maximize ambient light and what you'd like to see more of outside.
5. Think about multi-functional appliances.
Dual tier accessories are the hottest new trend in kitchen appliances. Not only do they look good and offer ample room, but your sink area can be used as prep, serving station, and can easily be cleaned up right after. See how it works.