5 Tips to Create a Picture-Perfect Gallery Wall
How to put together a gallery wall in your living spaces.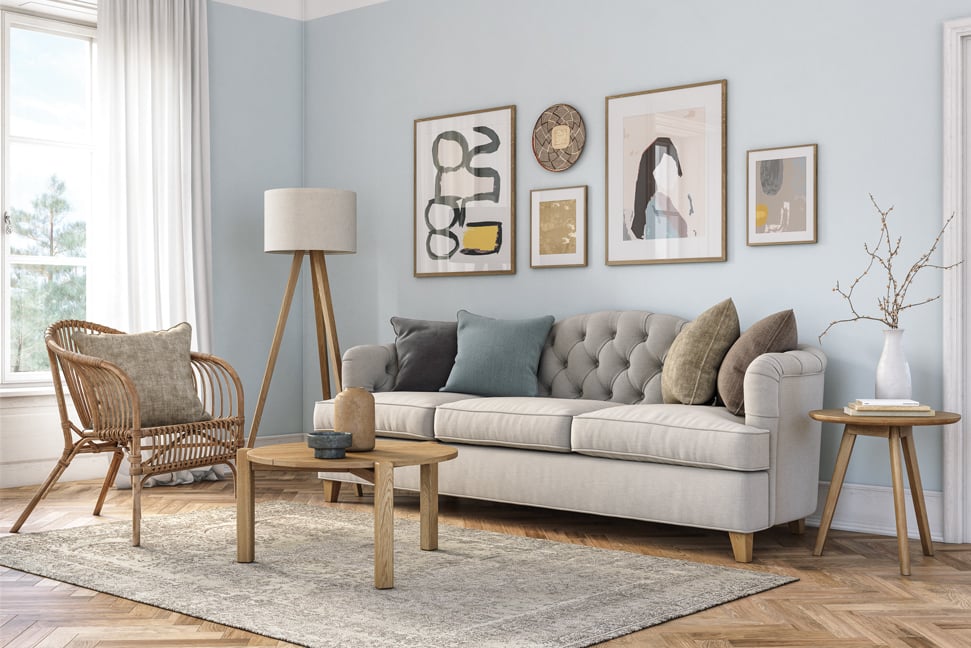 There's nothing like a gallery wall to display your most cherished memories, inspire style in a room and fill an otherwise empty space. A gallery wall, which is a curation of photos and items creatively arranged on a featured wall, is a timeless design element.
"A gallery wall adds a story to your home," shares Dynasty Ayala of Pictures Plus. "At Pictures Plus, we believe every photo tells a story, but on a gallery wall, you can tell that story in so much more detail." Here are five steps to make a picture-perfect gallery wall in your home.
1. Do some research. "In preparation for doing a gallery wall, I highly recommend looking up ideas online and using them as inspiration," shares Ayala. Do you want a photo-only gallery wall in the living room or a mix of photos and achievements in your home office? Get some inspiration on what you want to see, and where.

2. Create an overall theme. Think about what you'd like the central focus to be, whether it's family, friends and pets or a place, a vacation or a mix of art. "3D items add such a beautiful pop on a gallery wall," says Ayala. "Also, different mediums such as canvas, wood and metal prints add to the texture of your finished project."
3. Make a mock-up. Once you have a theme and idea, start selecting the pieces you want to feature on your wall. Sizing is critical — not just the size of each individual frame but also the size of the finished piece on your wall. A good trick is to cut out blank sheets of paper to the size of your photos and tape them (with painter's tape) on your wall in the layout you want. This allows you to see how it will turn out and you can make the necessary swaps without consequences.
---
Hanging Hack
Place your gallery on odd or slim walls that don't quite fit larger pieces, or around floating shelves to add depth, suggests Dynasty Ayala of Pictures Plus.
---
4. Come into frame. Ayala recommends selecting similar frames 
for each piece. "You want everything to have its special moment on your wall so we can play with colors, textures and sizes of the frame to find the right combination," says Ayala. Mix in different canvases, memorabilia and materials, such as metal prints.
5. Hang it all up. Make some final touches to your mock-up to ensure everything fits the way you want. Gallery walls should be fun and move your eye around, suggests Ayala. Now, it's time to put your gallery wall together.
You can find everything you need to create a gallery wall at Pictures Plus — from expert advice from their creative design consultants to all the necessary materials, such as frames, prints and more. "We have a wide range of frames for not only your photos, but your memorabilia," says Ayala. Pictures Plus carries ornate, distressed, contemporary and real wood veneer frames.