A Big Opportunity
Former NFL player tackles local housing shortage by bringing tiny houses to the Islands.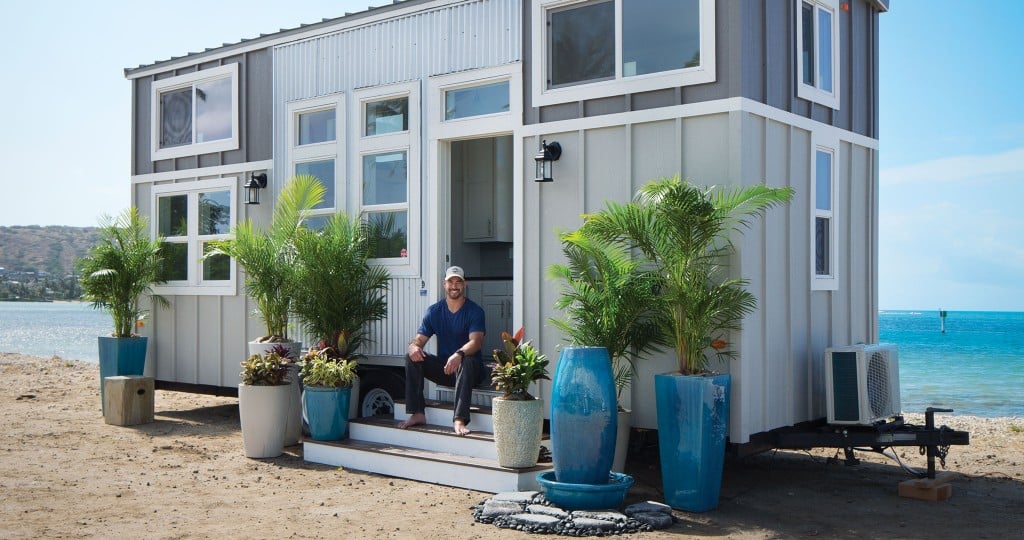 The tiny-house movement is making waves across the country and entrepreneur Brandon Hardin hopes to ride that wave to Oahu.
Tiny houses have yet to take off on Oahu, but they are already popping up on Maui and the Big Island, and Hardin thinks they can be one answer to the local housing shortage as both an affordable option and the key to a minimalist lifestyle.
Hardin grew up on Oahu, graduated from Kamehameha Schools Kapalama in 2007 and earned a degree in business entrepreneurship from Oregon State University. He played football for the Chicago Bears and the New York Jets before injuries forced him into retirement and back to Oregon.
"I could not afford to move back home to Hawaii," Hardin says. Like many, he is a fan of home renovation and do-it-yourself TV shows, and saw the tiny-house movement take off on television, and in Oregon, where a village of them housed homeless people.
"How do we get something like this going in Hawaii?" Hardin asked, and put his business degree to work. He founded Tiny Pacific Houses, a partner of the already-established Tiny Mountain Houses in the Pacific Northwest. Available in 18 different customizable models and named after Hawaiian mountains, such as Koolau, Haleakala and Kilauea, the tiny houses are built to order on the Mainland and shipped to Hawaii, virtually turn key.
They range in size from 213 square feet to 400, and have everything a home needs: a full kitchen, full bathroom, sleeping loft and plenty of storage. In fact, some models have two storage lofts and some have stairs with built-in storage leading to the lofts.
Hardin says they seem especially popular with millennials like himself and with kupuna. The tiny houses are an option for those adding an accessory dwelling unit (ADU) to their property.
The City & County of Honolulu is encouraging homeowners to offer legal, long-term rentals of ADUs, which are limited to 400 square feet or 800 square feet, depending on property size. (Learn more at bit.ly/ADU4U)
"It fits very well into that category, but the tiny-house movement is also about living within your means," Hardin says. "We're talking about living minimally with really only the essentials."
Life in a tiny house also encourages the residents to get outside. "You don't want to be cooped up inside the whole time. You want to live outdoors in Hawaii, like it's really meant to be."