A Brighter Future
Powering up a Kahala home with help from RevoluSun.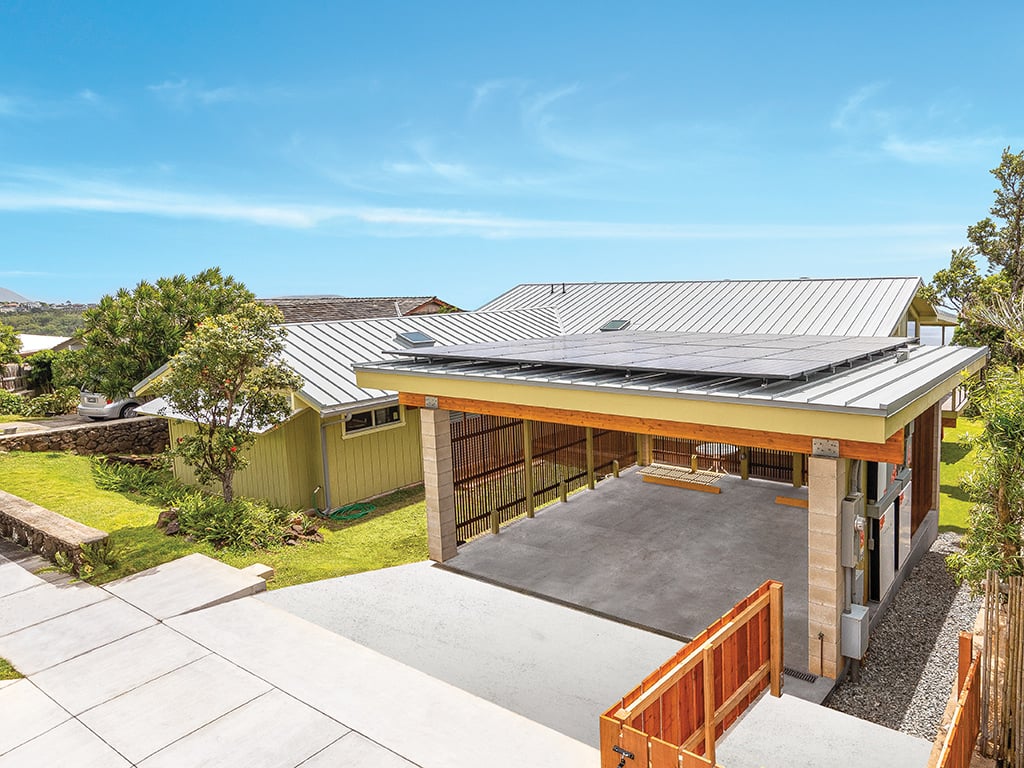 When searching for the right companies to take on your home renovation or new build, it's important to find vendors whose values align with yours.
RevoluSun, one of the leading providers of solar and battery storage systems in Hawaii, takes pride in its community-minded approach to promoting the use of renewable energy. Its team was recently part of a major home renovation in Kahala.
"We are a product of these Islands and we carry with us a responsibility to protect our home," says Eric Carlson, co-founder and chief innovation officer at RevoluSun. "We are passionate about accelerating our state away from fossil fuels with solar and providing a lower-cost alternative for homeowners."
The Kahala home was remodeled by Mokulua High Performance Builder, a contractor that works with RevoluSun exclusively on the installation of solar and photovoltaic systems. Mike Fairall of Mokulua High Performance Builder says his team collaborated with RevoluSun upfront to identify the right system for the homeowners' needs, "so we can place it appropriately for maximum efficiency and/or adjust the sizing."
The homeowners note that, for budget reasons, they initially planned to install a photovoltaic system after the renovation was completed. However, after talking with Fairall, they realized it would be more beneficial to make the photovoltaic system part of the renovation. That way, the homeowners could start seeing reductions in their electric bills and have the cost savings pay off over time.
"We're very committed to trying to do our little part to protect the environment and hopefully pass on the system and the house that was built with a lot of care and made to last," says one of the homeowners.
According to Carlson, the homeowners' "electrical usage is average and is pretty even between daytime and nighttime." A custom-designed system was created for their needs, with 24 panels of 330-watt Panasonic photovoltaic modules and two Tesla PowerWall batteries providing 27 kilowatt-hours of storage, which is sufficient for the homeowners' electricity demands at night.
"For this project, they wanted all the modules to be on the carport, and because we were working with limited space, that steered us to using a higher efficient module, to make the most power with the limited space," notes Carlson. "The system will produce 37 kwh/day, roughly $500 in avoided electricity costs."
After the required permits were procured, project installation took two days, says Carlson. RevoluSun was able to secure the system panels on the carport without penetrating the metal standing seam roof by using a mounting bracket, screws and torque for fastening.
The homeowners say they love seeing their dramatically lower electric bills each month. The team at RevoluSun, one of them notes, "made us feel really good that we were in good hands" throughout the project.
With this successful renovation and installation, RevoluSun continues to exemplify a standard of sustainability that connects with eco-conscious contracting partners like Fairall. At the same time, it's building partnerships with national solar industry innovators like Swell Energy, which recently reached out to RevoluSun about bringing virtual power plant programs to Oahu. Carlson says he appreciates these partnerships and looks forward to creating positive change, one project at a time.
"When you love your work and the people you do it with, that forms an environment where our people positively hold each other accountable to our mission of leaving a legacy here," says Carlson.