A Builder's Home
Contractors build a home of their own.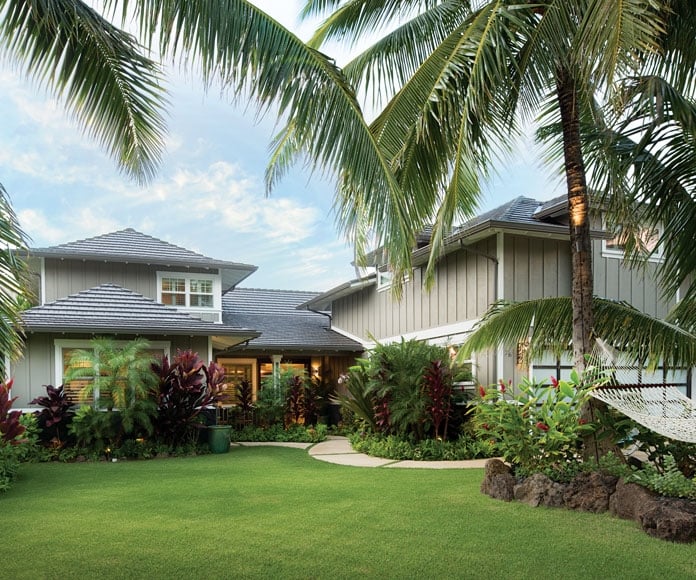 Building Hawaii homes is a typical work day for Seth and Natalie Sutherland, owners of S.S. Builders Inc.
With more than 500 builds on Oahu under his belt, it seems Seth has had a hand in building at least one house in each Oahu neighborhood. He's built three homes on one quiet street alone in Kailua – the most recently completed, his own.
The Sutherlands bought the property nine years ago, when their son, Chase, was a toddler. They opted to rent the one-story home to other families while they lived across town, taking the time to save and plan for the house they would eventually build for their growing family.
Meanwhile, they spent plenty of time a few steps away from their rental property, playing and planning in the sand at Kailua Beach.
"I can remember my husband drawing the first outline of our home in the sand on Kailua Beach," Natalie says.
Before turning those sand sketches into concrete plans, they took the time to carefully consider what they wanted, drawing inspiration from resorts and spas to create a sense of serenity.
They wanted the house to have a "wow" factor, but also feel warm and comfortable for their family of four. It needed to have plenty of space to entertain family and friends, and also more intimate spaces for settling into the sofa to enjoy a movie when the house was quiet.
They ultimately worked with Geoffrey Lewis Architect Inc. to design a 5,400-square-foot, four-bedroom, five-bathroom house with an attached guest studio. They also sought the advice of Laura Van Lier Ribbink of Interior Editing for a few changes to their initial interior design plans.
It was fun for the whole family to get involved with the project. Even Chase assisted in demolishing the old house. "He sat in the lap of the excavator controller and was solely responsible for the first handful of 'demolition crushes.' It was so exciting and fun for him," Natalie says.
Now complete, the beautifully landscaped front yard with a tranquility-evoking hammock hanging between two palms provides a welcoming entry to the home. Beyond the etched-glass double doors, the family and their guests enter the open-concept great room, which extends outside onto the covered lanai and resort-inspired pool.
"We absolutely love our home and sometimes stop and reflect that we are so blessed to have our own piece of paradise," Natalie says.
The family entertains often in their new home. A focal point of the interior, the kitchen is set up so Seth and Natalie can prepare pupus and drinks without stepping away from the party. "I'm always facing out as opposed to facing a wall," Natalie says.
The kitchen's carefully selected materials support the home's coastal-modern aesthetic, including its large beveled white subway tile, glass backsplash and furnishings from Pacific Home. The large kitchen island and countertops feature hand-selected Costa Esmeralda granite. A bar with LaCantina windows provide a pass-through to the outdoor, built-in barbecue area.
Through the sapele mahogany multi-pocket sliding door system, the home's living area is extended onto a covered lanai for the pinnacle of indoor-outdoor living. A television hangs on the exterior wall, allowing for football games to be enjoyed from the pool, spa or outdoor sofa.
Easily the outdoor highlight, the pool provides hours of entertainment for the family and their friends. Built by Poseidon Pools, its features include a Baja shelf for lounging and dipping toes into the water and a spa, waterslide and fire pit, while Swan Builders created the waterfalls and rock features.
"It was easy working with Tom Stoddard of Swan Builders to create the wonderful rock feature that provides countless hours of enjoyment," Natalie says. "He truly has a creative eye. We nicknamed him 'Dr. Tom' because he is very meticulous and works hard at his craft. In the end, it is a perfect masterpiece!"
The master wing is a serene escape from the open-concept entertaining areas. At the far end, the master bedroom has a refreshing cross breeze with windows on three sides of the room, and a bay window with a storage area in its bench seat. A sliding door opens to the interior courtyard and pool. During the evening, when the pool's waterfall features are turned off, the Sutherlands can hear the gentle waves of Kailua Bay along the shoreline.
Whether entertaining friends or enjoying their home with family, the Sutherlands are proud of the home they created to share with their loved ones.
"I feel blessed to be able to provide such a beautiful home for our family to live in and share with others," Seth says.