A Charming Old Manoa Kitchen is Transitioned to the Present
Design Trends Construction transforms a dated kitchen to pay tribute to its past.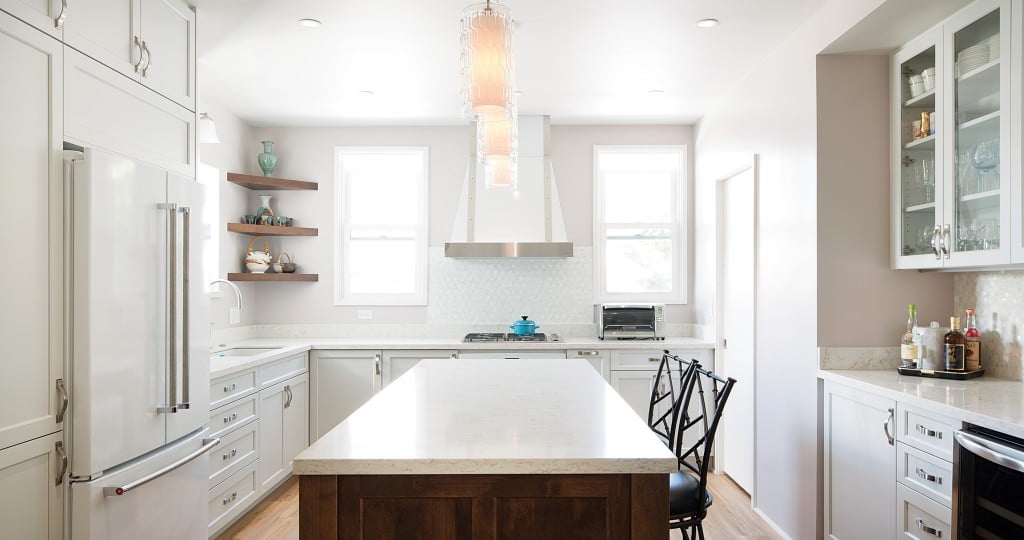 Featuring: Design Trends Construction
Designed by: Jerel Lake
Location: Manoa
Style: Transitional
Size: 160 square feet
Unique feature: Custom white gloss vent hood with stainless steel accents.
When the owners of this 1930s-era manoa home inherited it, they were already very familiar with its charm and its flaws. They had cared for its previous owner, a family member, for the last several years of his life, and had made many great memories together in the more-than three decades that it was his home.
But in that time, the home was aging. The kitchen's most recent renovation was in the 1970s. Its small entry, dropped ceiling, yellow-painted wood-panel cabinetry and yellow appliances remained, and were still in working condition. The new homeowners have a deep appreciation for the home and its history within their family, but, they knew the kitchen's form and function needed a complete update.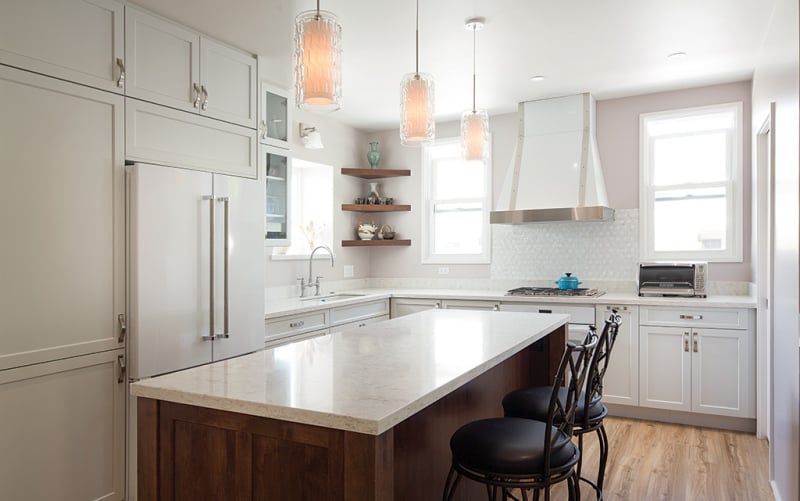 They called upon Design Trends Construction, a design-build firm recommended by friends, to give the kitchen an update that would not stray too far from the home's Old Manoa roots.
"I liked the feel of the house, but I wanted it to be upgraded," the homeowner says. They met with Jerel Lake of Design Trends Construction to design and build a whole-home renovation, including the kitchen.
"We wanted to bring it back to its original luster," Lake says. His redesign opened up the kitchen, provided the homeowners with a more functional flow, and balanced the traditional roots of the house with some contemporary flair.
The focal point of the kitchen is now the custom white gloss vent hood above the gas range, flanked by two windows. Originally a single window was in place where the hood stands today. Lake redesigned this space to bring more natural light into the kitchen and raised the ceilings from 7 feet to almost 9 feet, giving it more air and openness.
He balanced traditional and contemporary touches to achieve the transitional look and feel, through pieces like the kitchen island; its wooden structure with legs make it appear like furniture. He strategically placed storage on the side of the island that faces the refrigerator and seating on the opposite side, to prevent bumping into anyone sitting at the island.
"The working area of the kitchen is not affected by the seating," Lake explains.
Since the homeowners like to entertain, Lake included a beverage center in the kitchen. Its upper cabinets hold wine glasses and serving dishes, with Tresco undercabinet lighting illuminating the counter. An iridescent backsplash brings a sense of playfulness to the kitchen. "It feels festive all the time," the homeowner says. Below the countertop, a wine refrigerator can chill up to 52 bottles at a time — perfect for large parties that extend outside to the new, expansive lanai that Design Trends Construction also built as part of this whole-home renovation.

Where To Get It

Cabinetry: Canyon Creek Cabinet Co. shaker door style; perimeter: maple wood in eggshell painted finish; island: alder wood in sable stained finish; from Design Trends Construction
Countertops: LG Viatera in clarino, from Design Trends Construction
Flooring: COREtec Pacifica in Kahala birch finish, Tri West, from Design Trends Construction
Vent Hood: Vent-A-Hood custom white gloss with stainless steel accents, from Design Trends Construction
Backsplash: Tile Bar thassos and mother of pearl hexagon tile, from Design Trends Construction
Appliances: Kitchen Aid refrigerator, GE cooktop and GE oven, from Ferguson Bath, Kitchen & Lighting Gallery
Sink and Faucet: Kohler cast-iron sink in dune finish; Kohler bridge faucet; from Ferguson Bath, Kitchen & Lighting Gallery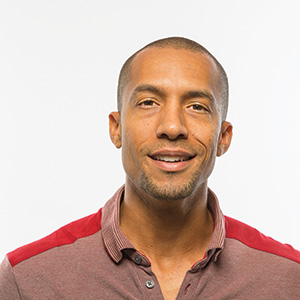 Jerel Lake
Jerel Lake has been designing kitchens and baths for Design Trends Construction for two years. Born and raised on Oahu, Lake gained experience on the East Coast, where he studied interior design and later designed and built cabinetry. His personal style is a cross between modern and contemporary with an upscale appearance, but not necessarily cost.
"Every project is unique," Lake says of his work. "Personalizing a home is the best part of my job."