A Classically Contemporary Home Renovation on Oahu
The first floor of this family home is remade into a modern, open space.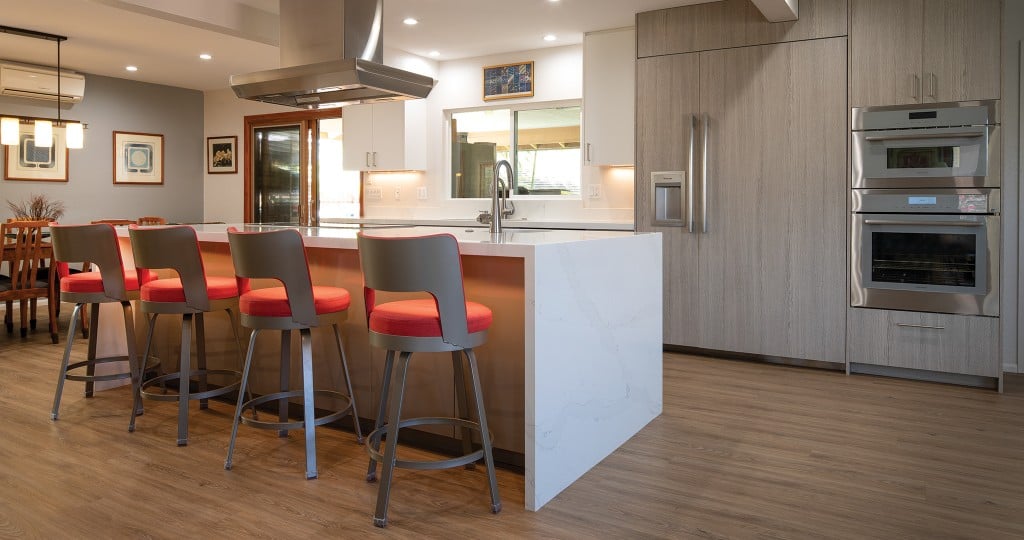 Homeowners Annette and Clifford Nishikawa had spent years cultivating a running list of ideas for a home renovation. They frequented BIA-Hawaii home shows, looking at products and talking to designers and contractors. They researched and thought about what their ideal renovation would be like. They dreamed about it for years, while they continued to live in their two-story family home.
Now both retired, they decided it was time to get serious about remodeling. "This is a big house for two," shares Annette. "We had no need of a family room and living room; the living area was dated and needed the renovation. Now, we had the means and time to renovate and make better use of the entire footprint of the house."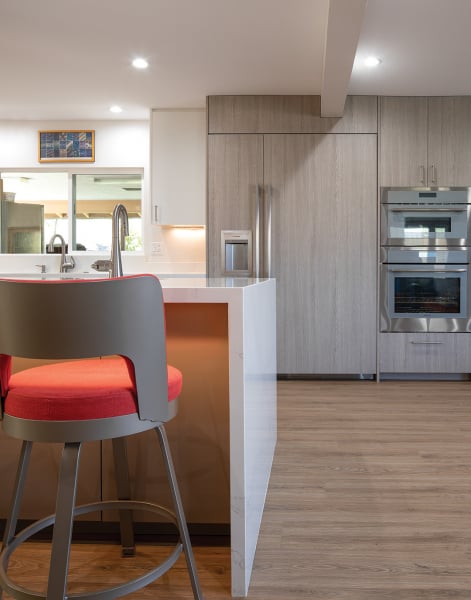 The Nishikawas called upon Brenton Liu of DTC Hawaii to give their home a modern makeover with aging in place in mind. "We were very impressed with his willingness to listen to our needs and design our dream kitchen based on our needs," says Clifford. "He also was able to show us other ideas, designs and materials to enhance our home improvements."
The project began with the idea of creating an open-concept kitchen and grew into a full renovation of the entire first floor of the home, which included their bedroom and bathroom, making it ideal for aging in place.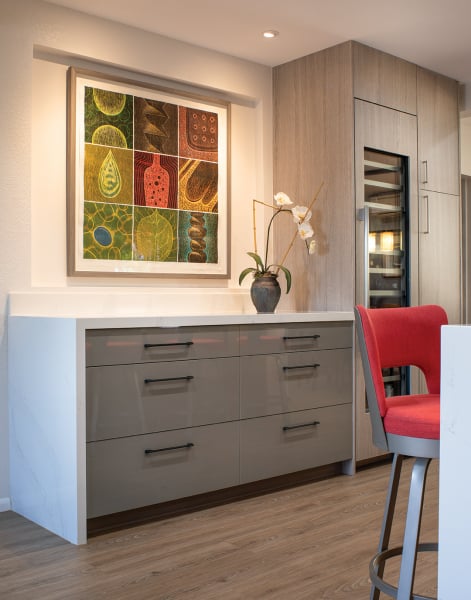 Load-bearing walls posed a challenge in the kitchen, so DTC Hawaii tore them down and put up additional beams to support the second floor. Two of the beams are exposed and work with the overall design. Two-tone cabinetry from DeWils Fine Cabinetry and Canyon Creek Cabinet Co. in a slab door style were chosen for its sleekness and to achieve the contemporary feel the homeowners wanted.
A large 9-foot island draws attention with its Silestone countertop in Calacatta Gold that softly shimmers and flows down with waterfall edges. DTC Hawaii created an efficient, universally designed work zone layout in the kitchen: There's a prep zone (small prep sink near the cooktop), cook zone (cooktop and hood), cleanup zone (large single washing sink and dishwasher) and a storage zone (cabinetry throughout and at the island). There's also a new enclosed pantry for even more storage.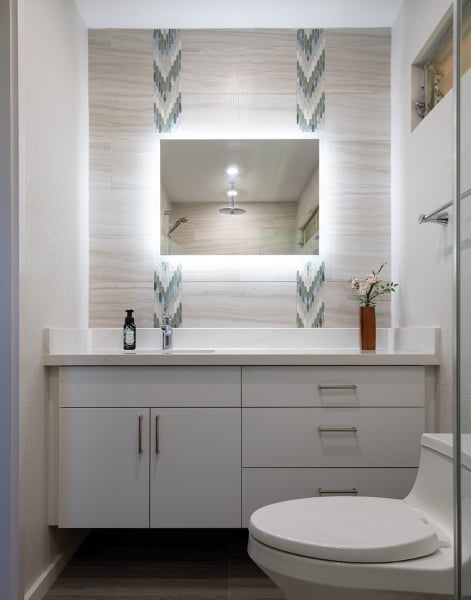 "The pantry takes space from the living room and the adjoining bedroom and it looks like it belongs," rather than like an add-on, Annette says. Liu added thermal coating on the walls to keep things cool in the pantry, which is on the hot side of the house.
"The design is simple, clean and modern, geared for easy island living, entertaining, use and maintenance," says Annette of her kitchen. The former family room was also converted into the new dining area, making way for a large, open living space that connects to the kitchen.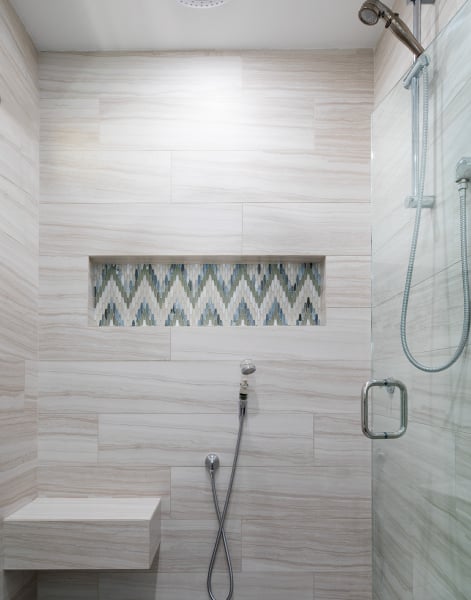 The new bathroom echoes the design style of the kitchen, with a focus on aging-in-place updates. "It's a small area, so Brenton's design maximizes use of space," mentions Annette.
The walk-in shower has a bench and hand-held shower head. The shower niche and vanity backsplash feature colorful Lunada Bay Tile in Bargello Flannel Mix. "I loved how the linear pattern worked with the more natural movement tile," says Liu. "[It] has good color, but not too overwhelming."
Overall, the Nishikawas love the look and openness of their home. "No matter from what angle you look at the renovation, something special will catch your eye," says Annette. From the island with waterfall edges, lights under the cabinets and high-end Thermador appliances in the kitchen to the colorful backsplash and crisp, clean design of the walk-in shower in the bathroom, "everywhere you look there is something special to marvel at," she says.