A Cool and Colorful Kitchen Featuring Custom Cabinetry
Pops of color and custom cabinetry by Bekin Cabinets make this kitchen renovation shine.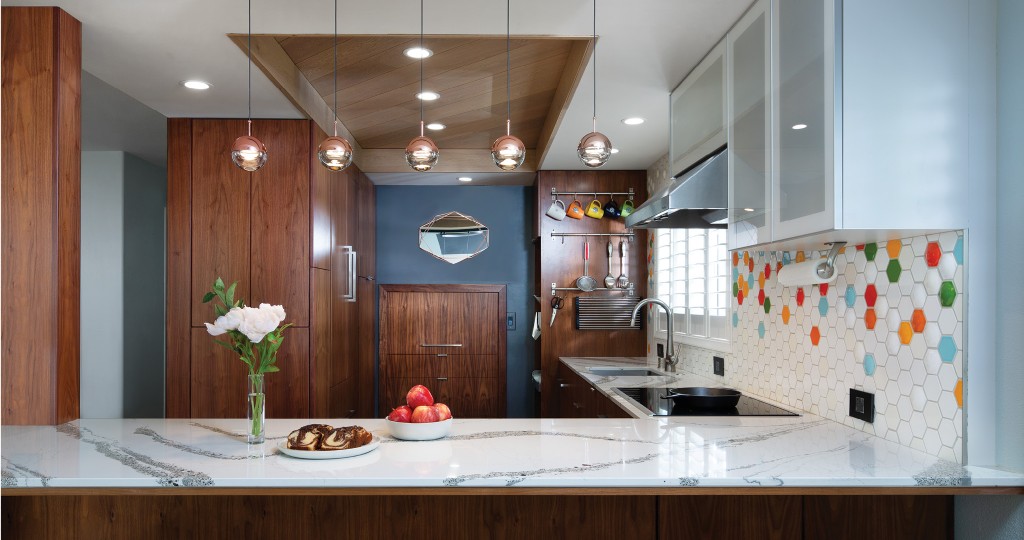 When the owner of this single-family home begins to share the story of her kitchen renovation, she chuckles and says, "It started with an ice cream machine." And not a small countertop appliance, but a tall industrial-sized Emery Thompson machine found in restaurants.
She reflects on the purchase her husband made years ago when they lived in Virginia, mentioning that he had thought about opening a business, but decided to buy it for their house instead. The problem was that the machine couldn't fit in their Virginia home's newly remodeled kitchen, so it sat untouched — even when the family had to unexpectedly move back to the Islands.
After settling into their new place — and wishing they could have had more time to enjoy their old home's remodel — the owners decided to renovate their kitchen. Learning from their experience in Virginia, they started to put their plan into action.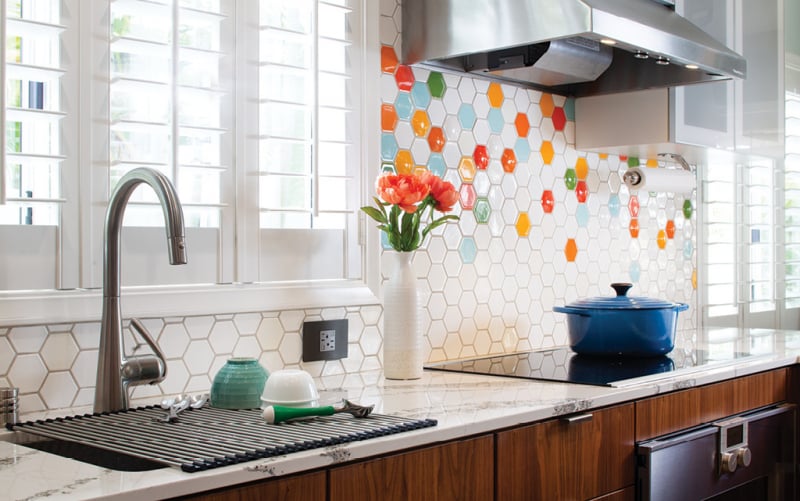 "The driving factor (for the remodel) was I didn't like the galley-style kitchen," she says. "I don't like when my range is not on the same run as my sink, and I like large peninsulas for serving reasons."
Starting out, they needed to embrace the current layout of their tract home, while also enhancing it and making it their own.
They turned to Bekin Cabinets for custom cabinetry, built to a home's specifications. "I like the quality of it, the fact that it's integrated. That's why I chose it," the homeowner says.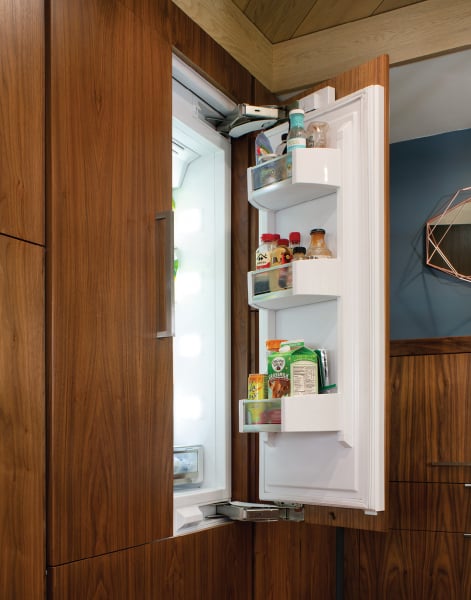 Custom walnut slab door style cabinetry fills the room, allowing for ample storage in a compact space, and showcases the stunning grain matching work of Bekin Cabinets. The refrigerator and dishwasher are paneled in the same style, creating a consistent look throughout the kitchen.
Bekin Cabinets' custom cabinetry presented the owners with a more functional kitchen. "They were able to accommodate any requests I had in terms of what I wanted the cabinets to do," she says. That includes creating a 30-inch-deep cabinet to fit smaller appliances and a customized slot just for the ice cream machine. The owners are now able to make the most use of the home's layout.
And their personalities truly shine in this kitchen — from the pops of color to the fun design elements, inside and out.
"I wanted something that I wouldn't get bored looking at," she says. "It needed to have some amount of interest without it being crazy."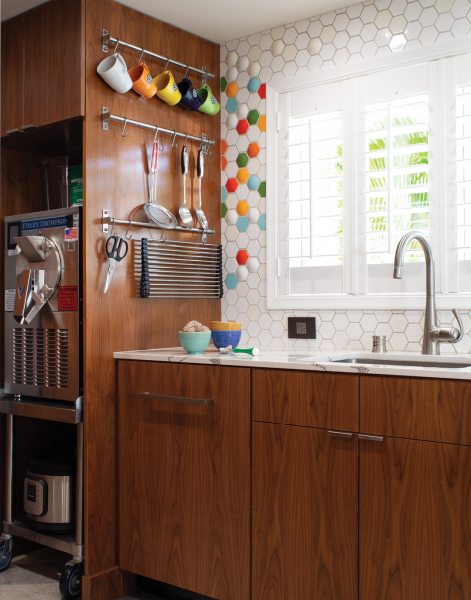 Inspired by the San Francisco Bay Area Rapid Transit system, the owner sought tiles for her backsplash that could mimic the bubble hexagonal tile found in the stations, but with the addition of bright colors. "There's certain parts that are symmetrical and deliberate randomness," she says of the design.
"Material selection was really important, so taking the time to think about every single piece made a difference," she adds.
The Cambria quartz countertop also showcases a subtle hue of purple that's "bold but not in your face." The owner is "always delighted" when she takes a closer look at it.
Through a meticulous design process, the owner was able to achieve a unique aesthetic in her kitchen.
"In addition to the air of randomness and surprise, I wanted a sense of movement," she says. "From the diagonal, staggered flooring to the vertical grain pattern of the walnut veneer, and the Annica quartz pattern to the color scatter of the backsplash — everything feels slightly organic in a rather orderly fashion."
Today, the entire family is able to fully enjoy their kitchen renovation, creating and eating homemade ice cream — from Oreo and Thin Mint to classic vanilla and mango sherbet — any time they want in their colorful abode.
Where to Get It
Appliances: Bosch 36-inch built-in refrigerator with custom panels by Bekin Cabinets, Bosch 800 Series Dishwasher with custom panels by Bekin Cabinets, Bosch 30-inch induction cooktop and Vent-a-Hood range hood, from Ferguson Bath, Kitchen & Lighting Gallery; Gaggenau 30-inch wall oven, homeowner furnished
Backsplash: Bubble Hex and Flat Hex, from Clayhaus
Cabinetry: Custom walnut slab door style, from Bekin Cabinets
Countertop: Cambria Annica, from Tile Warehouse
Faucet: GROHE kitchen faucet, from Ferguson Bath, Kitchen & Lighting Gallery
Peninsula Lights: PL5 Linear Pendant, from SEED Design
Sink: Franke 24-inch stainless steel sink, from Ferguson Bath, Kitchen & Lighting Gallery
Tray Ceiling Paneling: White-washed oak, from Kahala Pacific Flooring