A Fresh Start
A young couple finds space in a minimalist lifestyle.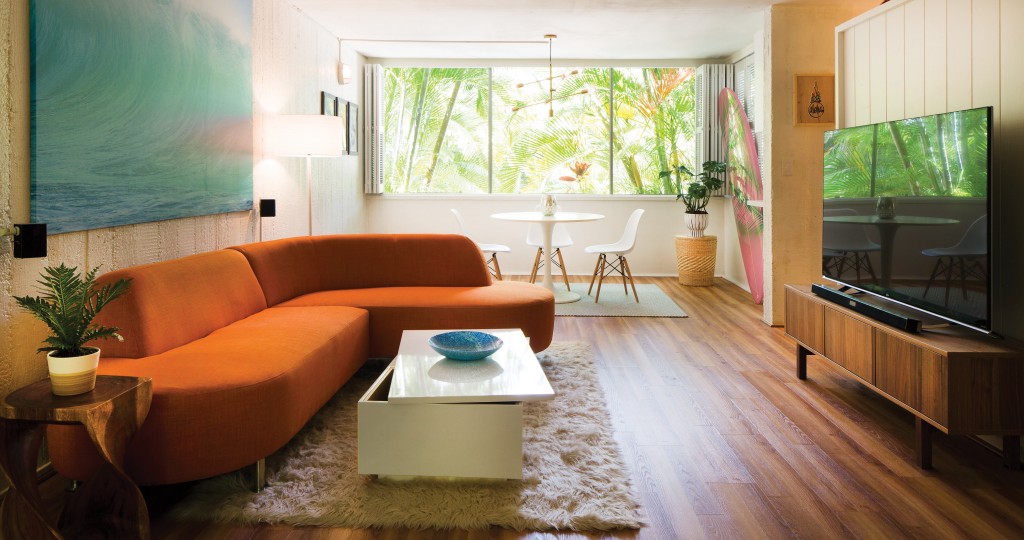 When Malia and Andrea Zannoni got married, they and their roommates had plenty of space for more than they needed in a three-bedroom, two-bathroom house with a two-car garage they rented in Manoa. Nonetheless, the newlyweds waited to open nearly all their wedding gifts until they had a place of their own.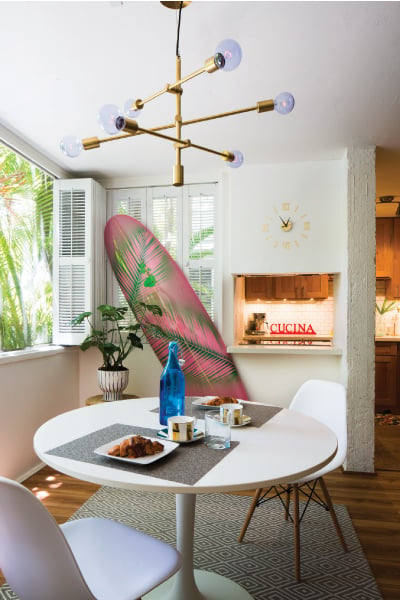 When they bought their first home, a 700-square-foot condo near Diamond Head, they knew it was time to clean house.
The couple donated more than 30 boxes to Goodwill — not only clothes and accessories, but also household and kitchen items they accumulated. (Note to friends and family: Don't worry, they kept their wedding gifts.)
"We forgot we had all these things in storage," Malia says.
The condo is much smaller than the house, but feels like it has more breathing room without material possessions weighing the couple down.
The fresh start allowed the Zannonis to establish their own style. Wanting to preserve the charm the unit had retained from its 1960s roots, the couple left it alone, aside from replacing the bamboo floors with durable vinyl planks.
One of their biggest adjustments was going from having their own washer and dryer at the house to sharing laundry with neighbors in their building. Malia's decorative hamper, impractical for carrying loads of laundry outside, now serves as a plant stand by the window of the enclosed lanai. Inside, it stores throw blankets and extra pillows.
The condo has clever storage throughout for well-used items and those accessed only occasionally. Two stand-up paddleboards and a longboard are neatly tucked above the wall behind the television, and behind that, there are another six surfboards, two sets of golf clubs and suitcases, all stored out of sight.
The ample storage space allows the Zannonis to select other items to intentionally display, such as the pink and green surfboard by the dining table, which Malia's father, Terry Chung, shaped for her. As a decorative surfboard without wax, its glossy surface of reverse-print coconut tree palms from her family's yard on Kauai reflects the greenery outside the window.
Shopping for furniture was the most challenging aspect of the transition, but it all came together after selecting the centerpiece: an orange sofa discovered at HomeWorld Furniture.
"We both loved it," Malia says, adding that friends and family asked her several times if she was sure she wanted an orange sofa. "My husband is Italian and, in Europe, it's not uncommon to have a red or purple sofa. Orange happens to be my favorite color, but it is a little aggressive for a sofa," she admits.
They find the color works to their advantage, offsetting the long white wall that stretches the length of the condo. The sofa's rounded corners help create an inviting flow through the space.
A coffee table from INspiration Interiors brings a modern touch to the living area, and offers storage inside with a removable yellow insert for an extra pop of color.
While the coffee table was a splurge for the 29-year-olds, it was worth every penny. "It's perfect. It's not cheap, but our dining table was," she says, suggesting that mixing expensive furnishings with less expensive ones worked well for them and their budget. "It's OK to be cheap and be fancy."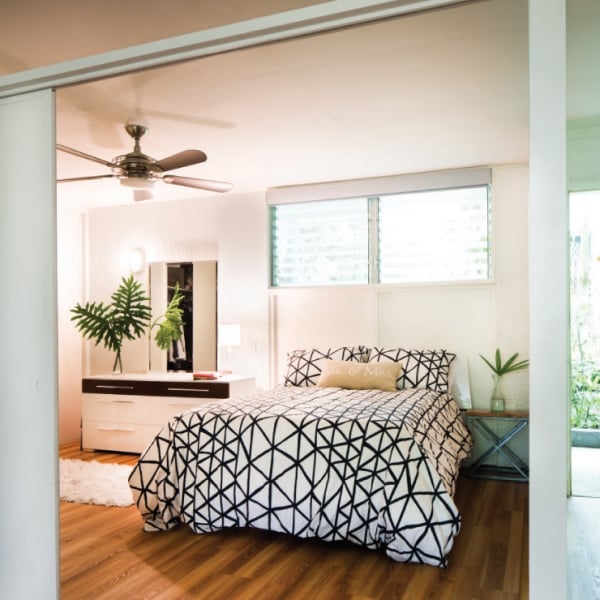 The Zannonis realize they don't need much space or many possessions to live a fulfilling life. "We're very minimalist," Malia says. "The more stuff you have, the more jam-packed in there you feel like you are."