A Fun and Valuable Upgrade
Adding a pool/spa is the perfect way to add immediate value to your home.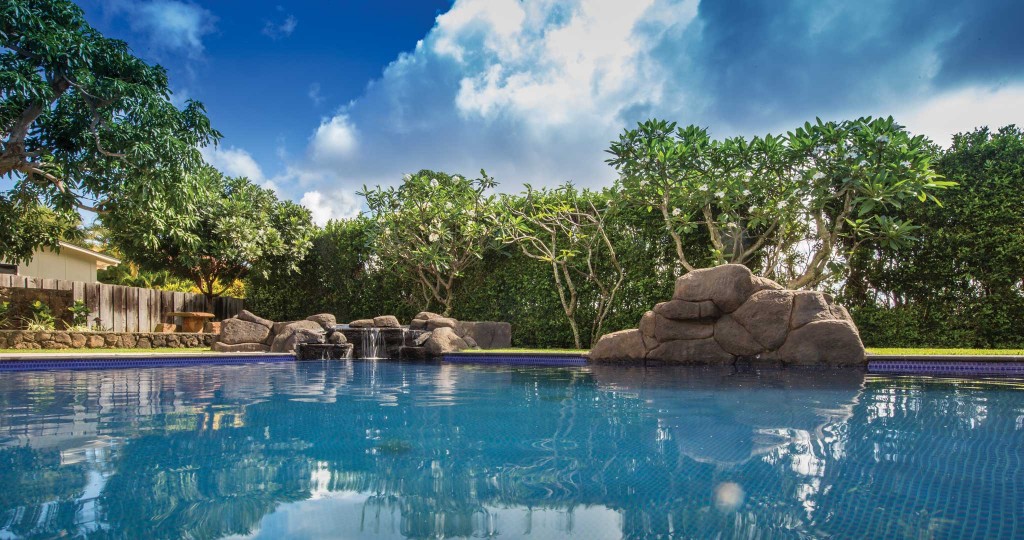 As the hot Hawaiian days get even steamier this summer, many will be contemplating installing a new pool — or renovating a current one — to help them cool down.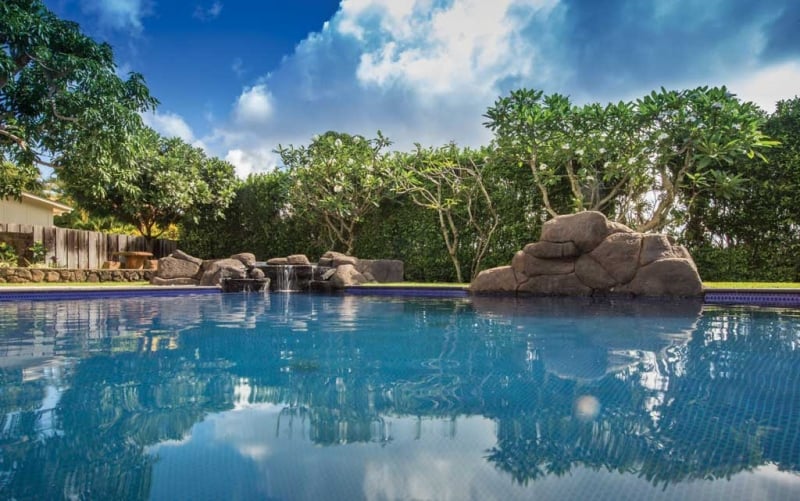 Fortunately for Hawaii homeowners, the addition of a pool can also add value to a home, since the Islands' temperate climate makes having a pool very desirable. This is especially true if you live in a pricier area and most of your neighbors have pools. In this case, being the odd man out might make your home more difficult to sell, should you decide to place it on the market.
If you're already living in your forever home, a pool can still add value to your quality of life and bring some pleasure and entertainment to your days — and who can put a price on that?
There are multiple types of pools and spas available to accommodate every style and budget. Whether the new water feature will be used for swimming laps or entertaining guests, there's something for everyone.
Clifton Crawford, owner of C & J Contracting Inc., shares options for every budget. Whether you opt for a custom spa, rectangle pool, or a pool/spa combo with all the fi xings, HawaiiUSA Federal Credit Union can help to get you financed and on your way.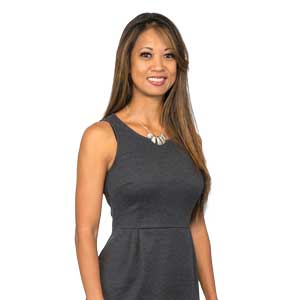 FACTORS TO CONSIDER
HIDDEN SAVINGS
Investing in the right pool pump and fi ltration system can save you energy and money.
HIGH-VALUE INVESTMENT
Maintaining a pool will provide year-round fun for a fraction of the cost of an annual family vacation.*
---
"Our variety of loan options are meant to fit your needs and make your renovation experience exciting and stress free."
—Judy Konishi,
Kahala Branch Manager,
HawaiiUSA FCU
---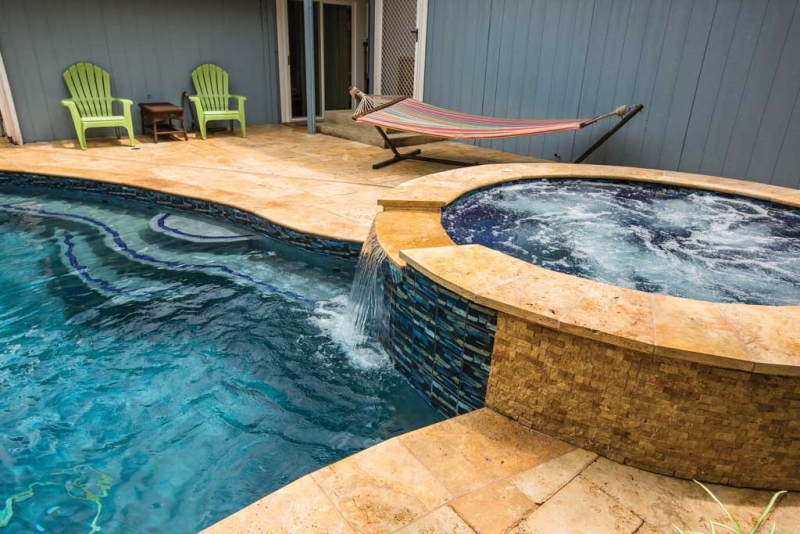 $ $30,000 to $60,000 Relax on a Budget
• Concrete custom spa
• All-tile interior color
• Gas heated
• Ozone Nature2 water purifier
• Leadstone
Pro Tip: Consider how much space you have — and be realistic. If you don't have adequate room for a pool, a spa might be a better option. However, if you do opt for a spa, keep in mind it will be a bit more work to maintain than a pool; correct hot water chemistry is essential to minimize bacteria.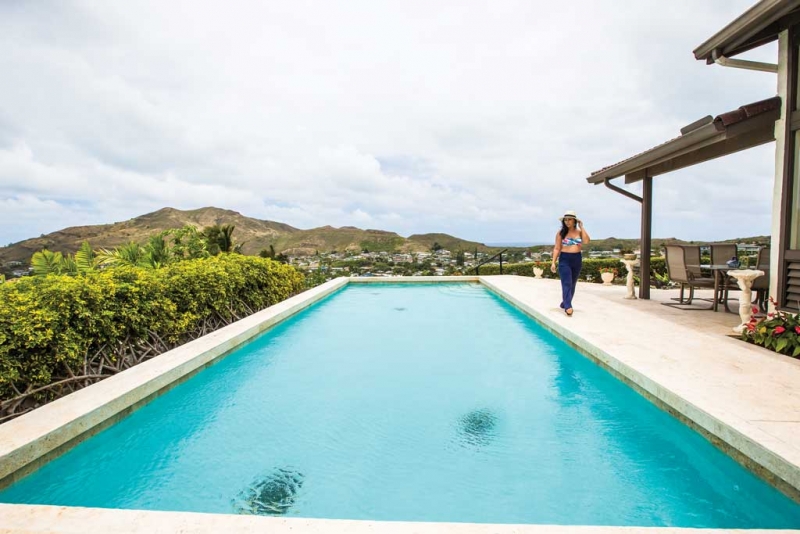 $$ $70,000 Upgrade to an Outdoor Oasis
• 15-foot x 30-foot rectangle pool
• Seashell tile deck
• Pump and filter
• One light
• "Inside to outside" concept
Pro Tip: Think about the aesthetic you are trying to create before you make a pool selection. Do you want your outdoor water space to be tropical or contemporary? Do you need space for landscaping or lounging? Whatever you decide, an expert can help make your dream space a reality.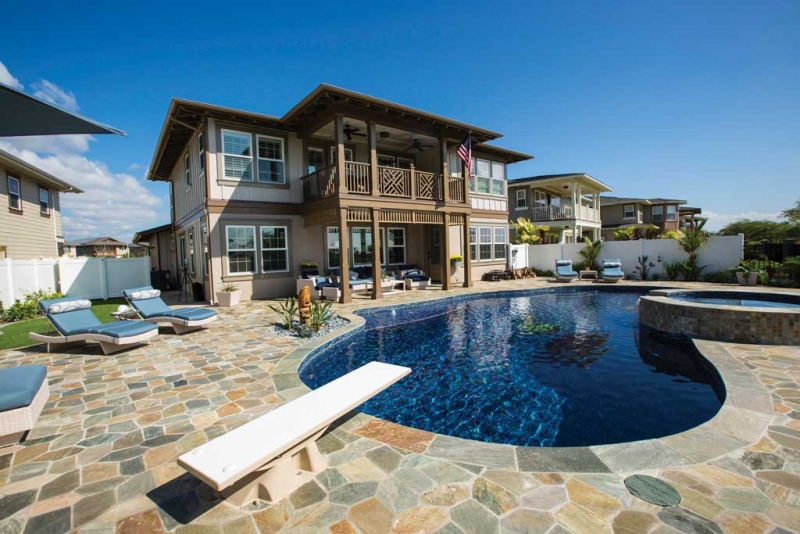 $$$ $200,000+ Invest in All the ExtrasAlmost 2,000 square feet of quartzite natural-stone decking
• 8-foot depth to accommodate diving board
• Water feature
• Ozone Nature2 water purifier
• Large volley ledge for lounge chair
• Heatable
• Connected to pool automation system, which connects to cell phones
Pro Tip: Keep in mind the functionality of your pool. Does it need to be long enough to swim laps? Shallow enough for small children? If your space and budget allow, you may be able to accommodate every type of splash.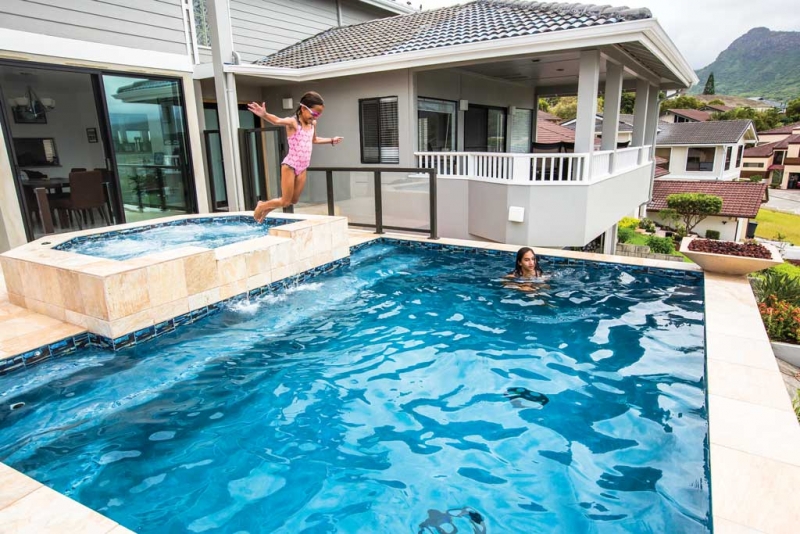 Financing Your New Pool or Spa
HawaiiUSA FCU has options to get you splashing in no time.
It's best to get a pulse on your financial health before diving into a new outdoor oasis. Judy Konishi, manager of the HawaiiUSA Federal Credit Union Kahala Branch, shares her tips for financing a pool.
Hawaii Home + Remodeling: What recommendations do you have for homeowners who are ready to take the plunge and install a new pool or spa?
Judy Konishi: If you're going to take out a loan, review your current budget, upcoming purchases, investments and liquid assets to get an idea of the amount of money that you'd be comfortable setting aside each month to finance your new pool. Don't forget to include room for extra expenses such as safety fences, outdoor lighting, pool covers, routine maintenance, insurance and property taxes.
HHR: Aside from taking out a new loan, are there other options to finance a new pool or spa?
JK: A popular way to pay for home-improvement purchases is a Home Equity Line of Credit (HELOC), which provides a revolving line of credit to draw from. You'll only make monthly payments on the amount you borrow. HELOC interest rates are usually lower than those of an unsecured loan such as a credit card or personal loan, since your home equity serves as collateral. Additionally, any interest you pay on this loan may be tax deductible. Be sure to consult with your tax adviser.