A Grand Kahala Bathroom Renovation Achieves Zen
One couple's dream renovation becomes reality in their spacious master bathroom.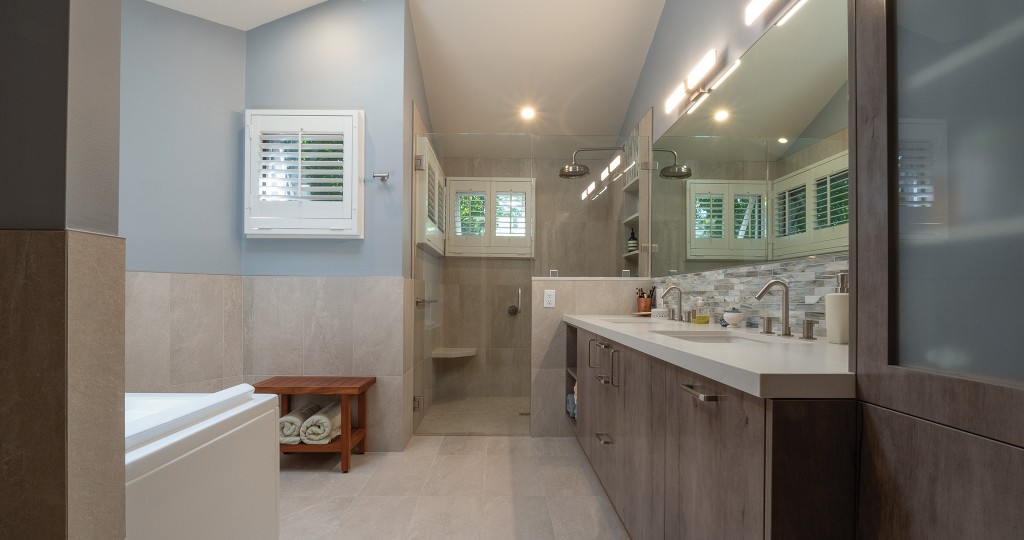 A 1950s-era house in Kahala had gone through several updates before being purchased by its current homeowners, who also remodeled half of the space when they bought it in 2006.
Just last year, they were able to finally complete their renovation project, shaping their house into a home they loved.
The recent changes targeted the kitchen, a guest room with its own bathroom, a powder room and the couple's own master bathroom, which needed a major refresher.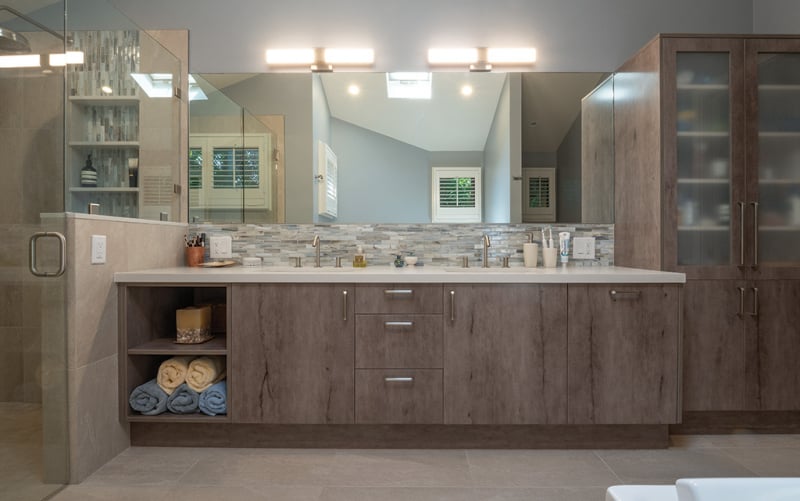 "We wanted cabinet space because we didn't have any," shares the husband. "And the tub was huge … my wife would just sink into it."
The original master bathroom was dark with black slate tile that would stain easily and leave water spots. The two stand-alone pedal sinks created a lack of storage and counter space, while the oversized 7-foot-long stand-alone cast-iron claw-foot tub took up much of the room.
The homeowners sought out the expertise of Heejin Uchimura of Details International to help create a tranquil oasis for them to enjoy.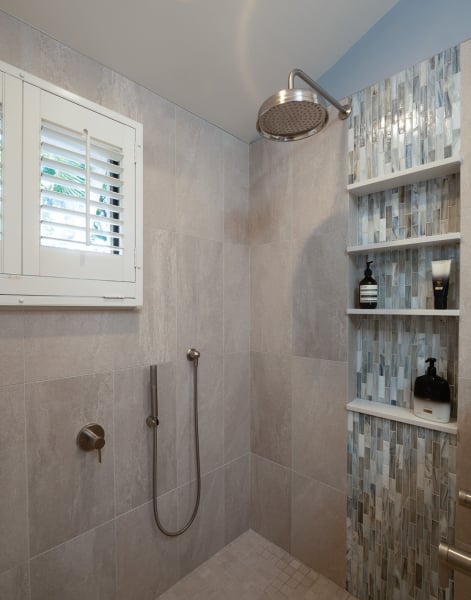 To achieve a spa-like feel, Uchimura replaced the old-school tub with a Duravit bathtub, next to a built-in niche to hold candles, essential oils and a wine glass.
The glass shower features mini pebble flooring and built-in shelves with glass mosaic tile as a backsplash. The old rain-head was replaced with an improved one that mimics a waterfall, a favorite feature of the homeowners.
The highlight of the master bathroom, however, is the storage options. The couple love their dual sinks and Caesarstone fresh concrete countertops with a grand mirror to open up the space. Downsview cabinets in carpino are located below the sink and as a pantry with frosted glass to keep things nice and tidy.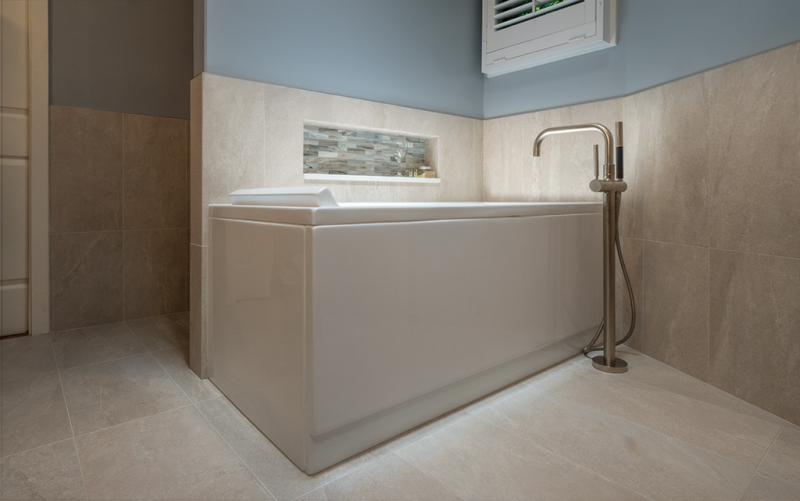 "We wanted to make a bathroom that was more grandeur and larger," says Uchimura.
"It feels really happy, bright and airy," the homeowners say. "It's very clean looking."
For Uchimura, it was refreshing to create a practical space for the clients by utilizing the same layout while updating the bathroom. "Sometimes, a little freshening up is all you really need," says Uchimura.
"Heejin did a very good job for us," say the homeowners. "We are very happy."
Where to Get It

Backsplash: Lunada Bay glass mosaic tile
Bathtub: Duravit bathtub
Cabinets: Downsview cabinets in carpino
Countertop: Caesarstone in fresh concrete
Faucet and Showerhead: Mix of Stillness and Purist collection from Polar
Flooring: Porcelain tile and mini pebble in the shower
Toilet: TOTO Legato toilet
All available through Details International Inc.