A Hokua Tower Luxury Condo Brightens Up with an Airy Remodel
Details International achieves a sleek, modern high-rise renovation, kitchen-first.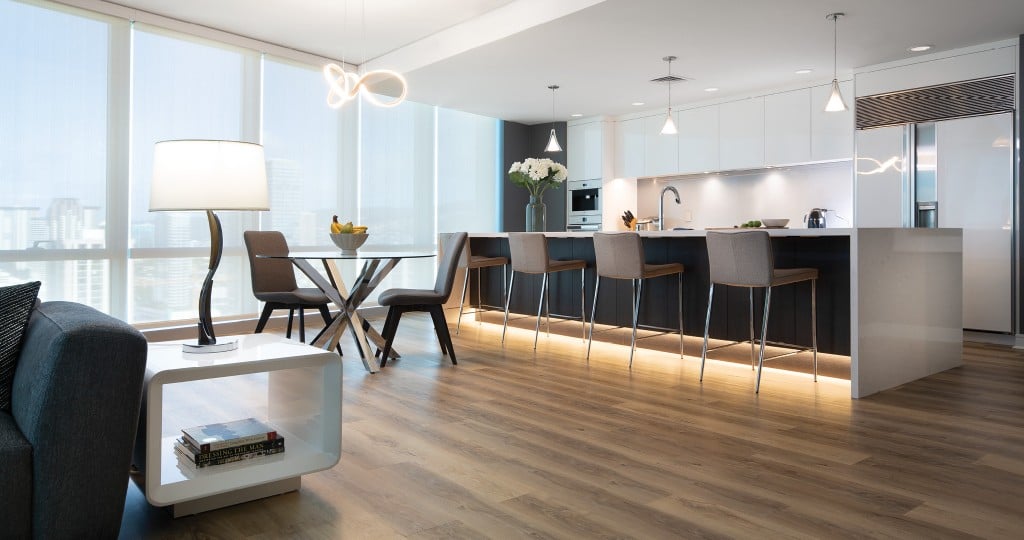 Taking in panoramic views of the ocean over Ala Moana Park, Hokua Tower is home to many residents looking for a high-rise condo with luxurious amenities. The owners of this particular unit were drawn to its spacious three-bedroom, 2½-bath size — perfect for their family of four.
At first, the couple loved their home's airy living spaces and brand-new kitchen, but over time, they felt the kitchen's look was too dark for their tastes. The homeowners turned to Details International for a simple kitchen refresher that blossomed into a complete renovation project.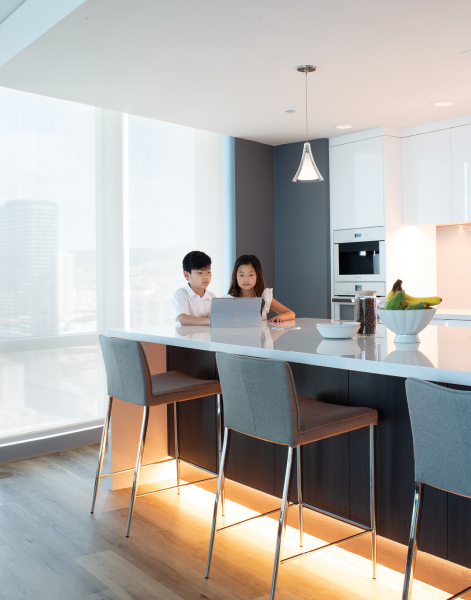 "We started with changing the cabinetry, but it grew into a whole job," shares Heejin Uchimura of Details International. Uchimura worked with the homeowners to update their kitchen's appliances, cabinetry and countertops, in addition to bringing in a larger island, remodeling the powder room and adding new flooring and paint color throughout the home.
The homeowners wanted to modernize the kitchen while improving upon its original layout. "The homeowners made it clear to me that they didn't want to have a major change in the sense of relocating," says Uchimura. The kitchen also needed to be brighter and cleaner — key themes carried throughout the design process — while maintaining functionality. It was important for them to have a sleek, white kitchen, shares Uchimura.
Glossy white Downsview Kitchens cabinetry brightens the room, while keeping it organized with built-in inserts and accessories, such as an appliance garage to store the homeowners' various gadgets and small appliances.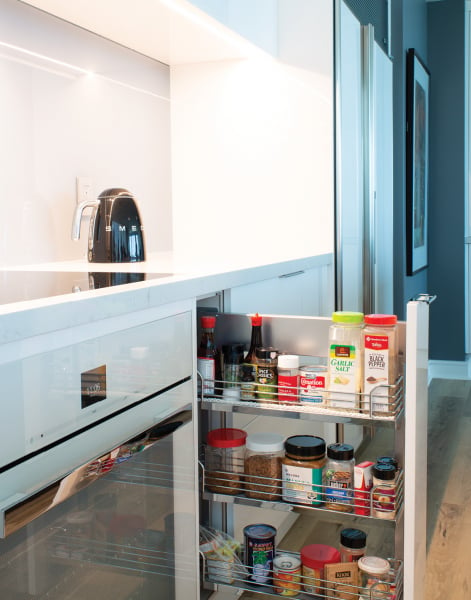 To match the brilliant white Miele appliances, the existing Sub-Zero refrigerator was repaneled in white, forming consistency throughout the kitchen. A frameless induction cooktop was seamlessly installed for ease of use and mind when the kids are present.
The hardest part of the remodeling process was transporting the massive 158-inch-by-59-inch kitchen island into the home. "That was tough," recalls Uchimura of the experience. The process took two days of planning, from measuring dimensions of the elevator and doorway to creating templates and boards to secure the separated pieces, before they could move it into the home safely. "That was a big challenge; everyone was super quiet," Uchimura says with a chuckle.
The kitchen island features a Cambria quartz countertop in Weybourne with a waterfall edge on each side. The island's textured cabinets, with storage space all around, make it easier for the homeowners to hide away items normally stored up high in the tall cabinetry.
The homeowners love their newly renovated kitchen, and spend most of their time there preparing meals while the kids sit at the island and do their homework or entertaining guests in the dining or living areas.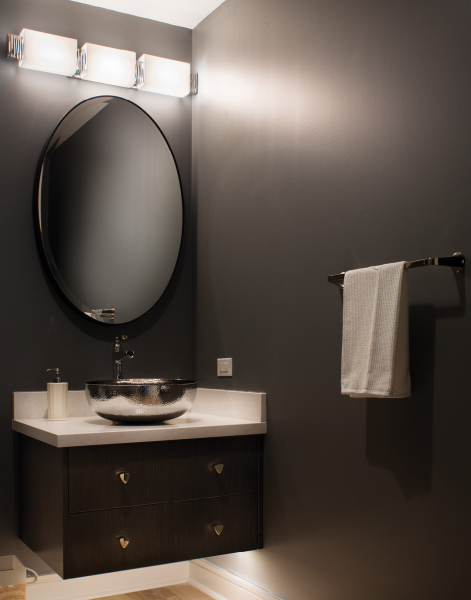 The home features a gray, white and blue color palette, from the updated kitchen and newly painted walls to the décor and furnishings. "It enhances and ties in with the view," says Uchimura, matching the sky above and ocean and cityscape below.
The redone powder room reflects some of the cool and calming hues found throughout the home, but with its own flair. "We wanted it to be very different," shares Uchimura. A polished nickel sink creates a warm tone against the blue walls and dark textured cabinetry, also found on the kitchen island.
Where to Get It
Appliances: 24" Miele Coffee Maker, 30" Miele Convection Oven, 36" Miele Hood Insert, 36" Miele (frameless) Induction Cooktop, 24" Miele Integrated Dishwasher and 24" Miele Speed Oven in brilliant white; existing 42" Sub-Zero refrigerator and 24" wine storage
Backsplash: Painted glass
Cabinetry: Downsview Kitchens cabinetry in high gloss white and textured melamine Rovere Tasso
Countertop: Cambria in Weybourne
Faucet: Kohler Sensate Sensor
Flooring: Aquarius in Cream Luxury Vinyl
Sink: Franke Undermount Sink
All available through Details International Inc.