A Home Redesign is Like Solving a Puzzle
A mismatched house is reimagined into a family's forever home.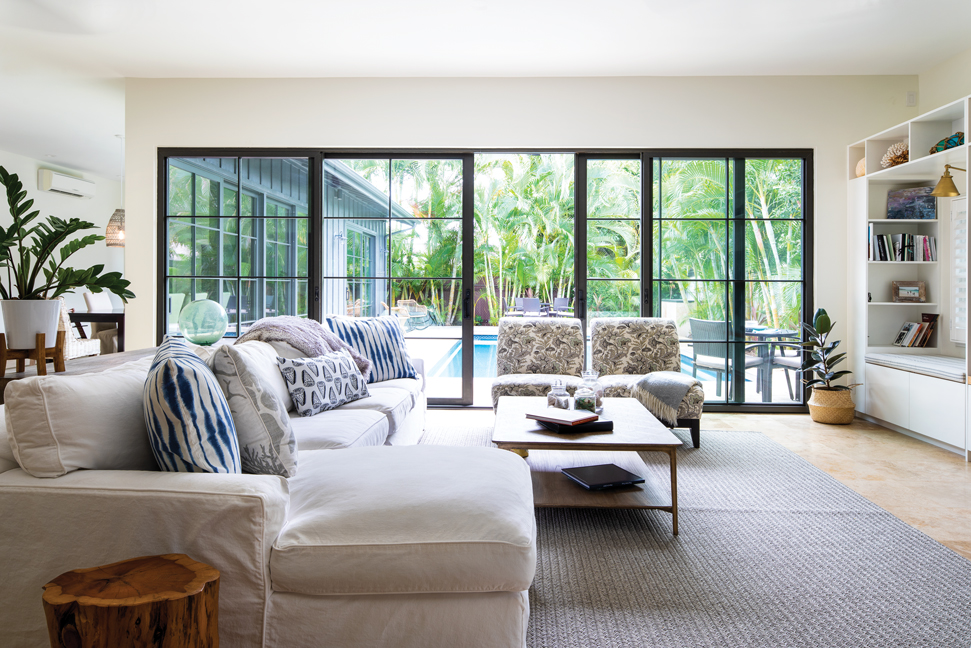 When the new owners of this house bought it, the layout was a confusing puzzle. Previous owners had doubled the size of what was a charming little cottage to include two kitchens, three living rooms and poorly lit spaces, all in less than 3,000 square feet. It didn't look or feel like home for the family that bought it.
"It was kind of an impulse purchase that my husband made, and I really was not a big fan," the homeowner recalls. The property's saving grace: It's a single-story house in the community they wanted to live in.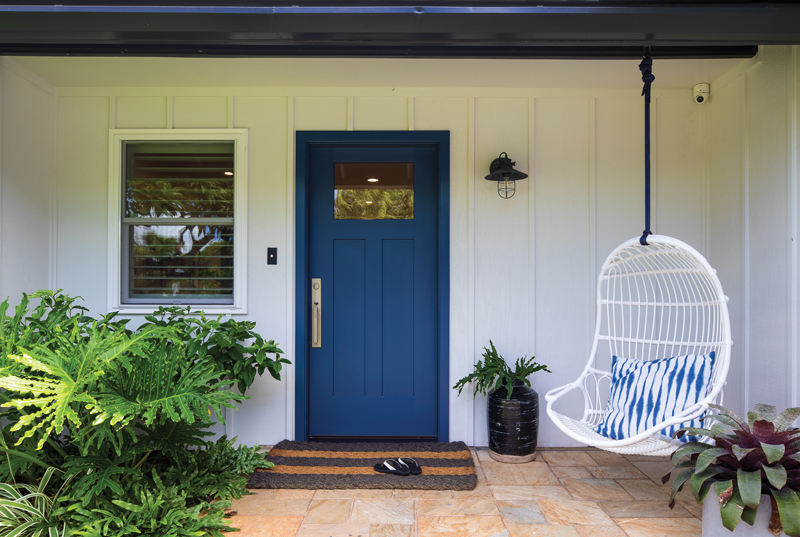 With a problem to solve and no clear solution, the homeowners sought professional guidance from renowned interior designer Jamie Jackson of Jamie Jackson Design.
Jackson took the lead on redesigning this house, forming a team of experienced professionals to help get the job done. "It was kind of a puzzle to figure out how to change the original floor plan to make it work for a family of five that is active and young," Jackson says. "We had to use every inch of the space and make it usable."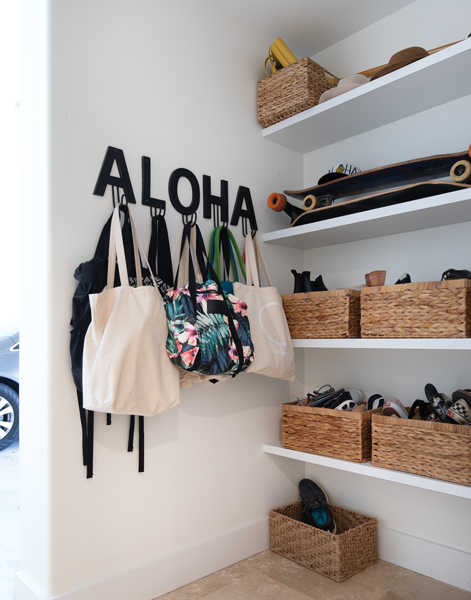 To keep costs down and stay within budget, the existing travertine floors were kept throughout the home, which the designer worked around by selecting complementary colors and materials. "The palette became cream/gray/charcoal with blue accents," Jackson says. The construction was done by Kela Construction.
Toward the front of the house, 700 square feet that had been used for one of the living rooms was reinvented as separate areas, each with a purpose: a mudroom with organized shelving and a hook for each family member to use; a laundry room, to bring the washer and dryer inside; and a large pantry, which would be an extension of the new kitchen.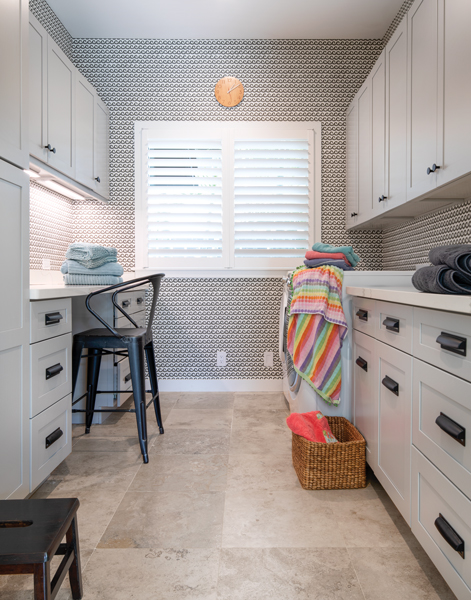 Jackson worked with certified kitchen designer Jennifer Medeiros of Pacific Source for the new kitchen's design. Medeiros created a detailed rendering that allowed the homeowners to see exactly how their kitchen would look in the end. Her design is timeless, helping to make the kitchen the heart of this family home.
"I thought Jennifer was incredible," the homeowner says. "She was super responsive to my interests and worked really quickly and designed a perfect kitchen. We love it. It's really functional, beautiful and clean."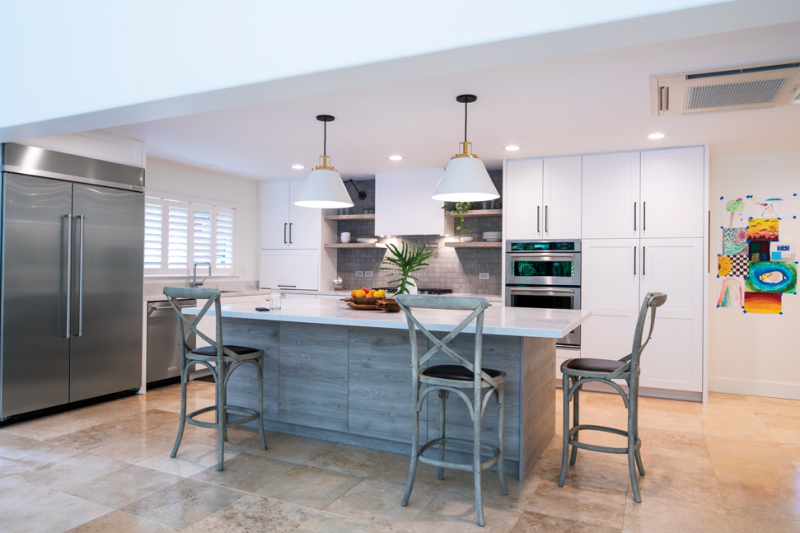 Bellmont Cabinet Co.'s 1900 Series cabinetry provides ample storage throughout the kitchen. The Silestone countertops remain clutter-free thanks to built-in features and accessories throughout the cabinetry, including a large appliance garage, pullout utensil and knife organizers, spice racks and more. Painted white cabinets with matte black hardware on the perimeter provides nice contrast to the kitchen island's textured laminate cabinets in an organic looking color and pattern, called Coastal. Stainless steel appliances, gray porcelain tile backsplash reaching to the ceiling and a custom white Miele hood tie in the two-tone look.
"I think it's actually really inspired my 13-year-old to do some incredible baking," the homeowner says of her kitchen. "I feel like our lives really revolve around that kitchen now."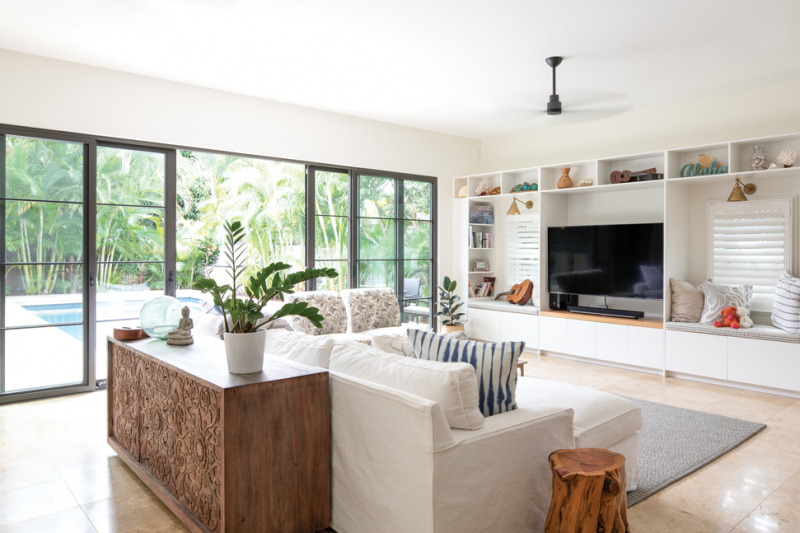 The girls, like their mother, were apprehensive about moving to the new house – at first. Jackson and their parents involved them in the renovation, encouraging each of them to select colors for their bedrooms. They have dedicated spaces to read and play and now feel at home in their beautiful new house. The older sisters get lost in a book while settled into reading nooks built into the living room's custom entertainment center, crafted by Reiner Arts. A new area rug, slipcovers for the family's existing furniture and natural light pouring in from the windows make it a warm, comfortable space to relax together. "We're there all the time," the homeowner says.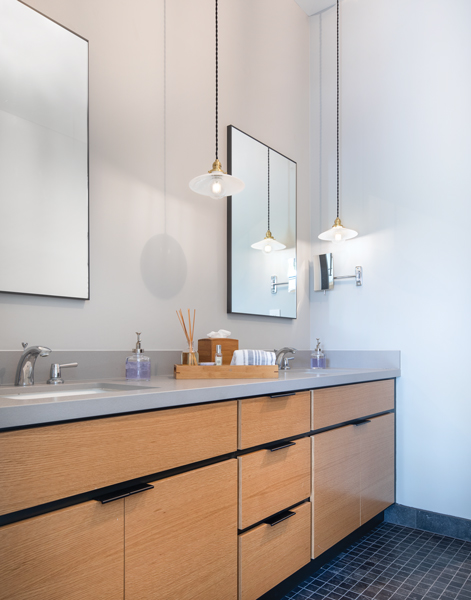 The Pella sliding doors' black-paned window mullions contrast with the travertine floor, bringing architectural detail to the home and connecting the living room to the pool area outside. "It is elegant and makes you feel protected," Jackson says. "Mullions help to create a feeling of separate space, but keep connection, defining outdoors in a way that full glass doors would not."
With the puzzle complete, the family is thrilled with their new home. "I didn't plan for us to be in the home for very long, but Jamie helped us solved, a really polished renovation that my family just loves, and we definitely see ourselves in the home forever now," the homeowner says.