A Kailua Bathroom is Remodeled into a Stylish, Accessible Space
The new design, which won the 2018 NKBA Grand Award: Bathroom, meets the owners' future needs.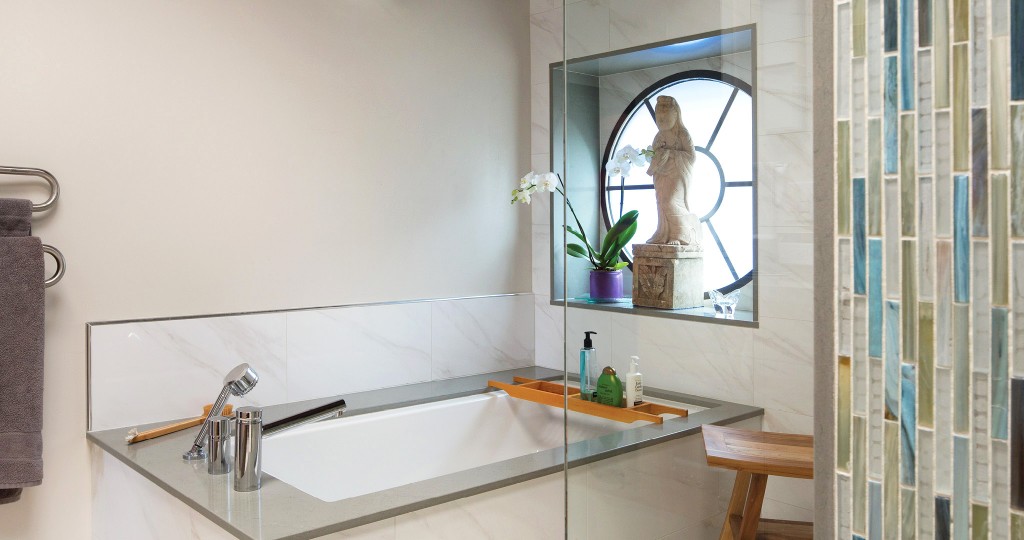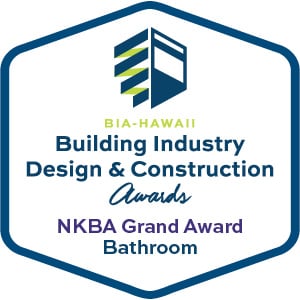 Featuring: Design Trends Construction
The owners of this Kailua home have had home remodeling at the top of their wish list since moving in 20 years ago. The 1970s-era home was in its original condition and in much need of an update, including the master bathroom. The cramped, cluttered space was outfitted with an 8-foot seafoam green bathtub attached to a step-up shower. It had dated fixtures, like Hollywood-style vanity lights and brass cladding, and the plumbing leaked at times.
The homeowners wanted to transform the bathroom into one that could accommodate them in the future, but, "every time we started talking about the bathroom renovation, the discussion would stall," one of them says. "That went on for years … really, years!"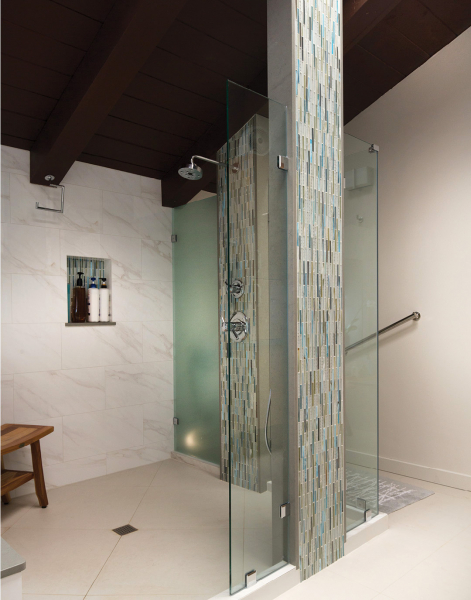 Remodeling was a long time coming, and finally, after meeting with Jerel Lake and the team of Design Trends Construction last year at a BIA-Hawaii home show, they put the project in motion.
"They had just dealt with it over the years," says Lake of their issues with the master bathroom. "They made it work while they lived there, but they knew they needed to remodel." Lake worked with the homeowners to create a plan to address their needs for ventilation, lighting and future accessibility, as well as their wants, which included preserving the bathroom's original layout and its key features, including the beams, ceiling and porthole window, a focal point above the tub.
"Jerel was incredibly helpful and patient," one of the homeowners says. Never having gone through renovations before, they appreciated that Lake was able to help them through the process and remain focused, avoiding "sensory overload."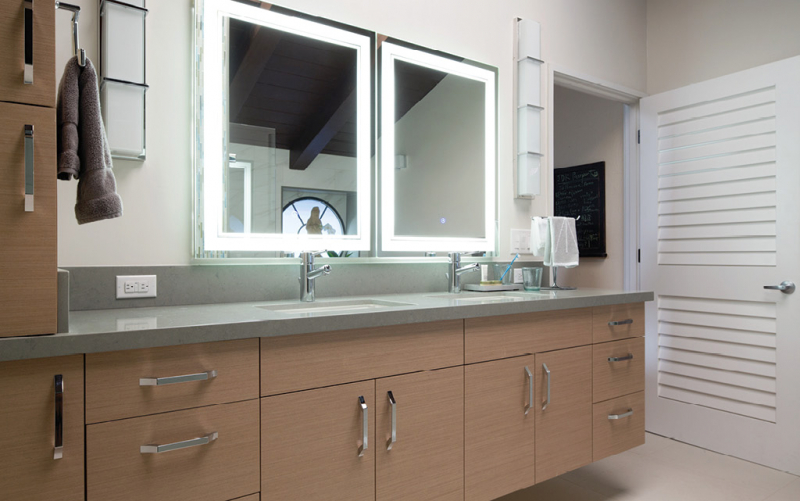 Walking into the new master bathroom, eyes are immediately drawn to the porthole window, now framed by a Silestone Cygnus quartz material. The same quartz is now also atop the floating vanity, which features warm Canyon Creek Vicwood Silver Elm to complement the white and gray bathroom.
Lake incorporated the existing gable ceiling, which slopes from 6 to 12 feet high, into the design. Now, two floor-to-ceiling columns hold the shower head and hand shower, all connected by frosted and clear frameless glass panels to open up the space while also providing privacy.
"The overall design is so unique," says Lake of the master bathroom, especially factoring in the varying ceiling heights, skylights and porthole window retained from the original design. "It really turned out nice."
For accessibility, the shower — which has a 60-inch radius — is equipped to add grab bars in the future, while the tub deck top features the same quartz base as the vanity and porthole window surround, making it easier to get in and out of the tub.
"The space is better utilized than it had been and has a cleaner 'Zen' look that we both enjoy," the homeowner shares. "My husband got his spacious shower and I got my tub."
Where to get it:
Bathtub: Kohler underscore, from Ferguson Bath, Kitchen & Lighting Gallery.
Bathtub deck top, countertop, column caps and window surround: Silestone Cygnus quartz, from Design Trends Construction.
Cabinets: Canyon Creek Cabinet Co. in Vicwood Silver Elm Veneer, from Design Trends Construction.
Fixtures: Brizo Quiessence collection, from Ferguson Bath, Kitchen & Lighting Gallery.
LED lighting and mirrors: furnished by homeowners.
Main floor and shower floor: Roca Tile in Orion Nieve, from Design Trends Construction.
Mosaic accent tile: Tommy Bahama by Lunada Bay in Kangaroo Island, from Design Trends Construction.
Paint: Sherwin Williams' Aesthetic White
Shower walls and bathtub deck: Daltile Florentine Carrara polished, from Design Trends Construction.
Sinks: Mirabelle undermount, from Ferguson Bath, Kitchen & Lighting Gallery.
Shower glass: frosted and clear frameless glass panels, from The Glass Guru of Honolulu.