A Kailua Beach Kitchen Gets a Minimalist Makeover
The 1950s-era family home's kitchen is recast as a modern space.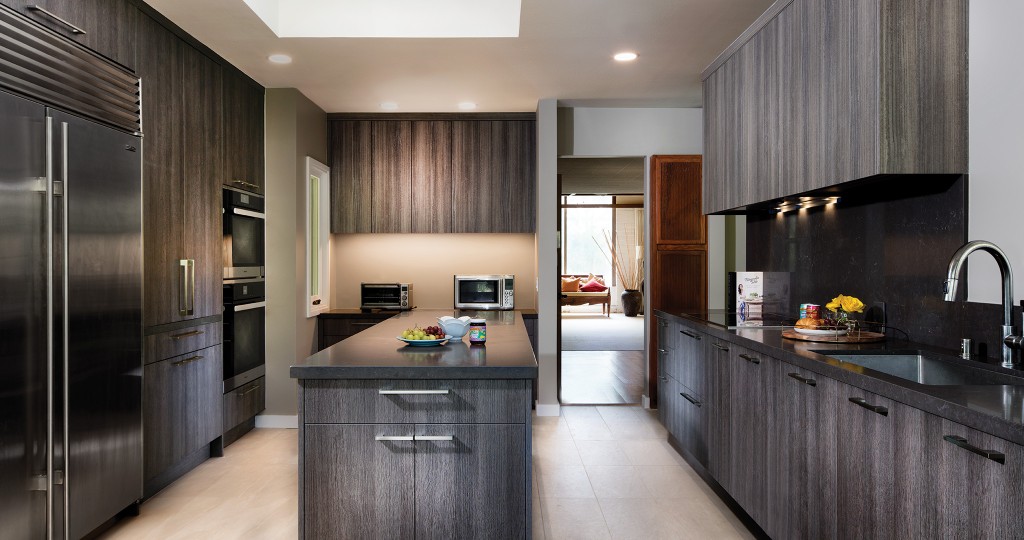 Featuring: Details International
Designed by: Heejin Uchimura
Location: Kailua
Style: Minimalist
Size: 350 square feet
Unique Feature: The breakfast nook was stained to match the teak cabinets, original to the 1950s-built home.
On a secluded private road in Kailua, mere steps away from the ocean, is a family's beach home, a site of frequent get-togethers.
"The house is our anchor back to the islands, where I grew up with my four sisters," mentions one of the owners of the home, which was built in 1951. "We wanted to raise our children where they could learn the meaning of ohana, the importance of community."
The homeowners love to entertain guests, with family gathered around the kitchen or outside on the patio, so when their cooktop broke, it was time to consider upgrading the dated kitchen.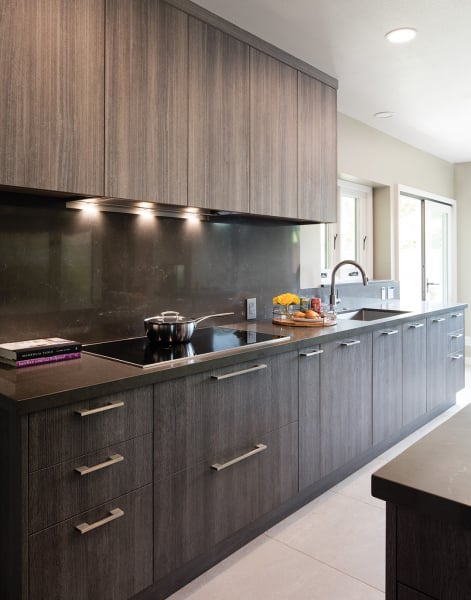 They reached out to Details International to take a look at their cooktop, but upon further inspection, more problems surfaced. "It was a domino effect of renovation," shares Heejin Uchimura of Details International. Once the integrated cooktop was pulled out, it rendered the countertop unusable. The poorly done layout also created a cramped space and oddly shaped cabinets.
Uchimura went to work to design a brand-new layout that would accommodate large groups in the kitchen, while also taking inspiration from the homeowners' personal taste.
"It was really important to them to make things really minimal and simple," says Uchimura. "They are very organized."
The end result is a stylish, updated kitchen that the homeowners needed. The new layout allows for a large prep island for people to congregate around.
The new Downsview textured laminate cabinets offer more storage, leaving the dark piatra gray countertops clear of clutter. A large shelf houses a hidden bar area — another place for guests to congregate toward.
"In Hawaii, people love to throw parties … they love to have aunties and uncles come together," shares Uchimura. "Here, everybody gathers around in the kitchen and it's important to make a kitchen where everybody has their own space."
The kitchen features modern Miele appliances, including an induction cooktop and combination steam and convection oven.
To balance the dark countertops, Uchimura opted for lighter flooring with porcelain tile, which could withstand the harshness of the salt air and wear and tear from surfboards being dragged across the floor to the living room.
"[The homeowners] weren't afraid of going a darker route," shares Uchimura, of the countertop and cabinets.
Much to the homeowners' delight, Uchimura was also able to keep some of the original features of the kitchen, including teak cabinets in the butler/laundry room and along the entryway of the kitchen, as well as a custom-built breakfast nook that was stained to match the original cabinets' color.
"The homeowners like to sit there and look out and read the paper," says Uchimura. "[They] just wanted a space to kind of sit and start their day."
Where to Get It
Cabinetry: Downsview textured laminate in ascari and castalina
Countertop: Caesarstone in piatra gray
Appliances: Miele combination steam and convection oven, and induction cooktop; homeowners' existing Sub-Zero refrigerator; Elkay sink; and Delta faucet
Flooring: Porcelain tile
All available through Details International Inc.

Heejin Uchimura
Heejin Uchimura of Details International Inc. likens kitchen and bath design to an intricate puzzle, delicately piecing together a functional space that the homeowners will love. "It's the perfect combination of using your left brain and right brain," shares Uchimura, who has eight years of experience. For her design style, she prefers keeping it simple and practical. "I try very hard to get to know the clients, so that I know how they utilize their space," Uchimura says. Prior to kitchen and bath design, Uchimura spent some time as an interior designer and hotel designer. She shares that her favorite thing to do is space planning with homeowners and revealing out-of-the-box designs that happily surprise them.