A Kaneohe Home Renovation Creates a Peaceful Retreat
Serenity is achieved through a remodel that improves natural light and airflow.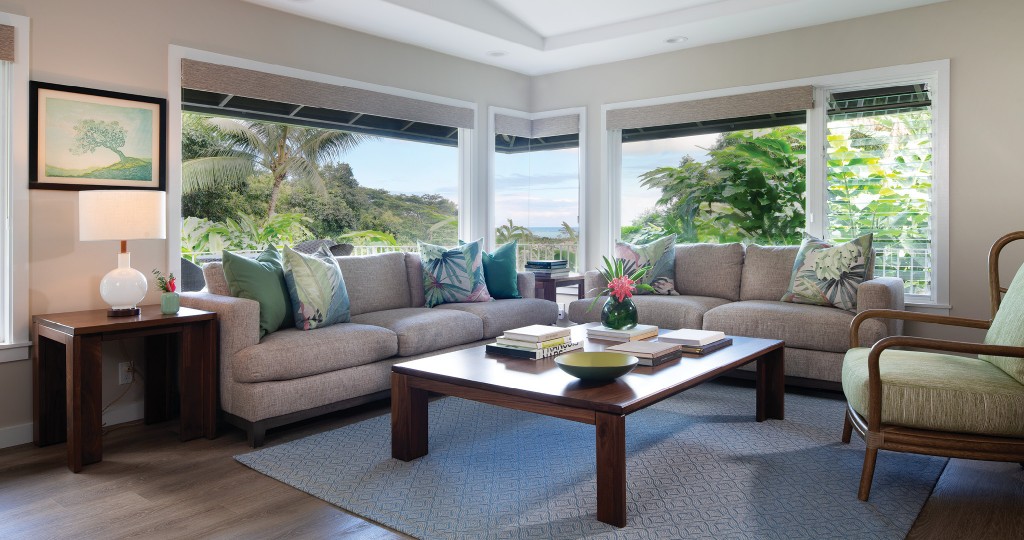 Sitting on a sofa in her living room, Yoshiko Nakaoka takes a sip of coffee and looks around at the place she's called home for 10 years. "There's something about this house," she says.
She remembers feeling a sense of calm when she and her husband, Wilford Nakaoka, first stepped foot inside, before making an offer. The properties for single-family homes in Haiku Plantation enjoy lush landscapes and stunning views of the majestic Koolau Mountains and glistening Kaneohe Bay. But the design of the home they purchased didn't take advantage of those surroundings.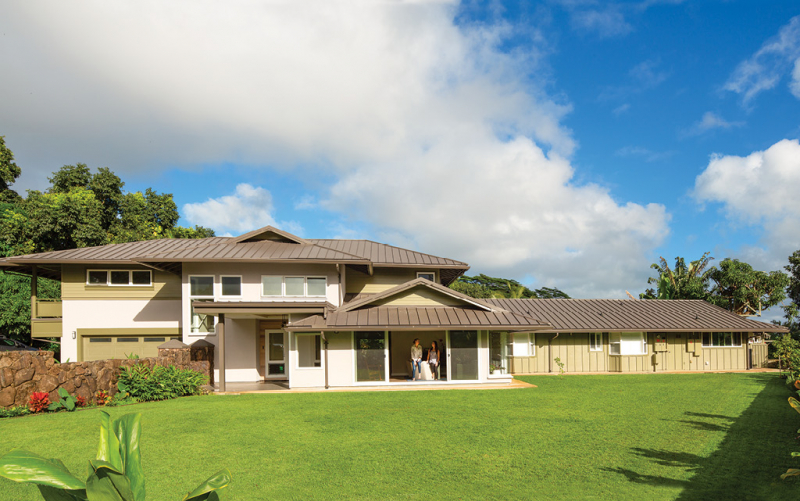 "I love natural light, natural breezes and tropical winds," Yoshiko says, gazing out her large windows as music plays softly from surround-sound speakers. Prior to the renovation, she notes, "the house was not designed for that purpose."
It belonged to musician hobbyists, she explains. The low and enclosed home design did not let in much natural light or provide much airflow, but it did control noise and humidity, which may have been beneficial when playing and storing musical instruments.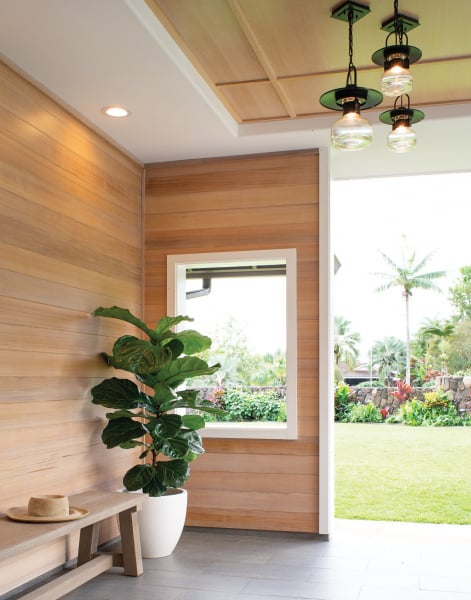 Yoshiko wanted to have a stronger connection to the environment, where trade winds cool the home naturally, raindrops provide pleasant background noise while reading and natural light pours into every room. She and Wilford have a large family they enjoy hosting, and also hold events for their church within their home. It needed to have a better, flexible design to accommodate groups of anywhere from four to 60 people.
They selected Geoffrey Lewis Architect Inc. to design a renovation to make their home more functional and experiential. "The proposed design, although simple in function, was quite a big change from the original house," Geoffrey Lewis says. They enlisted Pacific Renovations for the build, a general contractor Lewis had worked with in the past, with good results.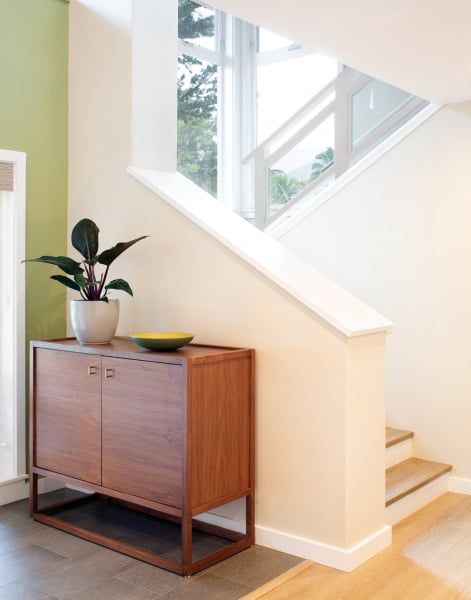 The kitchen was essential to the renovation: It needed to function for entertaining and have enough space for Yoshiko to cook while guests prepare pupu and dishes they bring to share. Prior to the renovation, the kitchen was closed off from the home's entertaining spaces.
The new kitchen is larger, with more cabinetry and a buffet countertop that separates the working area of the kitchen from the entertaining spaces. For parties, it's large enough to hold all of the home-cooked food for everyone to make a plate.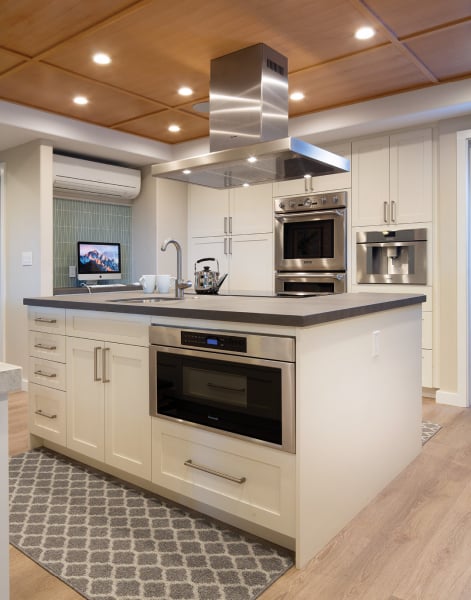 "We are very pleased with the Neolith countertops that are used throughout the house," Lewis says. Neolith is a durable sintered stone, available in Hawaii exclusively from Pacific American Lumber. "We found their selection of natural looking products to be some of the best we have seen."
Yoshiko is fond of the countertops, too. "I like the color scheme," she says. The island and desk counters are darker in color than the buffet and perimeter counters. "They're easy to clean, easy to maintain and they seem timeless."
The kitchen's shaker-style cabinetry from Plus Interiors is made of maple wood and painted a custom shade of white through the local company's color match paint program. Behind the doors, many of the cabinets are equipped with drawers for easy accessibility and organized storage.
The kitchen's transformation has helped Yoshiko entertain more easily and enjoyably.
"Now it's open and I can actually stand there and see the ocean, which I wanted to do, and be able to see people while they're here and I'm cooking. It's the center of the house and it's a nice size so when we have family and friends over, everyone is in the kitchen, and that's a lot of fun," she says. "That's my favorite thing, when people are in the kitchen with me, moving around and putting things together."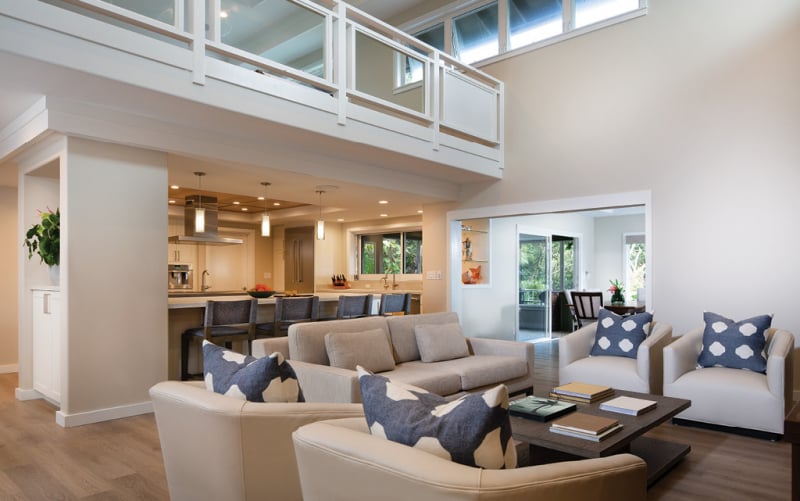 Because the Nakaokas entertain often, the house needed to have the flexibility to feel comfortable for small groups of people to talk privately, and yet be open and connected for large parties of people to move around and talk with one another.
Adjacent to the kitchen is the great room, and on either side of it, a sitting room: one with a view of Kaneohe Bay, the other with two walls of sliding-glass doors that open to the front yard. When hosting small groups, such as for Bible study, either of the sitting rooms are comfortable options. Pocket doors to the sitting room facing the bay can be pulled shut for private conversations. Most of the time they remain open, allowing great connection within the spaces.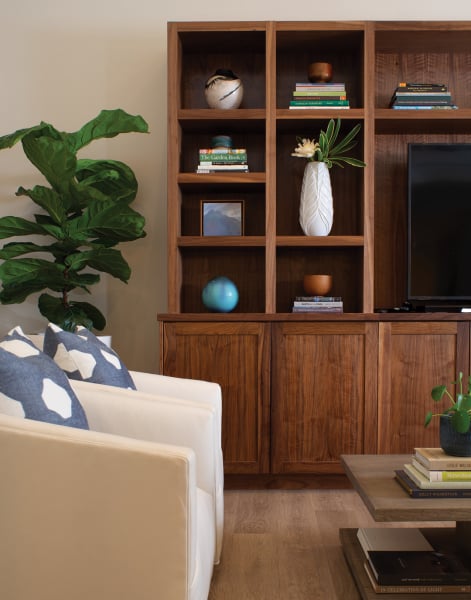 At Lewis' recommendation, the Nakaokas enlisted the help of interior designer Ginger Lunt for space planning and furniture selections. She started her business, Tantalus Studio, last year. "Our goal was to make everything very comfortable, practical and durable for grandchildren, but also to have clean lines," Lunt says. She selected walnut furniture throughout the house to bring the warmth Yoshiko desired into the home. She also supported small local businesses where possible, such as commissioning Burl and Barrel to build the large entertainment center she designed. Its height, she explains, helps to balance the 18-foot-high ceilings in the great room, so the room feels proportional to its architecture.
The addition of a lofted second story with clerestory windows is designed to improve airflow and bring much more light into the great room.
"As design-based research tells us, exposure to nature and good day lighting are two critical features for healthy living," Lewis says. "Given the lack of density in Haiku Valley, this site provided the perfect opportunity to celebrate these features without compromising privacy."
The large, open loft gives the Nakaokas' grandchildren and their friends in the neighborhood plenty of space to play air hockey and other games in an area that's close, but outside of the entertaining portion of the home.
The second story also provides privacy for out-of-town guests to stay, with a bedroom behind a barn door, a bathroom with dual-sinks, and southwest facing lanai with incredible views of the Koolau Mountains.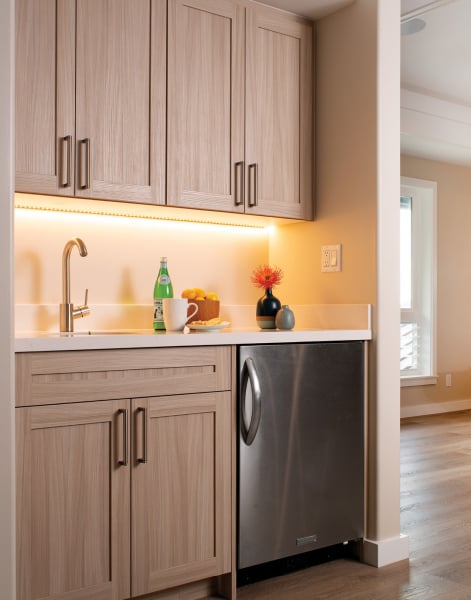 Finishing her coffee in the makai-facing sitting room, Yoshiko reflects on the improvements made to her home. "I think this house is generally welcoming and warm and peaceful, but, I think, I now have many more areas in which I can sit and do my devotions or entertain with friends that just want to come for coffee," she says.
"Exposure to nature and good day lighting are two critical features for healthy living."
— Geoffrey Lewis, architect