A Master Bathroom is Designed in a Clean, Classic Fashion
Modern contrast.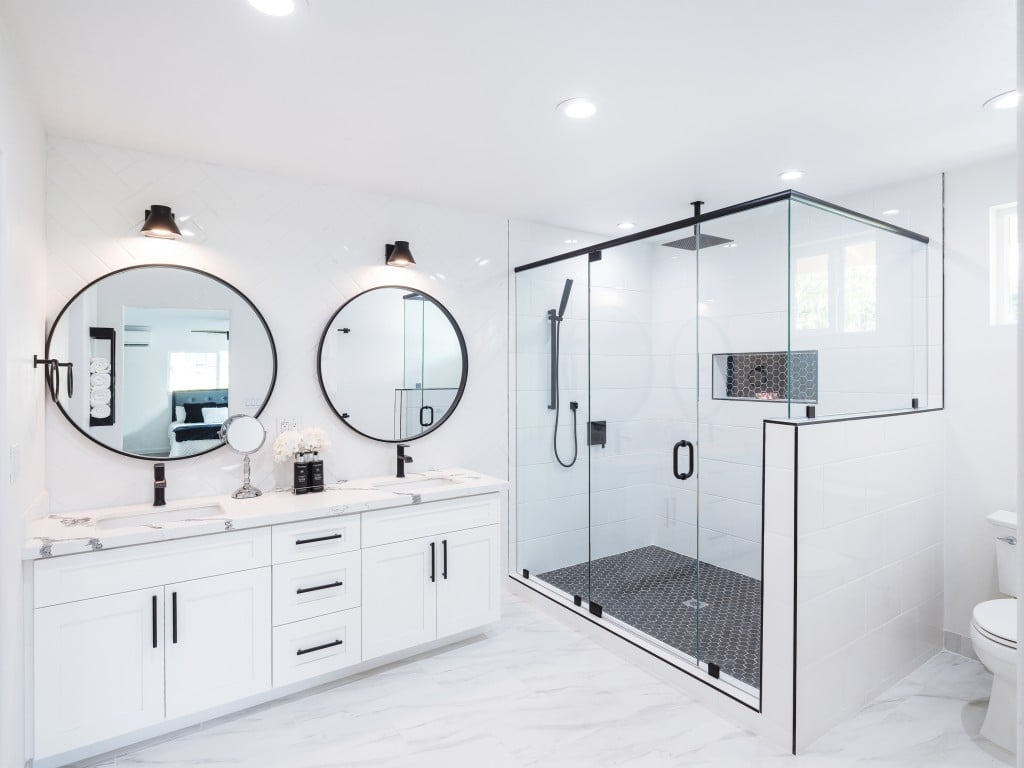 The master bathroom of this newly built multigenerational-style home is the trendiest room of all. Designed by the previous homeowners, it features contrasting colors, a sleek look and timeless style. "I wish I had that bathroom," gushes one of the previous homeowners.
Adjoined to the master bedroom, the space measures roughly 125 square feet. At the entry, a sliding barn door glides open and takes up little to no room, which is ideal for small spaces. The bathroom's design is based on a black-and-white color palette and the latest trends, shares the previous homeowner.
Spotlights highlight the double vanity with white cabinets and a Calacatta gray quartz counter accented by black hardware, fixtures and round mirrors. Its backsplash is subway tiles done in a herringbone pattern for added interest. The floors are porcelain tile that mimics the elegance of natural marble.
The Glass Guru of Honolulu had an integral part in achieving this clean and classy look. The local glass company — which supplies, sells and repairs glass products and more — created the large walk-in glass shower. "They wanted an enclosure that was functional, maximized the space and also matched their hardware finishes," says Guerric de Coligny of The Glass Guru of Honolulu.
After an on-site consultation, The Glass Guru of Honolulu was able to determine the best way to achieve these goals. "This was a tricky shower opening due to the location of the vanity and the 90-degree pony wall, so picking the door placement was critical," says de Coligny.
He adds that the choice of hardware was important too, with a focus on not only a minimal design but also a supportive one for the glass enclosure. A frameless showerhead design was selected, and the shower floor and niche feature black hexagonal tiles. The shower walls, meanwhile, have large white subway tiles to minimize grout lines.
Also, the shower is wheelchair-accessible, points out the previous homeowner. "It's really spacious feeling, and the black-and-white design offers a nice sharp contrast," says de Coligny.
The current homeowner enjoys this elevated space a lot. "It's lovely, it's gorgeous," says the current homeowner. "I think it really adds a lot of character and appeal to the house — and I'm happy with it."