A Modern Family: Midcentury modern kitchen designed for comfort
Homeowners in St. Louis Heights rebuild a kitchen inspired by midcentury modern design.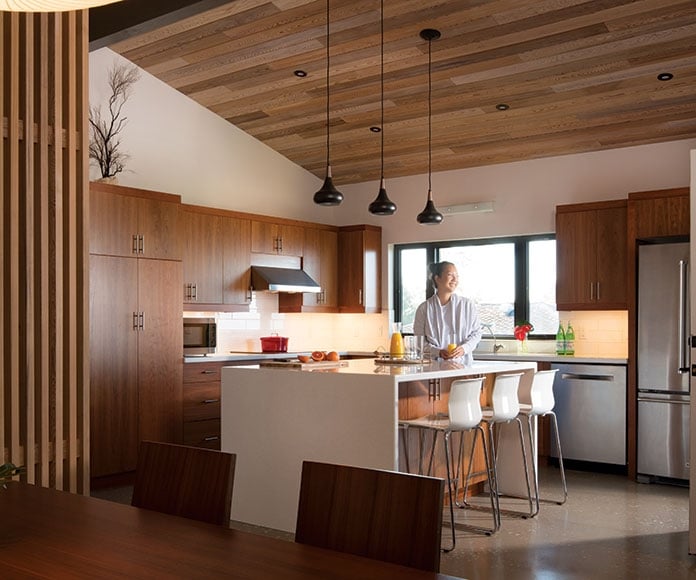 After navigating up narrow car-lined streets, it's easy to see why the Muramoto family enjoys living in St. Louis Heights. Their home, perched hillside along a steep road, overlooks Diamond Head and the cityscape below, making for a dazzling view.
Together, wife Karen, an architect, and husband Mark, a builder, form MKM Construction. After living in homes on the same hill, they knew they didn't want to settle down anywhere else. They jumped at the chance to purchase their current property, originally built in the 1950s, and decided to rebuild it—a dream come true for the couple. Their daughter, Sunny, was there from the start.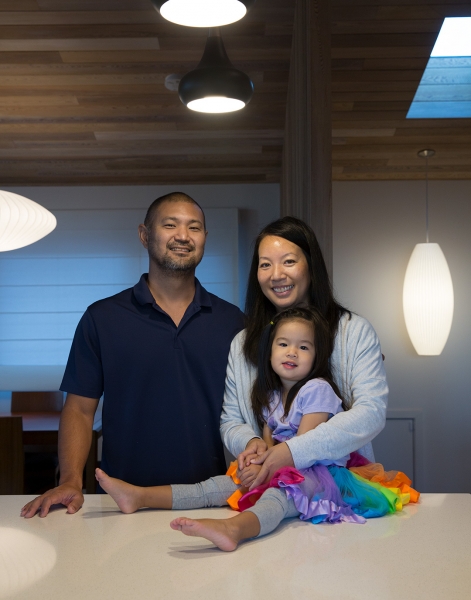 "I was pregnant with Sunny when I drew the plans," says Karen. "She was here for the process. So I would lug her up here, look at the site and go back. When we moved in, I think she was walking already."
Formed from concrete and lumber, the Muramoto family home possesses an elegantly simple exterior look that carries on throughout the home's spacious interior. What really catches the eye is the upstairs part of the home where the kitchen is—the living areas the couple and their toddler spend most of their time when they're home.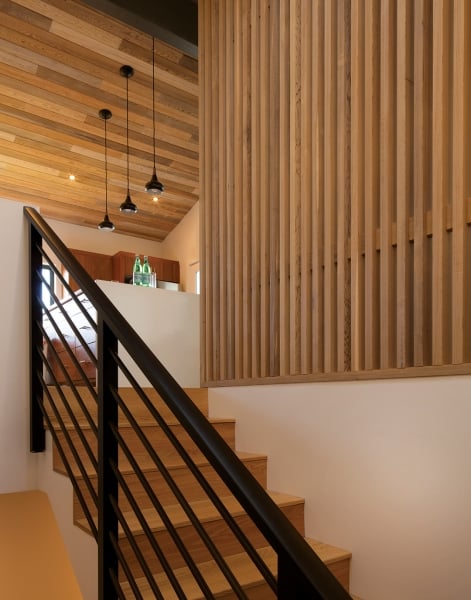 Midcentury modern design served as inspiration while designing the home, and those elements were incorporated as a nod to the style, but also in ways that keep the interior looking fresh. The cedar ceiling not only balances out the concrete flooring, it adds some warmth to the room. It's also another older style that was incorporated with a newer interpretation.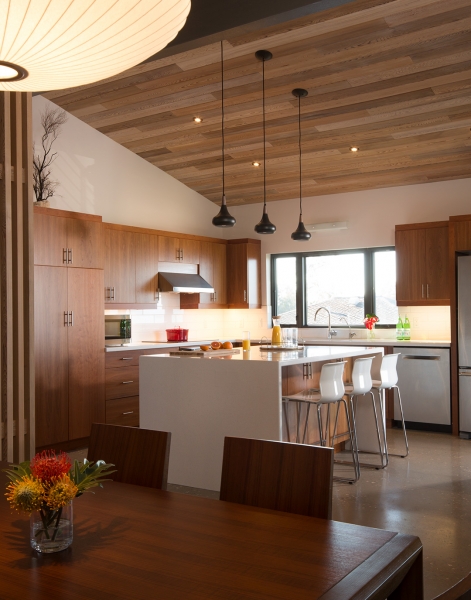 "I like more natural colors and neutrals," says Karen. "Then you can just accent it. Say the backsplash is super bright colored. What if you got tired of it? If you keep the general space neutral, then you can always change out things like your furniture."
The open kitchen seamlessly balances the adjacent living room and dining room to create a multifunctional space. If family or friends come over, the roomy waterfall edge countertops are used as the designated food area. Sometimes Mark will work at home, sitting at the dining table. And when there's down time, the family relaxes together in the living room.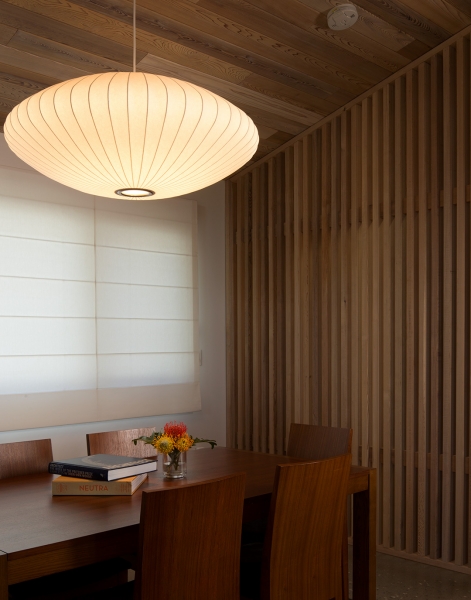 This all-in-one space makes it convenient for the family. "If she's playing in the living room, I can see her" says Karen, on keeping a watchful eye on Sunny while in the kitchen.
Looking around the kitchen, Karen says: "I love it. I'm a homebody. It's comfortable."
Where To Get It
Counters and Cabinets: HPM Building Supply
Plumbing Fixtures: Ferguson Bath, Kitchen & Lighting Gallery
Overall Construction: MKM Construction
Refrigerator: Sears
Custom-Built Wood Screen: MKM Construction
Nelson Bubble Lamp: Design Within Reach
Lumber and Interior Doors: Pacific Building Material
Windows and Doors: Pella Windows and Doors
Aluminum Stair Rails: Jayco