A Moroccan-Themed Bathroom Oasis is the Perfect Match
Moorhead & Company's unique bathroom remodel is tied together with intricate details.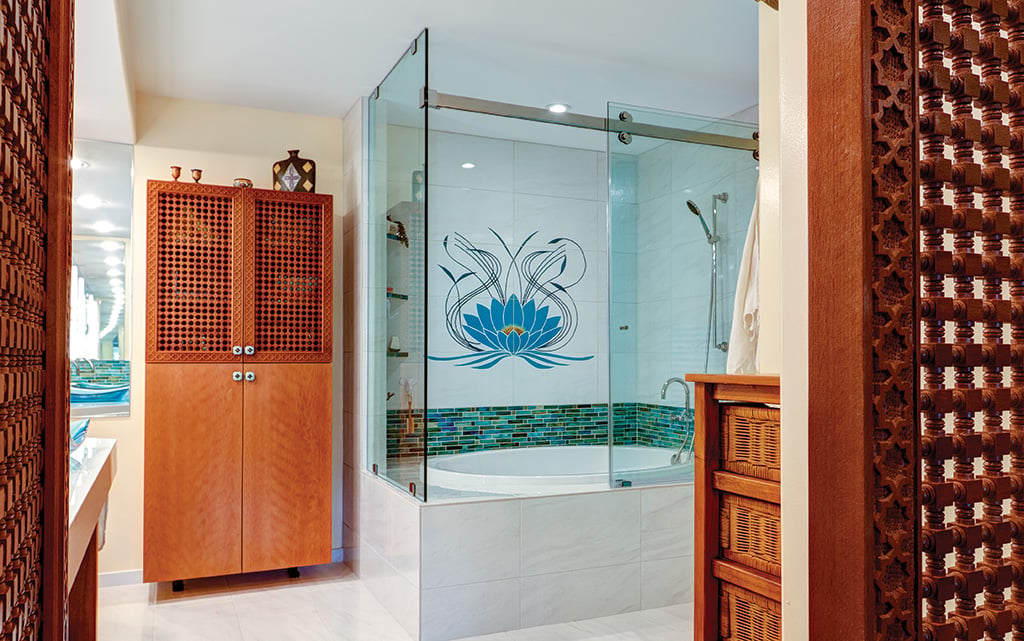 This bathroom oasis was once unusable. Plumbing and electrical problems were hidden within the walls and a 1-foot ledge intended as a bench made this now-spacious area feel cramped.
While spending a night in a luxurious hotel, the homeowners felt inspired by the room's open-concept bathroom, which featured a large area for changing and an elegant vanity. They knew they wanted these features in their new master bath, as well as a Moroccan aesthetic. With their eyes set on creating a bathroom customized to fit their every desire, the homeowners sought the help of Moorhead & Company Inc., which worked closely with them to bring their vision to fruition.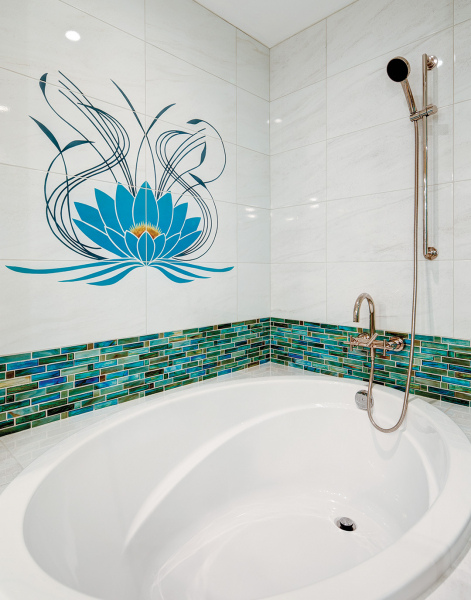 With clear direction to incorporate Moroccan lattice, Moorhead & Company Inc. got to work taking precise measurements — checking their work four times — and had wood lattice made in Morocco for this job. Moorhead & Company crafted custom cabinetry and saloon doors, applying the Moroccan lattice to both and staining it together to create a consistent look.
"After the vanity was built, stained and installed, we brought our countertop team to wrap it," says J.R. Moorhead. They chose Dekton for the countertops because of its nonporous, scratch- and abrasion-resistant properties that make it ideal to withstand the natural wear a bathroom countertop endures. But working with the material has its challenges. "The color isn't solid throughout like marble or quartz … [making] the way we cut and shape the edges much more tricky," Moorhead says.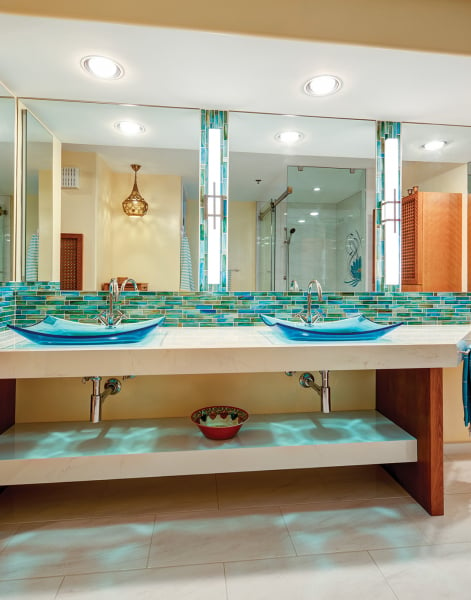 Keeping with the Moroccan theme, the homeowners turned to Thomas Deir Studios, a company that's been around for nearly 25 years, and its team of Hawaii artists and craftsmen to paint a lotus mural that stretches across eight different tiles of their new shower.
Everything was taken into consideration when selecting details for this project. A glass mosaic tile backsplash from Daltile complements the colors from the lotus mural and is repeated along the perimeter walls of the shower, tying in the look. Blue vessel sinks are halfway recessed and precisely centered below the overhead lights to create a magical light display beneath the glass sinks.
Every detail of this bathroom remodel, big and small, was well-thought out by the team at Moorhead, allowing the homeowners to achieve their dream for a space that is entirely their own. "This bathroom was definitely one of a kind," Moorhead says.