A New Home Radiates with Solar and Energy Upgrades from RevoluSun
With great efficiency.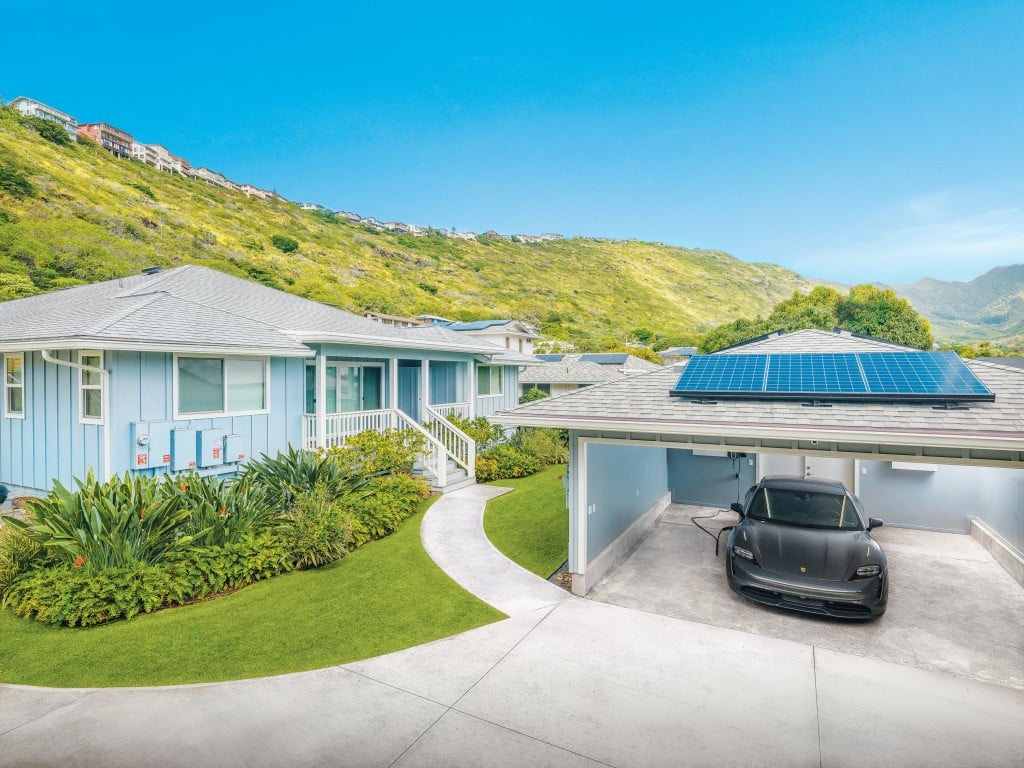 When the owners of this Aina Haina property approached general contractor Chad Okuhara to build their new home, they requested that the house be cool and comfortable, with great ventilation and energy efficiency, while reflecting a design that'll help it blend into the neighborhood.
Okuhara knew that to achieve all of that, he'd need to work hand in hand from the start with RevoluSun, a local solar and smart home company committed to quality services and products. Incorporating your solar and energy goals from the very beginning allows for a seamless build, he explains.
"RevoluSun was called in to collaborate during the design phase of the home renovation, which for us is great as it allows us to share with the design team what we need for a successful installation," shares Eric Carlson, co-founder and chief innovation officer for RevoluSun. "Being that 90% of the home was rebuilt, we were essentially working with a new construction project, which meant we could incorporate our products as a feature of the home and not just an add-on."
The three-bedroom home with a detached carport features Haiku Series ceiling fans from Big Ass Fans, two Tesla Powerwalls and 27 SunPower solar panels with 360-watt modules. "From the design phase we knew the homeowners would have a higher than average electricity demand," says Carlson. "Comfort was a priority for them, so you'll find split air conditioning throughout the home and in their large office area attached to the garage." In the kitchen are electric appliances and the garage holds the homeowners' newly purchased electric vehicle.
"Modern touches compliment the plantation style while integrating the latest technologies aimed at reducing the energy consumption typically experienced in older homes around the state," says Okuhara.
"The craftsmanship and patience of the rebuild was extraordinary; Chad and his team did an amazing job," adds Carlson. "The home has a very calm, peaceful feeling when you are there, with the landscaping and valley walls on three sides. You can see all the love and attention that went into the build from the contractor and the care that the homeowner gives to the property after the build."
Overjoyed with the finished build, the owners appreciate how much better life at home is now. "It's made it easier, made it convenient, made it cooler," gushes one of them.
What's more, they are enrolled in the Home Battery Rewards Program, one of the two grid service programs offered by Hawaiian Electric. "Both programs reward homeowners for allowing their battery to be accessible (with limits) to the grid during certain times of the day or during a grid event," shares Carlson.
To learn more about grid services, visit revolusun.com.