A Newly Built Home Made for All Ages to Enjoy
An energy-efficient home designed for entertaining and multigenerational living.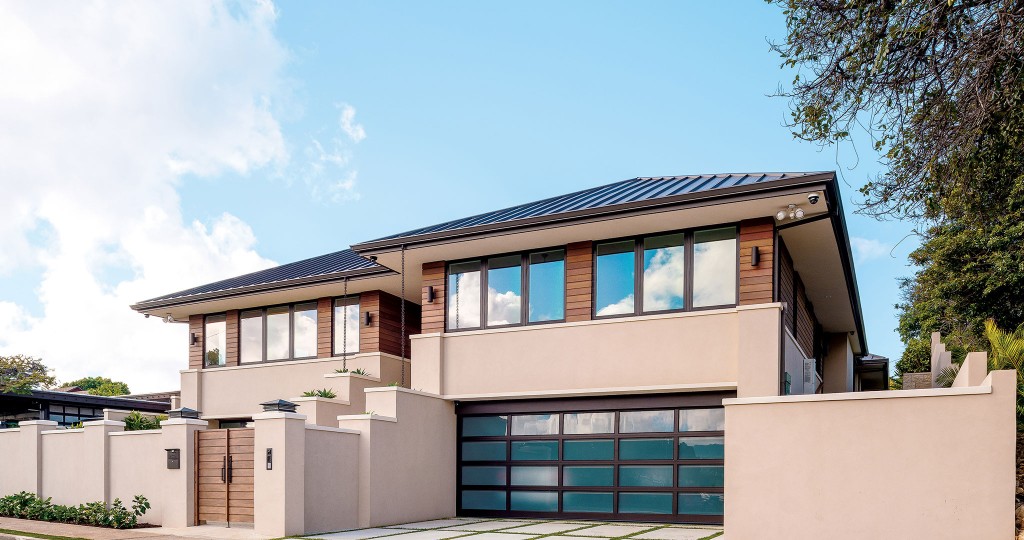 After inheriting this Diamond Head property, a couple decided to build new to accommodate the three generations of family that would live there. They tapped Peter Vincent Architects and Mokulua High Performance Builder to revamp not only the home, but the entire lot too.
The goal was to integrate design, form and function to create a "multigenerational home for a growing family that's designed to be spatially conscious for the lot," shares Mike Fairall of Mokulua High Performance Builder.
"The other hope was to create a house that was great for entertaining and space for the kids to run and play," adds the homeowner.
The original single-story home was deconstructed and salvaged by Re-Use Hawaii. In its place: a contemporary abode with five bedrooms and three bathrooms on the main floor and an accessory dwelling unit and garage at street level. The whole home was designed around family and entertaining with indoor-outdoor living spaces that encourage energy efficiency.
"There is more functional yard space," says Fairall. "While the home is large, it doesn't feel overwhelming and we adapted the property, which was partially sloped, to utilize as much of the flat area as possible."
The materials for the exterior of the house were chosen for their clean lines and warm, natural features, like the cedar shiplap siding with a stucco finish. The entry door is integrated with the siding to make it look like it's not there, a classic style and mixing of material that's a specialty of Peter Vincent Architects, according to Fairall.
On the main floor of the home, the central focus is the kitchen. "It's the main hub of the house," shares Peter Vincent of Peter Vincent Architects. "They wanted it clean and contemporary." For the homeowners, it was important to have a large island, gas range and high-quality appliances, plenty of storage and unobstructed views. "We wanted to achieve an openness and define spaces," adds Mary Schmitt of Peter Vincent Architects.
Bellmont Cabinet Co. wood cabinets from Pacific Source are paired with Silestone quartz countertops in Calacatta Gold to create contrast in the room. A key design feature is the vaulted ceilings with uplit soffits.
To further add to the indoor-outdoor experience, a Fleetwood pocket door system connects the living areas and kitchen to the outdoor living room and spacious yard.
Down the hallway are the kids' bedrooms, bathrooms, a study and the main bedroom and bathroom, which gained some square footage. The main bathroom features a soaking tub adjacent to the walk-in jetted shower with a rain shower head and a his-and-her vanity with make-up area, surface counters and wood cabinetry, echoing the style of the kitchen. "Our bathroom has a door that connects to the pool, so after swimming we can just come in and rinse off," adds the homeowner. "That's a design feature that we really like."
Outside, Poseidon Pools completed a pool renovation in which new coping, tiling and a spa were added. There's also a raised deck with new finishing and railing installed. Aloha Aina Landscaping completed the landscaping, which was kept minimal with opportunities to grow and garden in pockets around the perimeter.
Many factors contribute to this energy-efficient home, from the new standing seam metal roof to the natural ventilation made possible by large double-glazed doors and windows, corner windows and haiku fans, according to Peter Vincent Architects.
Throughout the build, Mokulua High Performance Builder implemented sustainable features as well, making the home certified LEED platinum, Energy Star and EPA Indoor AirPlus. Along with all of that, it's also achieved net-zero, which means it's a carbon-free home.
RevoluSun was brought on to remove and reinstall the home's current solar system; however, after learning about the homeowners' needs and factoring in the new roof and layout of the home, the company recommended a more efficient system with higher wattage on a southern-facing orientation. Now, 53 Panasonic 330-watt panels produce around 90 kilowatt-hours per day and three Tesla Powerwalls that provide 36-40 kilowatt-hours per day of storage, shares Eric Carlson of RevoluSun. This allows for three times the amount of energy, plus backup power in the event of a grid outage.
The new home not only accommodates the couple and their children, but also the kids' grandmother. Across the garage is an accessory dwelling unit with its own entrance and outdoor area, allowing her to come and go as she pleases. Inside, there's a spacious living room, full kitchen, laundry, bedroom and bathroom with a walk-in shower.
"[This home] has created a new functional and beautifully designed space for family growth with thought and care for the multigenerational lifestyle," shares Fairall. "The build was achieved within their budget with the added benefit of third-party certifications that are the most rigid standards in building, giving the homeowners peace of mind that the home is there to stay and grow with them."
Says the homeowner: "What I love is that our home is contemporary, but it also feels very open and inviting — and that's what we wanted."
Project Team and Materials
Architect: Peter Vincent Architects
Builder: Mokulua High Performance Builder
Kitchen Cabinetry: Bellmont Cabinet Co., from Pacific Source
Landscaping: Aloha Aina Landscaping
Pool: Poseidon Pools