A Responsibility to Community
Ward Village is a thriving neighborhood for everyone to enjoy.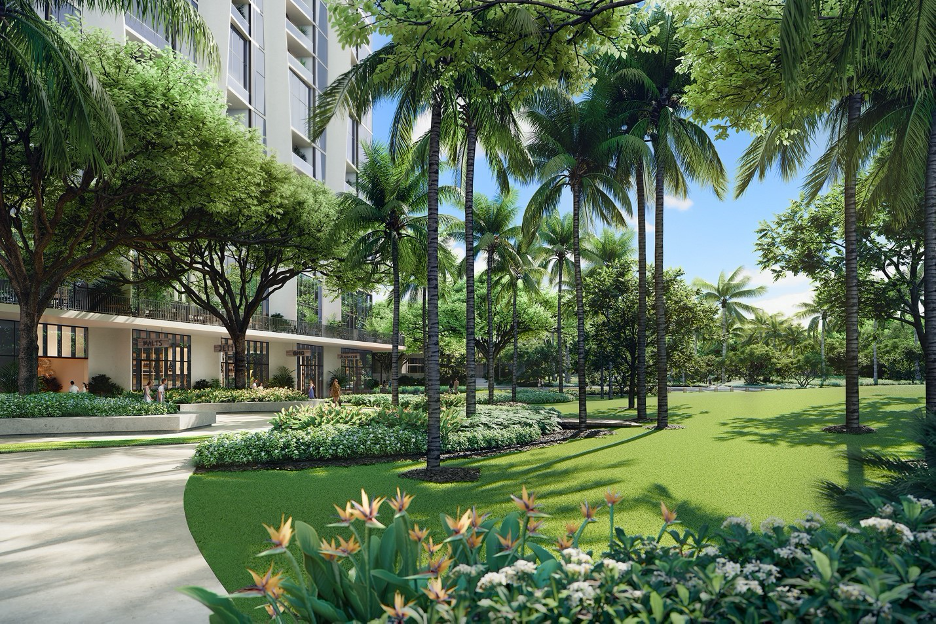 By 1881, the Ward family had purchased the 100 acres of land spanning from Thomas Square to Ala Moana Beach Park, which would come to be known as Ward Estate. It was here where they also built their beloved family home. Under the stewardship of Victoria Ward and eventually her daughters, Ward Estate was nurtured into a thriving oasis. The fishponds and auwai were cleared of weeds and kalo, makaloa, kiawe, and coconut trees were planted. There was also a pasture for animals and an artesian well that was said to be a respite for Queen Emma. It was Victoria Ward's vision to create a place that was not only self-sustaining and supported her family, but that also served as a gathering place that honored community and culture.
Drawing inspiration from this history, Ward Village aspires to be a neighborhood that is welcoming to all. Encompassing 60 acres between Waikiki and Downtown Honolulu, separated from the ocean only by Ala Moana Boulevard, Ward Village embraces its unique position and sense of place.
The master plan focuses on the current and future green spaces full of palm and monkeypod trees, as well as neighboring Ala Moana Beach Park and Kewalo Basin Harbor, offering a sense of balance and sanctuary within Honolulu's urban core. The initial quarter mile of the Auahi Street Promenade presents a lush, shaded oasis along the musical sidewalk with landscaping that will feature tree and shrub species that used to be at Old Plantation, including pua kenikeni, kou, milo, coconut, gardenia, Oahu sedge, kupukupu fern, and rose jatropha.
Victoria Ward Park, named in honor of Victoria Ward herself, debuted in 2018 with a planned expansion for more than three acres of grass, trees and walkways. It's the current home of the Kakaako Farmers Market and the focal outdoor gathering space for activations such as free yoga on Sundays, kite flying exhibitions, and other ongoing activities sponsored by Ward Village. By the completion of this master-planned community, there will be three new public park spaces available for the community to enjoy.
With its mix of residential condominiums, including workforce housing reserved for kamaaina, three distinctive shopping and dining districts, thoughtfully planned parks, and public activities, Ward Village is a place where urban and island come together for everyone to enjoy.