A Spotlight on Sarah Richardson
The Canadian designer and TV personality dishes on her life and style.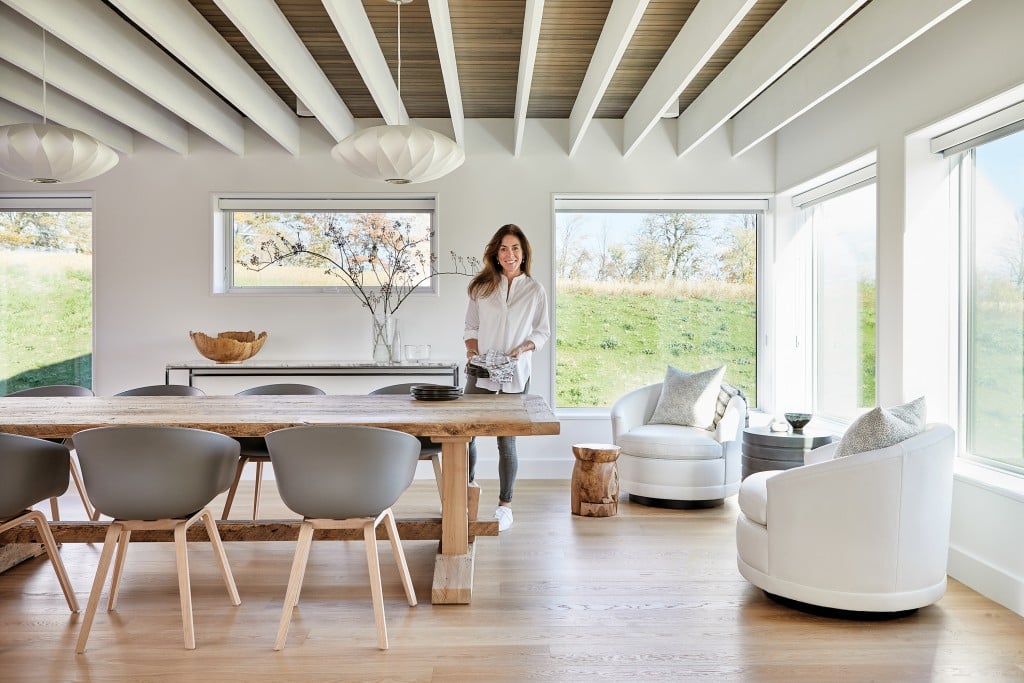 Sarah Richardson, who has spent the last 25 years sharing her practical, elegant style with the world as an award-winning designer, HGTV host, entrepreneur and author, is constantly keeping busy. Hawaii Home + Remodeling was able to catch up with Richardson to talk about her life in design, emerging trends and what's next for the celebrated designer.
HHR: How did your interests in design start?
SR: I was creative from the time I was a little kid. I learned to sew on a sewing machine in grade one, (and) I loved to dive into anything and everything creative — I used my allowance money to buy a drafting table in grade six and dreamed of becoming a graphic designer. I used to help my mom repaint and redecorate at home, and if sent to my room for arguing with my brother? I'd rearrange the furniture! At university I became known for my love of home and having a nice apartment decorated with thrift store finds.
HHR: What are your favorite
design elements?
SR: I've always felt that the soulful, unique, handcrafted elements of a room are the things that define the design. I love to celebrate artists, artisans and craftspeople and feel that the handmade pieces are of critical importance in every home. They don't need to be fancy or extravagant, but these unique pieces tell the story of your home and your life.
HHR: How would you describe
your style?
SR: I design interiors for modern living that are informed by a classic perspective. I live in the here and now but feel that we need to always remember where we came from as we look optimistically toward what's new and next in the future. My personal style is defined by livable luxury and casual elegance. I'm a born sybarite but I'm also a practical working mom. I want everything to look fabulous whenever you walk into the room, which means that function and durability are important to me, but of paramount importance is how it feels.
HHR: Hawaii's tropical weather is beautiful to many but can be harsh on our homes. What advice can you give on designing homes impacted by tropical climates?
SR: No matter where you live, it's important to be respectful of your surroundings and location. To me that means selecting hard-wearing, durable materials that are designed to weather the conditions of your climate. When I think of tropical, I think laid-back, comfortable and casually elegant rather than shiny and sparkly and glitzy.
HHR: What is one timeless trend you highly recommend?
SR: Buying quality items made from natural materials. As Miles Redd says, "Buy the best and you only cry once." I don't need it to be the "best," but I can guarantee that if you buy what you love and make sure it's good quality, you won't regret it.
HHR: What do you enjoy most about your work?
SR: I get to collaborate with a wide array of passionate and creative people to bring my vision to life. Whether it's a product collection, a book, a TV show or a home, my job is to turn fresh new ideas into reality. There are plenty of challenges but ultimately, it's up to me to decide what we should imagine, create and "do" and that is an amazing opportunity to have. There's never a shortage of "to do's" so the days and weeks — and years fly by. It's never dull!
HHR: From running your own design business and working on multiple shows to writing three bestselling books —
Sarah Style, At Home: Sarah Style and Collected by Sarah Richardson
— and so on, there's a lot you have to manage every day. What helps you? What do you do to reset and recharge to keep doing
what you do?
SR: I'm really lucky that I get to spend my weekends out of the city, away from the office, exploring the countryside or living on the water if it's summer. I've always firmly believed that there needs to be a line between the workweek and family/friends time on the weekend. It's the experiences in the latter that recharge my batteries and keep me exploring for inspiration so I can return on Monday excited to dive into another week.
HHR: Where do you go for new ideas and inspiration?
SR: Outside! I draw so much inspiration from architecture, nature, travel and the landscape. Whether I see something or imagine something, my most creative zone is generally when I am outside relaxed and have the time to let my mind drift to the creative zone. I find being by the water very inspiring, and driving on country roads in the car with a great playlist works too.
HHR: What's next for you?
SR: My husband, Alexander Younger, and I are about to tackle a project like nothing we've even done before, in a location far from home, to create new TV content — so that's exciting! I have another book coming out late April, volume three of my Collected book series. We're always creating new content for our Design Life series on my YouTube channel, and I'm embarking on some coastal adventures, so there's lots going on — and I love it!
Keep up with Richardson by tuning into her Design Life series on YouTube: @sarahrichardsondsgn. Follow her online: Facebook: @sarahrichardsondesign; Instagram: @sarahrichardson.design; website: sarahrichardsondesign.com.
Richardson's Tips on Designing a Family Home
"Defining zones and functions is key to multigenerational living so everyone feels they have a space that is tailored to them and their needs," says Richardson. "Whether it's a play area for toddlers or a quiet reading spot for adults, I think it's important to create a list of activities that your home needs to be able to accommodate."
Richardson believes in a "if you build it, they will come" approach to decorating. She recommends that instead of thinking about what the room does right now, focus on what all it might be able to offer. For instance, a games table in the corner with a couple of chairs can be a spot for puzzles and card games or a place to set up a laptop for work and communication.
"Storage is key to conquering clutter … and everyone needs to partake in keeping everything organized and efficient," adds Richardson. "Whenever possible, having space to get away and enjoy some peace and quiet is important since each generation has different needs and schedules, demands and hobbies."
3 Design Mistakes to Avoid
Richardson recommends avoiding these three design mistakes: steer clear of knockoffs (they are disingenuous), be careful with scale — too big or too small (or a combo of both) can really make a room feel off — and save money for lighting. "Too often homeowners don't budget enough for lighting and just grab whatever is on the shelf at the big-box store, but lighting matters!" she says. "It sets the tone and the ambiance for a room, so it's worth doing your homework to find beautiful lighting." And she says it doesn't need to be expensive.