A Sunny Disposition
Light shines in a family's renovated Manoa home.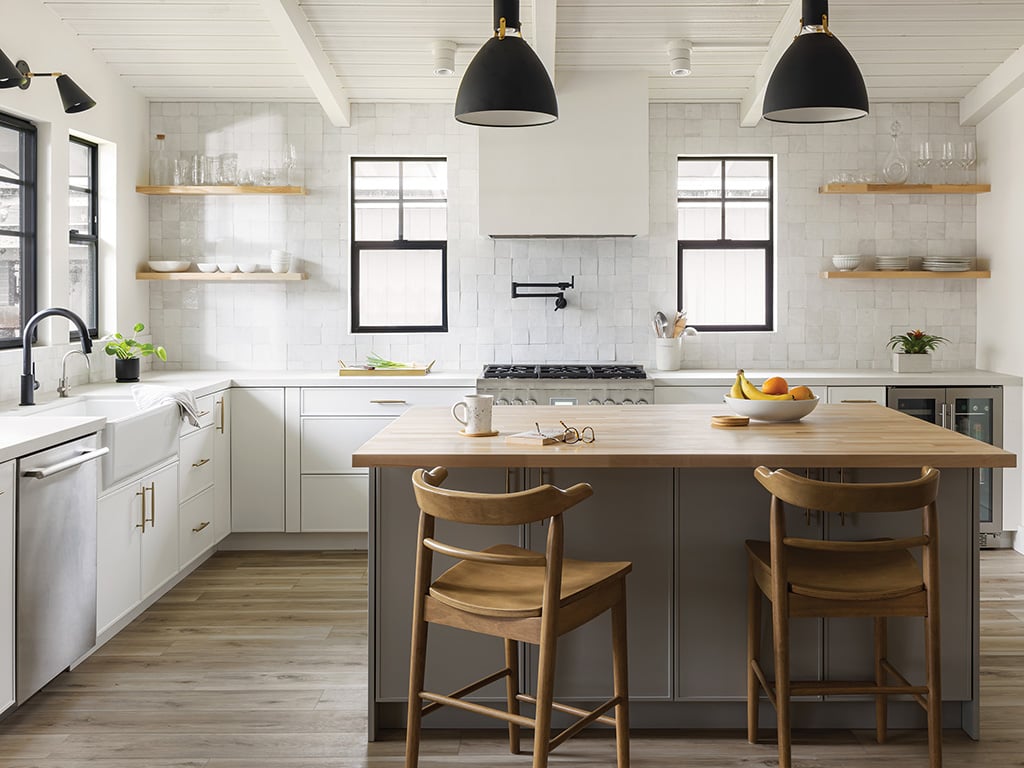 In lush Manoa Valley, a home that was originally built in the 1960s has been updated and upgraded. Before the extensive remodel, the house was one among many single-wall plantation-style dwellings in the area. Now it's a modern plantation home, says architect Andrew Forman of Blueprint808, with roughly 1,750 square feet of space and three bedrooms, two bathrooms, and a new indoor sunroom and home office converted from previously covered outdoor spaces.
"We wanted to keep the authenticity of the original house while modernizing and bringing back the charm through our vision of a modern plantation home," says Forman. That's exactly what he and the building team from All Things New Hawaii did, keeping the home's structural bones and making it look entirely refreshed, inside and out.
The home has been owned by the same family for generations and current homeowners Sean and Del Mochizuki worked with Blueprint808 to plan the project just as they were starting their own family.
"Del grew up in the home through the second grade," says Sean Mochizuki. "To be able to return to the home and raise our daughter and other future children is pretty cool!"
The kitchen is open, bright and modern with matte black accents and Matisse-style cabinet doors in both white and silverplate. The inside shelving is done in natural walnut from Pacific Source, and the floating/open shelves, also from Pacific Source, are white oak finished with a natural seal.
"We love hanging out in the kitchen, enjoying our morning coffee and listening to our record player," shares Mochizuki.
The cabinet hardware throughout the kitchen is a honey bronze color from Ferguson Bath, Kitchen & Lighting Gallery. Forman recommended the Moroccan sea salt tile from Cle Tile for the kitchen backsplash. "Each tile is handmade and unique," says Mochizuki.
The kitchen used to be split-level; relocating it to create a one-floor layout makes the space feel much larger, explains Forman. Additionally, the couple opted to use wallpaper for an accent wall in their entryway per Forman's recommendation. The wallpaper is from Calico's Aurora line in a color called ray, which resembles the gradient of a sunrise. "We are really glad that we listened to Andrew," shares Mochizuki.
The sunroom consists of matte white shelves and eye-catching tile from Tile Bar's Lapaz line in white petals. "We also love to watch our daughter play in the sunroom," says Mochizuki. "It was originally meant for Del and me to read and hang out, but to see our daughter make that space her own is something I can't put into words."
At the beginning of the project, the Mochizukis wanted a dedicated office space, a sunroom that let in a lot of natural light, a custom-designed kitchen and an updated entrance that was more inviting. They also requested some unique miscellaneous must-haves, including a pot filler above the stove, an instant hot- and cold-water dispenser, butcher block countertops for the kitchen island and fun, distinctive tile for the laundry area and bathrooms.
"The Mochizukis' great inspiration images set the stage for the design process, and their understanding and patience through construction allowed the builders to work efficiently and have a smooth process all around," says Forman.
Along the way, the couple and design team ran into issues such as permitting delays which pushed back their project up to six months. Supply chain issues also made logistics and purchasing materials challenging — for example, the Mochizukis had to order their appliances more than a year in advance before moving in.
And "there were the typical surprises one finds in an old home including areas of termite damage and wood rot," adds Forman. "Fortunately, with our experience in the area, we were able to anticipate much of the potential issues and budget and design for them."
Adds Mochizuki: "Andrew Forman from Blueprint808 and the folks at ATN were incredible when it came to navigating the challenges that arose during the entire process."