Air Plants are Living Décor
Learn all about these natural wonders with Mari's Urban Garden and Plantoem.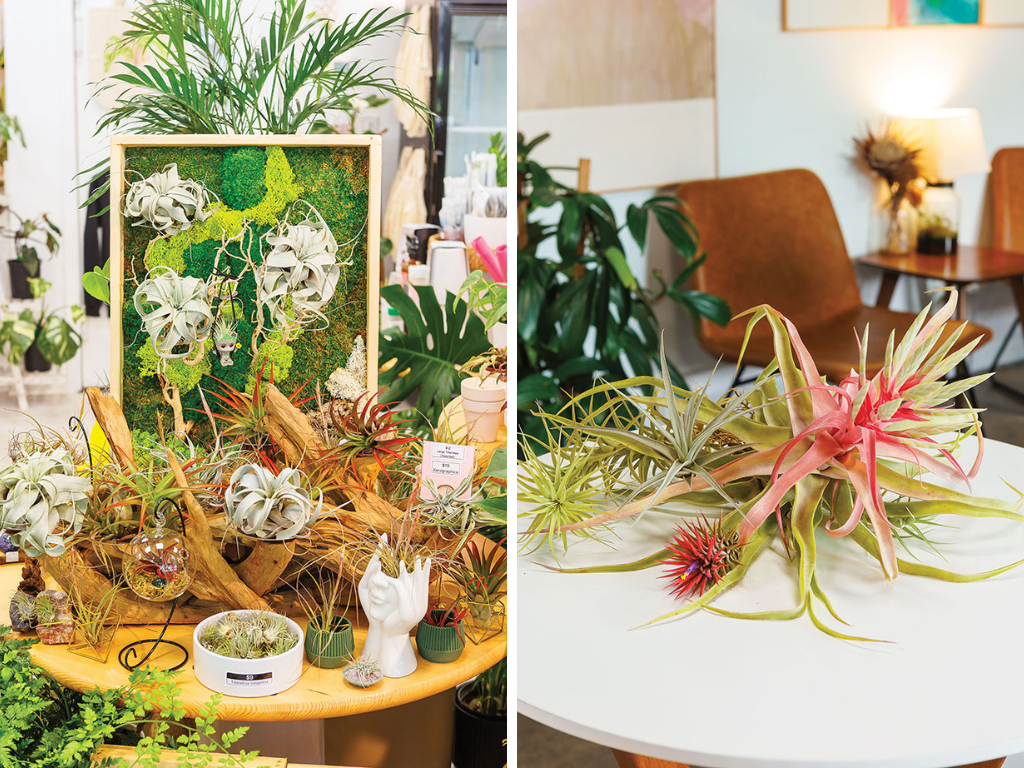 With sprawling stems, swirling leaves and eye-catching flowers, air plants offer artistic and biophilic benefits for your home. The term "air plants" refers to more than 600 different species in the genus Tillandsia that absorb nutrients from the surrounding environment and don't rely on roots to grow. These plants are perfect for small spaces like condos, and for folks who love plants but don't have the time or expertise to maintain them.
"They don't need soil, so they can be displayed in a lot of fun ways," says Mariko Lau of Mari's Urban Garden in Kakaako. "Having plants in your home creates a connection to nature, which can lower your stress and anxiety levels while boosting your mood and productivity."
Lau's shop carries a whimsical assortment of plants and accessories. She shares these styling ideas:
Air plant terrariums: Place them in a glass container, bowl or even a repurposed Mason jar. Get creative with rocks, shells and more — Lau says fairy accessories are some of her favorite additions.
Attach them to anything: "We love attaching our air plants to driftwood," notes Lau, "the perfect centerpiece for tabletops or office desks!" Additionally, special glue can be used to attach air plants to your favorite crystals.
Place in teacup holders or ceramic dishes: "We recommend adding a layer of decorative rocks or sand to hold the air plant in place and add more color," notes Lau.
For those seeking big, bold air plants that make an unforgettable impression, visit Plantoem in Kaimuki. "Giant form Chiapensis and Streptophylla are two of my favorites," says Plantoem shop owner Zoe Zhang. "They have fuzzy pink spikes and cute purple flowers." Here are her tips for air plant upkeep:
Provide adequate lighting: "Air plants are slow growers and they also react to lack of light very slowly. If you want your air plants to be happy, figure out whether they are sun species or shade species."
Be consistent with watering: "Although they can draw water in from air, they would still appreciate a good shower."
Feed them with fertilizer regularly: "Just like us, they need water and food."
---
Editor's Note: This article has been slightly modified from the original print version for optimal online reading. To view the full print story, subscribe to our digital edition or pick up your copy of Hawaii Home + Remodeling at one of our partner locations.