All Decked Out
Don't be hemmed in by four walls. Let your lanai be your favorite room.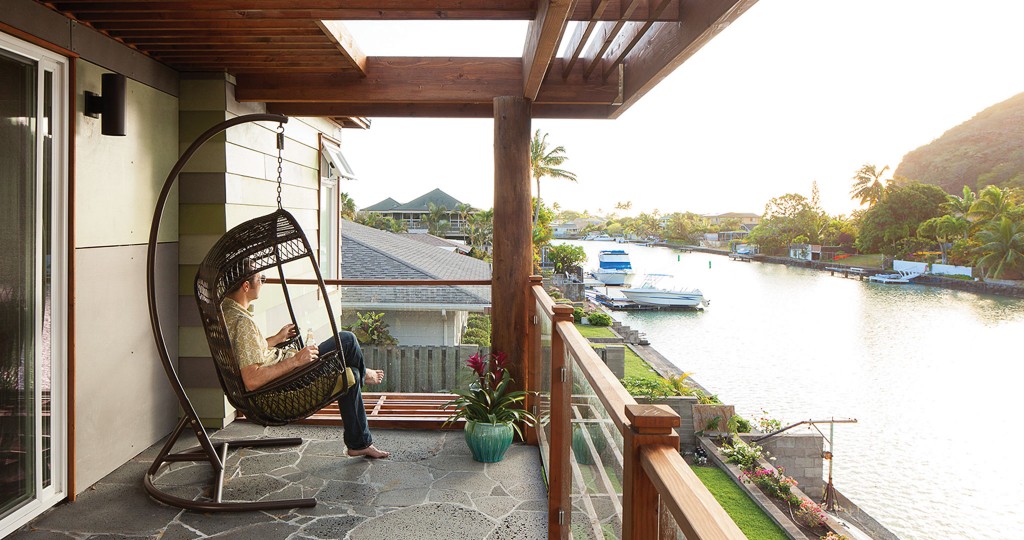 Let's face it, there's no area quite like Hawaii to explore the concept of indoor/outdoor living. "We believe it's pointless living in Hawaii without fully utilizing the potential beauty of the indooor/outdoor living," says Phillip Barker of Barker Kappelle Construction, LLC.
Experts share their tips for creating perfect lanais and decks to get the most out of your home.
Island Definition: Deck vs. Lanai
A lanai is a ground-floor concrete patio where you walk out from the house, says Evan Fujimoto of Graham Builders. A deck can be low to the ground, but not on the ground. The lanai is poured-in-place concrete, pavers, or interlocking pavers, and can feature finishes on the concrete. A deck can also be off a second floor. "With homes, decks are framed out of natural wood or hard wood, or can be built with artificial wood like Trex," says Fujimoto.
Made in the Shade
"For a lanai or a deck, we want that area covered because it's too hot to sit on an open-air lanai," says Fujimoto. "At least have a trellis or shading device — which can be aluminum or a fabric covering — but usually it's an extension of the roof."
"The homeowners wanted natural light to filter through the open trellis so that the bedroom wouldn't be darkened," says Fujimoto. "As the sun sets, the interplay between light and shadows cast upon the interior walls creates a special effect. During the day there's enough shading to keep you comfortable and at night you can stargaze or enjoy the moonlight."
Materials Matter
For a poolside lanai, consider stamped concrete. "When the concrete is poured, a steel stamp puts a texture on it, like a random-looking pattern, uniform squares or a brick texture," says Fujimoto. "You can also put stone on top of the concrete: sandstone, slate or fieldstone." Another popular option for pool decks is Tru-Grain made with Resysta from Pacific American Lumber. "It's the perfect decking for this situation," says Chris Nied. "It can handle the harsh chemical, constant wetting and drying, and harsh sunlight associated with this type of environment."
Surfaces to Avoid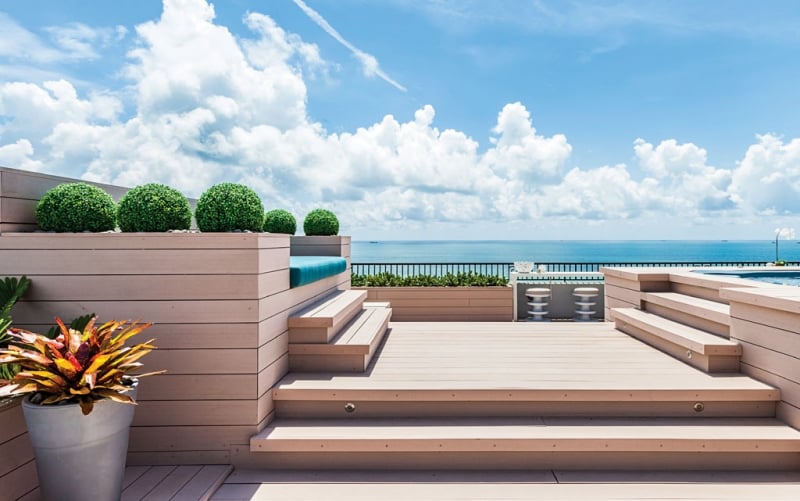 Slate has oil content so it can get dangerously slippery when it's wet. "It's also the least durable stone because it starts to flake after a decade or two," Fujimoto says.
Landscaping Completes the Look
With deck design, you want a well-integrated landscape plan. For example, if there is grass beyond the lanai, create a border around parts of the lanai so there's not just a hard line. If it's a rectangular lanai, use an undulating, curved flower or planter bed to soften that hard edge. Planter boxes are also a nice feature. "They don't have to be wood," says Fujimoto. "They can be large pots, like Geobunga has, Chinese pottery or reclaimed materials like an old bathtub or Red Flyer wagon."
Beware the Trellis Trap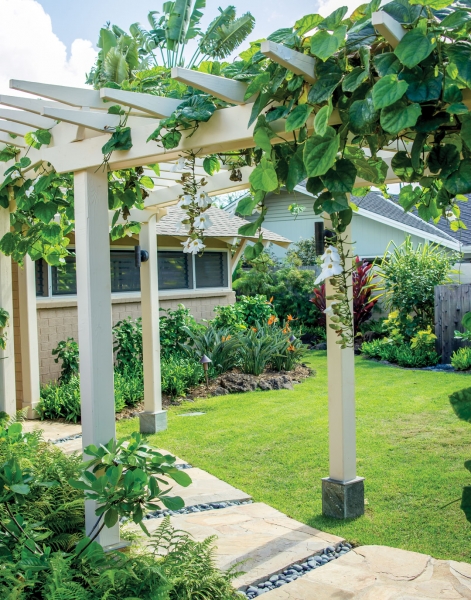 "They look great when built, but trellises are hard to maintain," says Fujimoto. "If they are stained, you'll be staining them every 18 months. If they're painted, the paint can chip quickly."
Consider a trellis made of knot wood. "It's a chemically applied photographic film on aluminum that you swear is wood," says Fujimoto. "It's marine-grade aluminum with a space-age coating. It's big bucks, but very little maintenance. It's usually used for screening devices on gates and buildings."