An Architect Designs a New Beach House at Maili Point for His Sister
Siblings Geoffrey and Kim Lewis grew up enjoying the property, which made it a very personal project.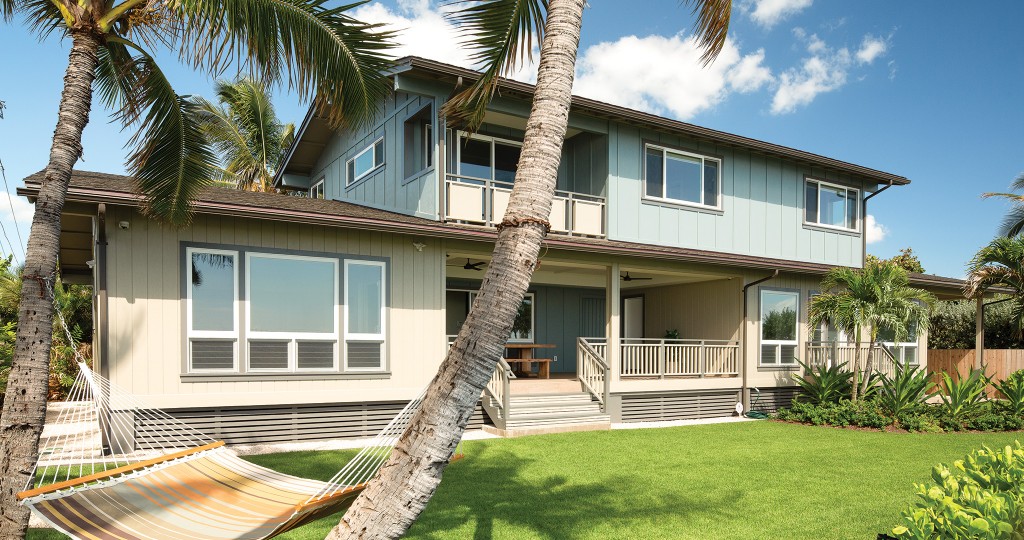 Siblings Geoffrey and Kim Lewis grew up making memories at this Maili point property. It's where their father taught them how to surf while spending time at their grandparents' beach house, a weekend getaway from their family home in Nuuanu.
The land was originally purchased by their great-grandfather in 1938. Two residences remain on the family property — side-by-side beach houses for the siblings and their families. At one point, though, the house on Kim's portion of the land was lost due to a fire — no one was injured — and she had to rebuild.
Naturally, Kim hired her brother, an architect, to design the house.
"I have spent my entire life enjoying Maili Point," Geoff says. "These personal experiences were very helpful when designing her home."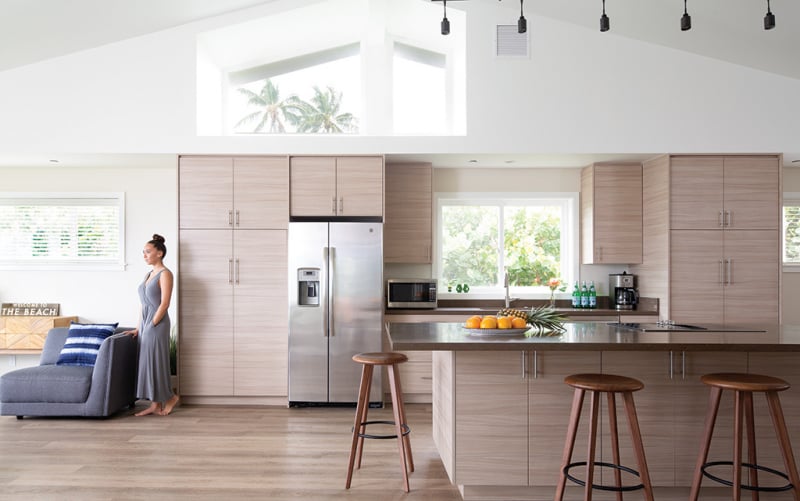 The home's central gathering space is the large, open kitchen full of light and ocean views. The beach house aesthetic and functionality are evident throughout, with durable vinyl flooring in a matte finish to give a woodlike look and protect against wet, sandy feet.
The cabinetry in Cassini Beach finish is from Plus Interiors' new Cleaf line from Italy; it's moisture- and termite-resistant in a modern color, making it a sensible and stylish selection for a Hawaii beach house.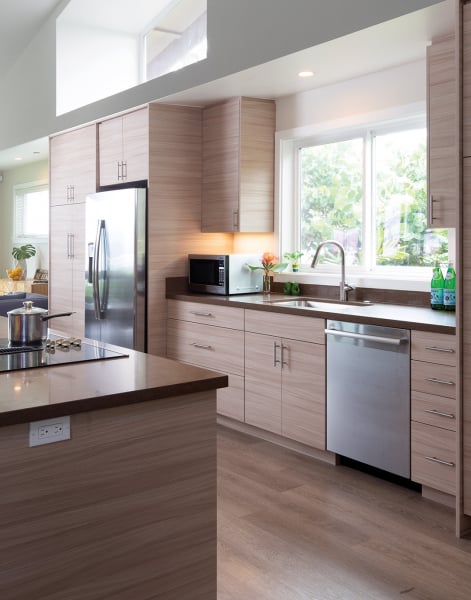 "We selected a natural wood-looking laminate with gray tones to pick up on the driftwood look you might find in a beach environment," Geoff says.
Corrine Tadaki-Davis of Plus Interiors equipped the cabinetry with roll-out drawers in the pantries and wide, deep drawers beside the sink to store pots and pans. The large island has storage on both sides.
Kim wanted to take advantage of the property's ocean views, so light and heat control were important to include in the design. Sunshades in each of the makai, west-facing bedrooms provide relief from the hot afternoon sun. "Each living space cross ventilates exceptionally well in both offshore and onshore directions, which is critical for human comfort and the nonreliance of AC," Geoff says.
Upstairs, a wide hallway with custom storage cabinets along its length eliminates the need for additional storage in the bedrooms, allowing those rooms to feel larger and more open. The storage cabinet is also from Plus Interiors' Cleaf line in Cassini Beach.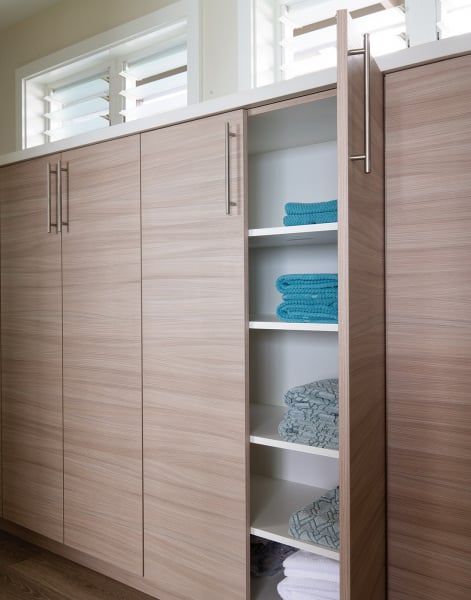 "The design for the upper hallway was critical to the natural ventilation of the upper floor," Geoff says. "In lieu of running the storage units to the ceiling, we held them down to allow for jalousie ventilators above. This plays a critical role to achieve cross-ventilation. Storage is obviously important, but human comfort may be even more important."
With the new house complete, Kim is able to give her teenage children the same lifestyle she experienced growing up with her brother.
"I wanted them to be able to wake up and see the tides in front of you and go down and snorkel or boogie board, and have the experience I had as a child," she says. "It's a nice family space … a great place to be. You don't want to leave when you're there."