An Award-Winning Builder Shares Tips to Create a Spa Bathroom
Relax and reset your bath with the help of Moorhead & Company Inc.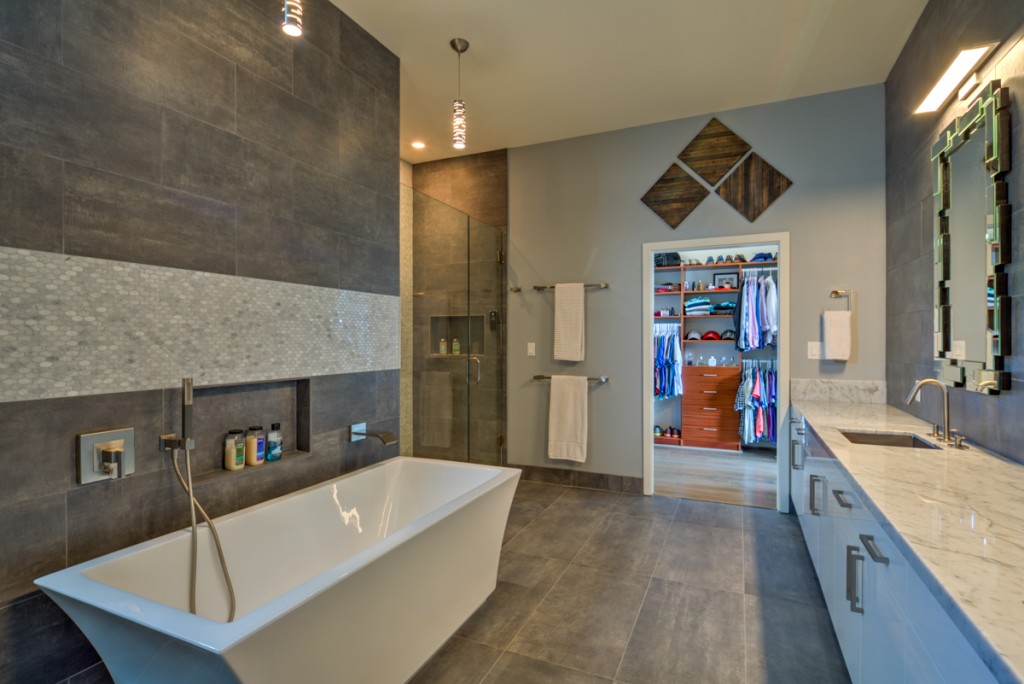 A spa-level bathroom is what Hawaii's homeowners are craving right now. From storage upgrades to unique finishes and calming colors, the bathroom is now a design playground. According to J.R. Moorhead of Moorhead & Company Inc., an award-winning local builder and Hawaii Home + Remodeling's 2020 Readers' Choice Award winner for bath designer, there are ways to transform any bathroom from a space that serves basic needs to a spa-like oasis. A functional bathroom is important, but the appeal of having a personal retreat at the end of the day is unquestionable.
Select the Right Bathtub
A spa bathroom is not complete without a bathtub, but all choices aren't created equally. A qualified and experienced builder should assist homeowners on making the right selection for their budget, scale and needs.
The variety available today is outstanding, but your choice depends on whether you envision a traditional tub-shower combination or intend to create separate shower and bathing spaces. Incorporating a free-standing model often requires additional space and a thoughtful redesign of the bathroom footprint.
The homeowner should be aware of additional plumbing requirements. "If you live in a condo, plumbing modification can be challenging and may not always be possible," shares Moorhead. "For a house with an upstairs bathroom, there can be many challenges." Those include moving sewer lines, having new sewer lines run along the exterior of the home or modifying joists to hold up the second story to accommodate new lines.
Copper, granite, cast-iron and even patterned finishes are available, but a selection should be based on personal preference. Good communication is key to building a space the homeowner will be happy with. "Bathtub weight can come into play if the tub is installed upstairs — and installation may require a creative solution," says Moorhead. Sizes range from a modest 48 inches to a massive 72 inches and beyond for soaking tubs. Jets, waterfalls, sound and lighting functions, and steam and heat settings are available in the latest models. You should speak directly with your contractor about the overall look and feel that you want to achieve before making any purchase.
Let There Be Lighting
A comfortable and relaxing space requires the right amount of lighting at the right temperature. A common builder approach for bathroom projects is to install one-size-fits-all fixtures. A well-planned lighting system requires a conversation. Will you be using the mirror for makeup application? Are you a social media star who posts from the bathroom? For makeup and close-ups, a back-lit mirror or medicine cabinet can be a great option that offers beauty, function and control. Many of these mirrors will de-mist at the touch of a button.
To create a calming space, you'll want to incorporate a combination of task and ambient lighting. Recessed fixtures can illuminate the shower and tub, while a custom sconce can bounce the light around the room in soothing patterns. Chandeliers provide beautiful light-bouncing effects as well, and under-cabinet lighting can offer just the right amount of light as you soak in the tub.
Smart Everything
Anyone who scrambled to find a roll of toilet paper during the recent shortage understands the value of a washlet or a bidet. These fixtures, often self-cleaning, were once seen as costly luxury items, but in post-pandemic homes, they're worthwhile fixtures. There are some things to consider from a building perspective. "Bidets and washlets are becoming standard luxury bathroom features," says Moorhead. "At a minimum we are adding an outlet behind the toilet so that clients can install a bidet later; it also adds to the home resale value."
Trust the Professionals
Whether it's the bathroom of your dreams or personal escape pod of tomorrow, you'll want to rely on a professional to execute your vision. Moorhead & Company is an award-winning builder that has been recognized by the Building Industry Association of Hawaii. If you are interested in residential renovation, kitchen or bathroom projects, make an appointment today by emailing support@moorheadbuild.com.