An Institute for Change
University of Hawaii students have a chance to be part of the climate change solution through sustainability education.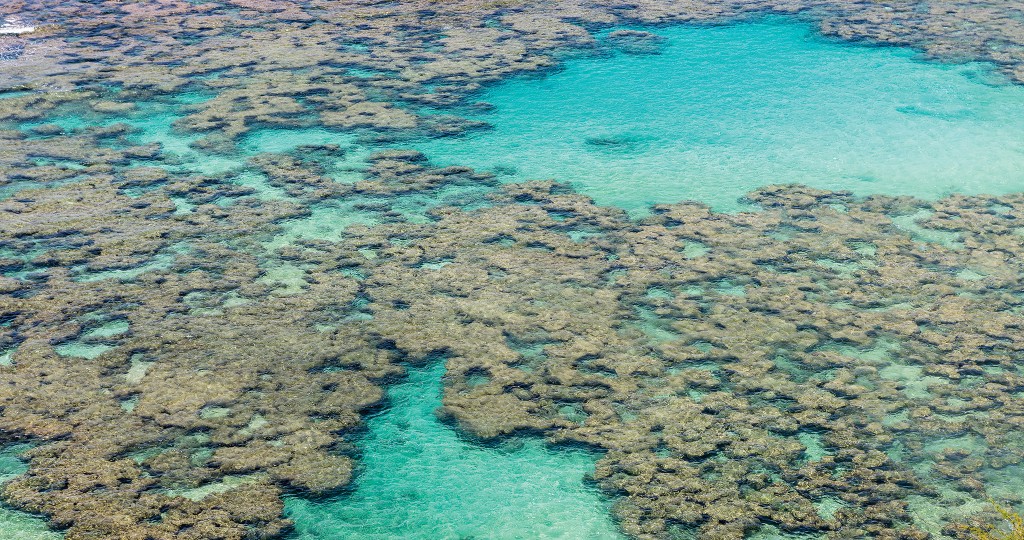 Hawaii faces a number of threats to its environment, from rising temperatures and oceans to shifting rain patterns and coastal erosion.
"We're seeing the road cave in Hauula; that's directly a result of coastal erosion and higher ocean waters," says Makena Coffman, director of the Institute of Sustainability and Resilience, or ISR, which launched in 2018 at the University of Hawaii at Manoa. "The migration of invasive species is a result of changing climate patterns. If we think about the Pali representing increasing landslides, that's definitely climate related — things that the environmental science community predicted."
The ISR, which addresses environmental problems, aims to contribute to sustainability and resilience efforts taking place in Hawaii and around the world. Courses help students develop an understanding of how humans are interconnected to natural systems and gives them the tools to come up with sustainable solutions that also support the community.
"The idea of the institute was really to create a space on campus that could help to develop cross-disciplinary curriculum in the sustainability and resilience area, as well as to foster a sort of additional applied and engaged research," says Coffman, who's also chair of Honolulu's Climate Change Commission.
Since its creation, ISR has cross-listed approximately 100 existing undergraduate and graduate courses from 30 different academic departments. The courses went through a review process with an interdisciplinary committee of faculty before being classified as Sustainability and Resilience curriculum. Now that the groundwork has been laid, ISR is focused on its next step: launching a bachelor's degree program in sustainability. Pathways for community college students planning to go to UH Manoa are also being created for interested students.
"Students want these kinds of degree programs, they're eager to do something about it and we really need to be providing pathways for them to get engaged and make a difference," Coffman says.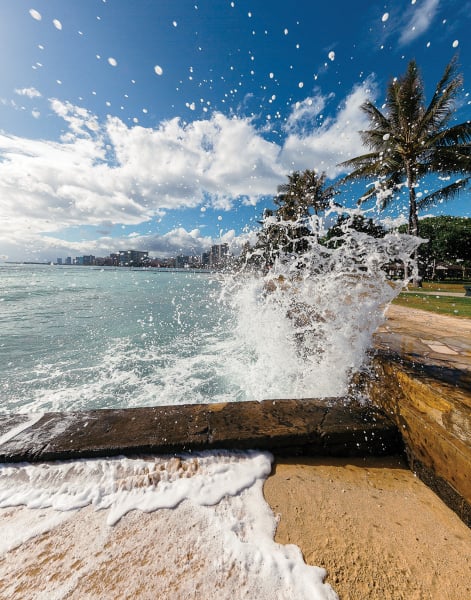 Since UH is already doing so much on sustainability, the ISR also acts as an information hub for other university programs working to make a difference, such as the College of Social Sciences' Carbon Neutrality Challenge project, which planted 10,000 native trees to test their feasibility to offset carbon emissions. Other efforts at the university are being undertaken by the William S. Richardson School of Law's specialized Environmental Law Program, whose members attend the annual gathering of the International Union for the Conservation of Nature, or IUCN.
This year, the IUCN accepted six of the Environmental Law Program's motions for debate, giving the group the potential to influence international standards and best practices. Topics of these motions include climate change legislation and safeguarding coral reefs from sunscreen. The UH Manoa College of Education's Department of Curriculum Studies also has master's programs focused on sustainability, the environment, and culture-based STEM education, and a new graduate certificate in sustainability and resilience education, which they are planning to offer this Fall.
The ISR is currently working on a few research projects of its own, with a couple of them in collaboration with the University of Hawaii Economic Research Organization. It's developing a climate action plan for the city and county of Honolulu, researching the economic impacts of carbon pricing for the state, and starting a National Science Foundation-funded project on sea level rise that will look at three case studies on Oahu.
"Now we have ideas that we didn't have before," says Coffman. "The idea of a low-tide beach, beaches you can only go to during low tide – that wasn't a thing we paid attention to when I was a kid and now it is."
With mounting visual examples of the changes happening around the Islands, student interest in a sustainability education and degree is high, and for good reason.